At this year's SIHH we saw three main models from the Haute Horlogerie brand Roger Dubuis, we've already covered the one-off watch that was displayed in front of a Lamborghini, but two other models came about as well.
Excalibur Huracán Peformante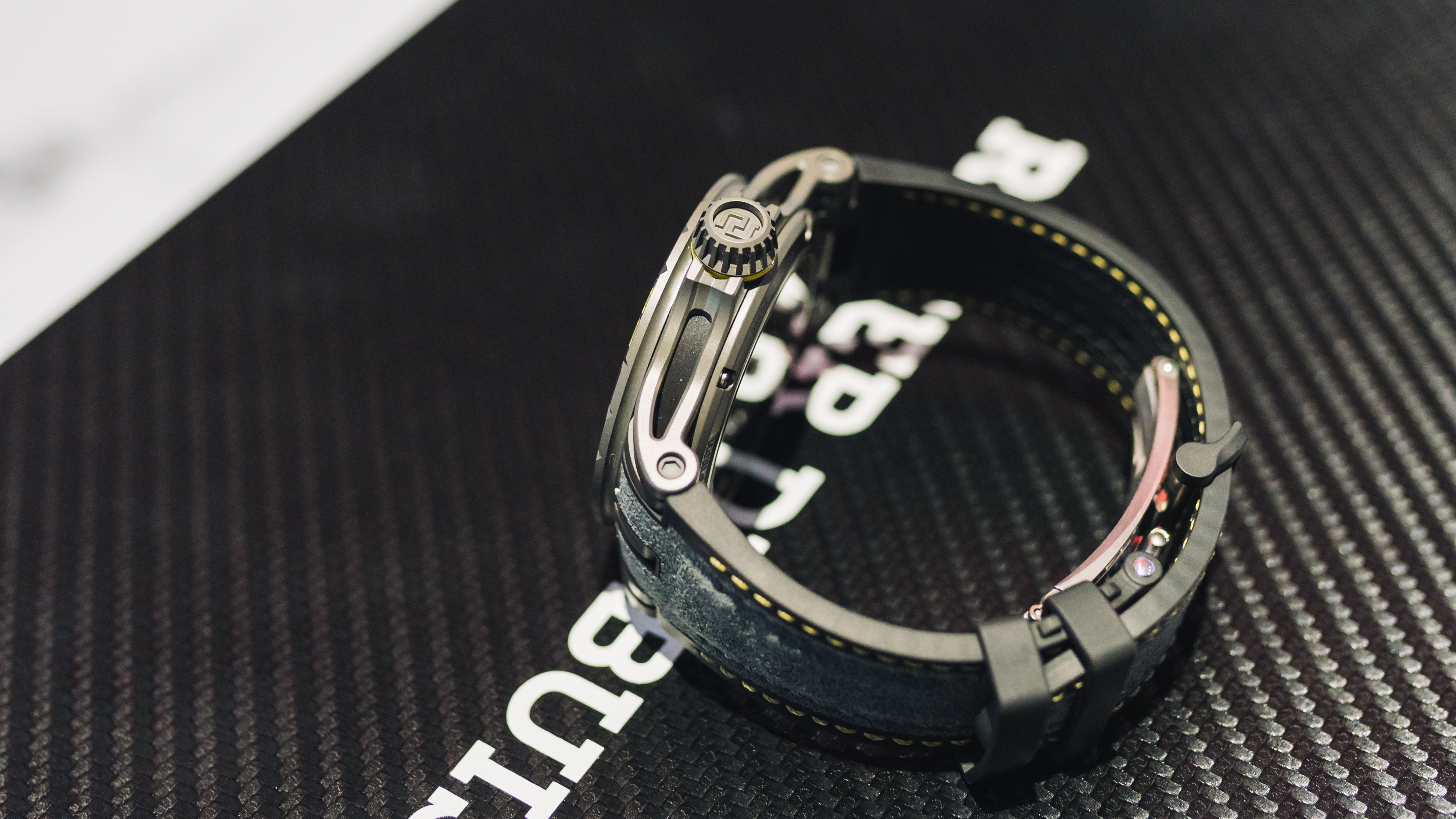 So, you're after a cool watch that's tied to an Italian sports car brand and you want that watch to basically be an extension of your sports car, reminding you wherever you go in the day that the thoroughbred is waiting to whisk you away to your next destination with style, blue flames and a whole load of noise. It can only mean one thing, Lamborghini, and with that comes Roger Dubuis.
One look at this watch which its notched bezel, bright yellow colours and Pirelli rubber strap with an Alcantara inlay and you can see the link between these two brands, it's like they were made for each other. The Excalibur Huracán runs on an RD630 calibre movement, which has automatic winding visible through the caseback and the rotor looks like the wheel from a Lamborghini, which is pretty awesome. It provides a 60-hour power reserve and runs at 4Hz. The 45mm blackened titanium case contrasts with the yellow detailing and Lamborghini-esque dial to create a watch which genuinely stands out.
Excalibur Huracán
The Excalibur Huracán watch is the first we'll take a look at. It features quite a monotonous grey tone to it, more similar to the cars made by Audi (which owns Lamborghini and is owned by Volkswagen itself). Though, that makes this 45mm titanium watch with skeleton dial a little bit more user-friendly in terms of daily wear. I say a little bit more because, I mean, look at it, as breathtaking as it is, and it sure is breathtaking, I can think of a few places this wouldn't be ideal, a funeral perhaps. But, then again, why would you take a big loud, thirsty Lambo to a funeral? It's swings and roundabouts really.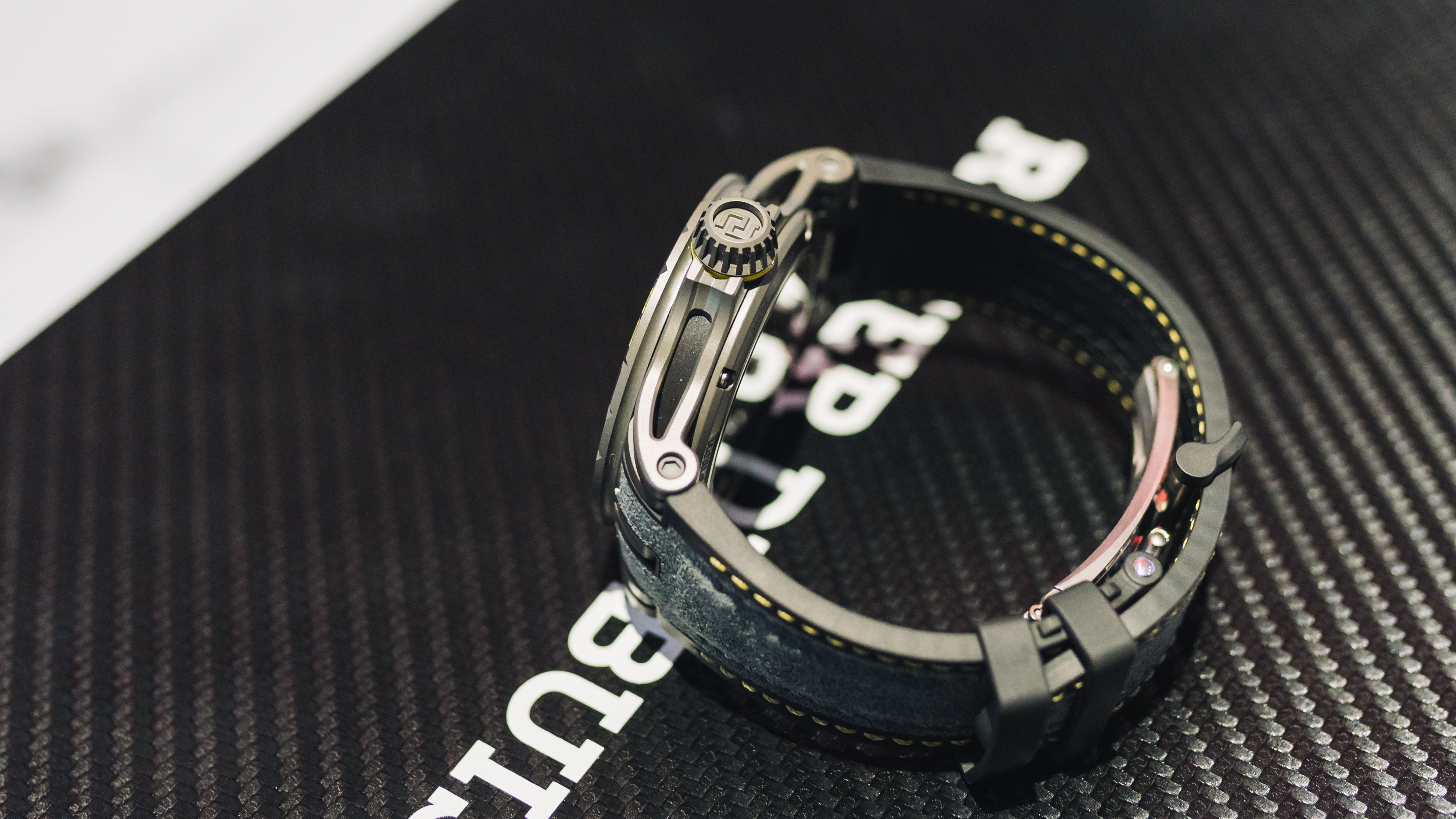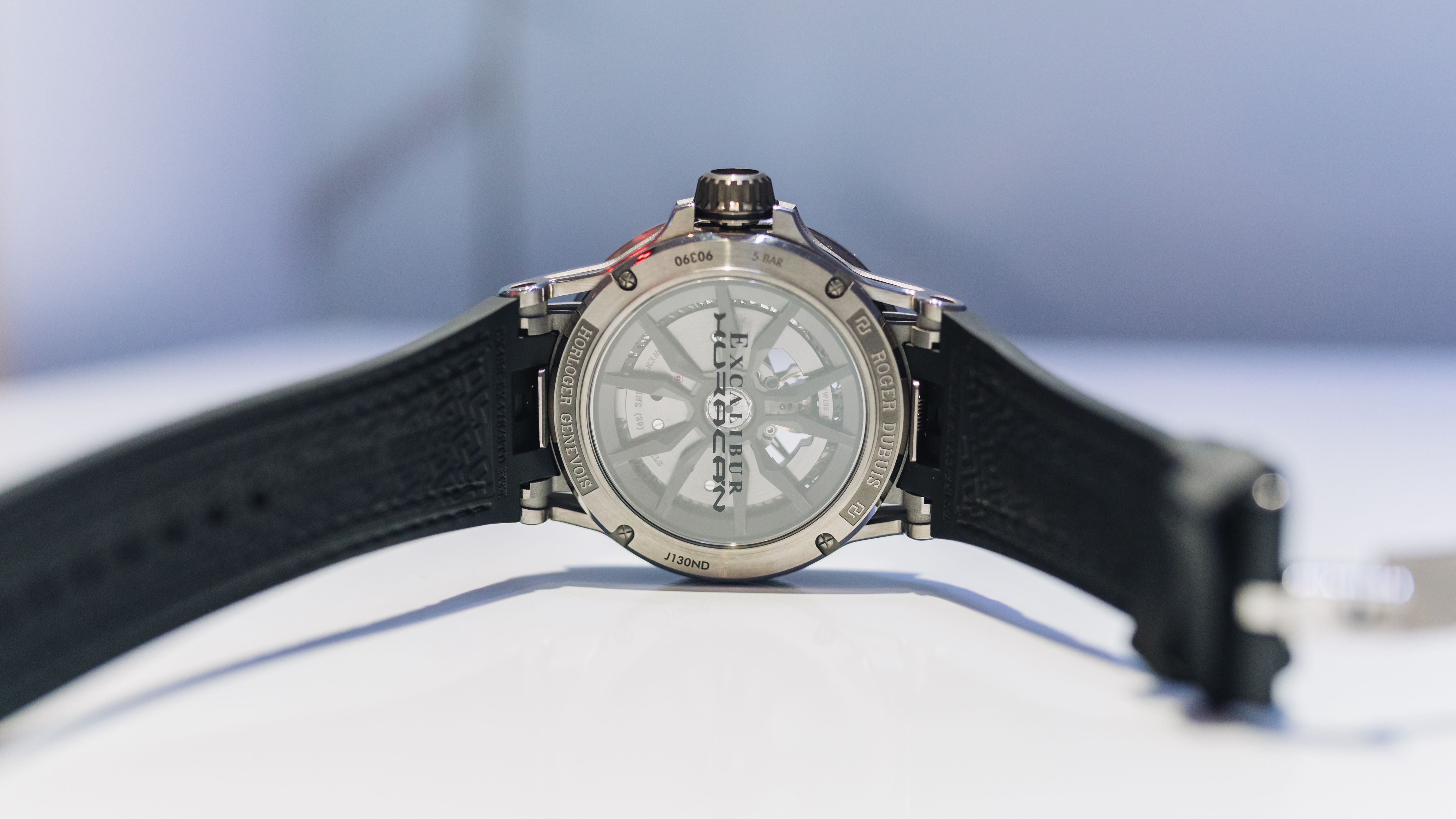 What you should know about this watch is that it fuses Roger Dubuis to Lamborghini even closer than it already was. The fact that Roger Dubuis watches looked like this before Lamborghini joined them meant half the battle was already done. So, for this watch and the following, the dial was changed evoke the big grilles and exhausts that we've come to know and love on Lamborghinis. Like the cars themselves the engine here, sorry, the movement here is mostly visible as well with the balance wheel being placed as the main attraction at 12 O'clock. Unlike some other partnerships between watchmakers and car makers, this is one of those pairings where the people who own the cars are also likely to possess the watches to go with them, instead of being for dreamers.
Excalibur Shooting Star
"You're a shining star, no matter who you– oh, I was singing out loud after all", you'd be forgiven for quoting Ruben Studdard songs, or indeed literally any song about diamonds, Roger Dubuis' Shooting Star watch is covered in them. Unlike most brands who will quietly and politely release a dignified ladies watch, Roger Dubuis goes in sideways waving its arms around shouting "look at me! I make awesome watches for both genders!".
That's not just marketing hyperbole either, Roger Dubuis takes its watches very seriously and puts just as much work into their ladies pieces. The new Shooting Star watches are covered in diamonds all around the bezel, the lugs and even on some of the skeletonised bridges as well. There are also coloured stars sitting on top of those bridges, too, although they are fixed so are more like floating stars. One part that isn't fixed, though, is the flying tourbillon. The calibre RD510SQ is manual winding and good for 60 hours of run time in between winding sessions. The case is 36mm in diameter, made of pink gold and set with diamonds all over the place, you can get it in either the pink or blue colours, with straps that match the baseplate of the movement. Visit Roger Dubuis here.