One of the many independent brands invited to take part in SIHH in Geneva was Urwerk. Known for its technical cases, avant-garde design and continuous usage of the wandering hours complication, Urwerk has become a grail for most people. This year, they unveiled two new watches for us to gawk at, and undoubtedly add to our horological bucket lists.
UR-105 CT Maverick
Described by Urwerk themselves as " a watch made in honour of mad artists, eccentric inventors, people who think up world-changing ideas", the new Maverick watch is made of bronze, a material we have seen before but were not expecting from Urwerk. The idea of using bronze for this watch is based on how bronze reacts to its environment, depending on temperatures it can change hues. Also, it develops a patina over a few years, giving each watch a distinct look which shows that the watch has been on adventures with its owner. It's been designed by Urwerk to let the owner finish off the watch, all they have done is provided the canvas for life stories to be written on.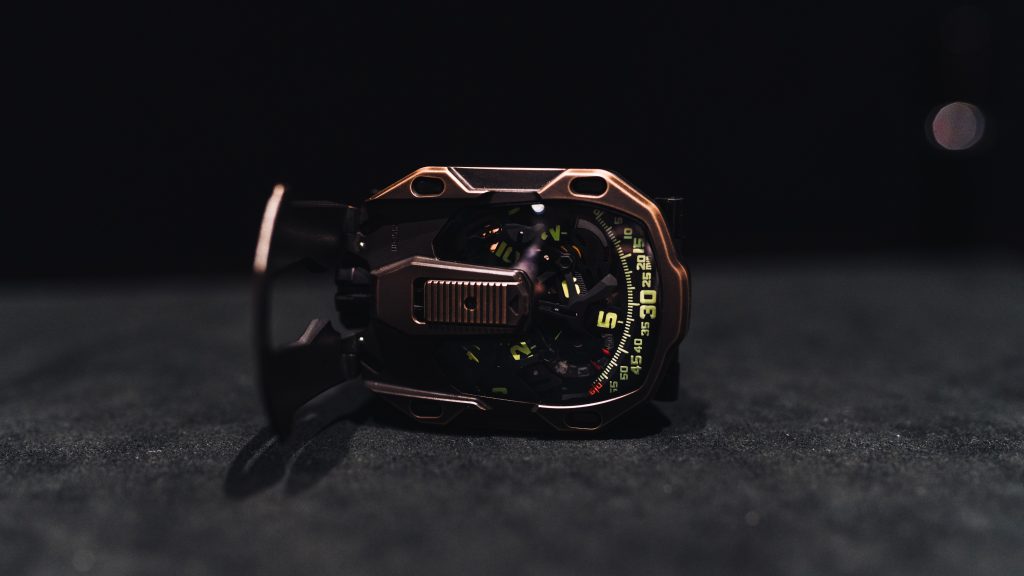 The UR-105 CT Maverick also features their classic wandering hour complication. One of the oldest forms of complication still in use today, the wandering hours move slowly around the dial, with the position of the hours on a scale being the key to reading the minutes, it's very unusual and a hard concept to grasp purely from photos, but there are a few videos out there showing these in action which are worth a look. The price of this watch is 67,000 Swiss Francs excluding tax, and it is limited to 22 examples worldwide.
Case: width 39.5mm; length: 53mm; thickness: 17.8mm
UR-111C
The new 111C from Urwerk provides a great example of how a dedicated team of just 17 people can make something incredible. This is one of Urwerk's infrequent departures from the wandering hours complication, instead choosing to display the time at one end of the watch. Okay, not a big deal supposedly, they've done that before. But, display that on a cylinder, and it gets tricky. Replace the winding crown with yet another cylinder, and then replace the time setting crown with a big swing arm lever system built into the case and you're entered a whole new dimension of crazy.
The truncated cone to the far left of the watch displays jumping hours, the big cylinder in the middle provides the minutes, and a truncated cone to the right of that also displays the minutes in a slightly easier scale to read at a glance. The complexity of the engineering in this thing is mind-blowing, and we hope to sit down and have a proper hands-on to explain it. Even the case is complicated to make, so complex in fact that the movement has to be slotted in through the side because that was the only space for it. There will be 25 examples in polished steel, and 25 examples in gunmetal for this watch, the price is 130,000 Swiss Francs excluding tax.
Case: width 42mm x length 46mm x thickness 15mm
Visit Urwerk here.