Following on from our auction special Panerai, we have another surprising result that we wanted to tell you about. On Monday, we published the news that Sylvester Stallone's Panerai Luminor which he wore in Daylight, the film that practically introduced the world to Panerai watches, exceeded auction predictions by some margin. The Luminor in question, a 'Pre-Vendôme' reference 5218-201A, sold for a respectable $214,200. This next watch, however, smashed that amount and then some.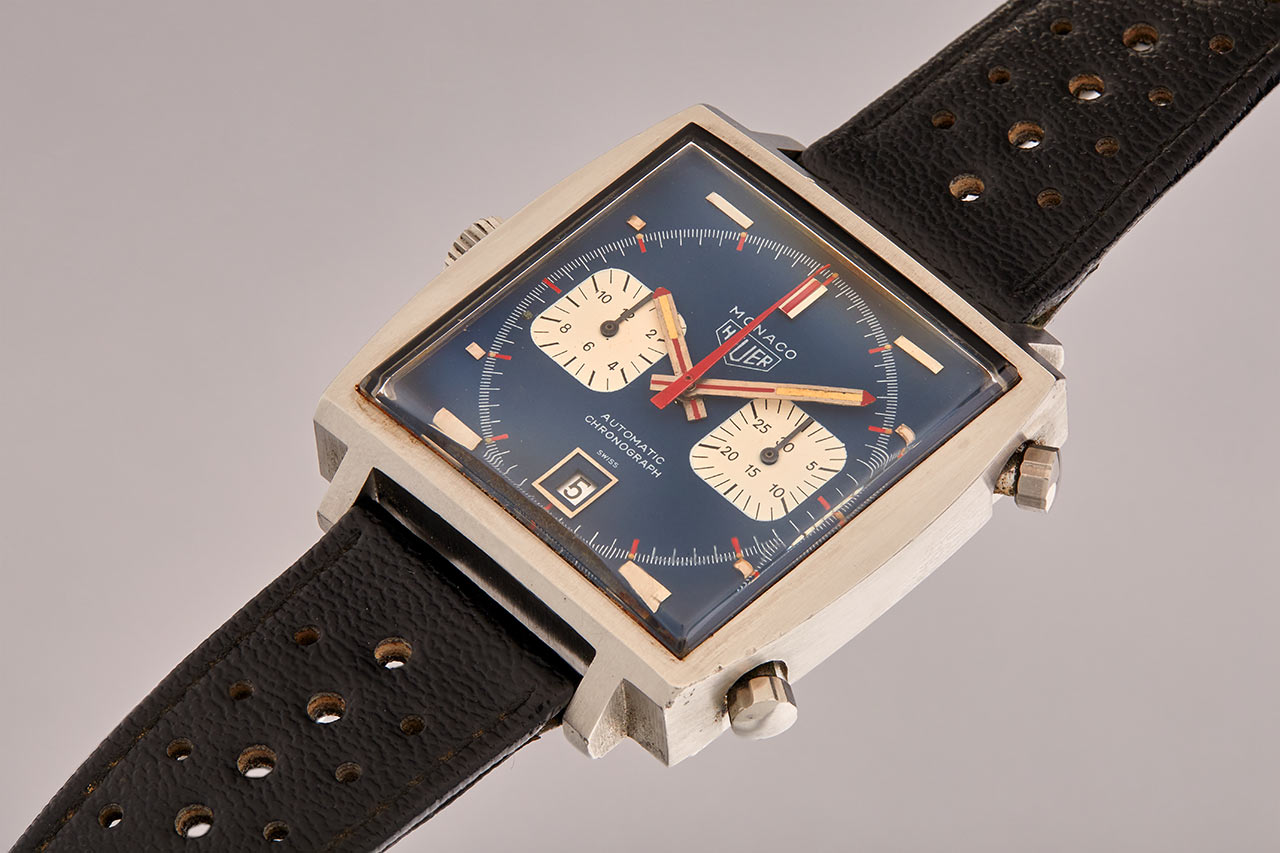 While Daylight faired well with audiences, and less so with critics, it's not really a household must-see movie. Indeed, I didn't even know which film 'Sly was in wearing his Panerai until I started researching for that article. Le Mans, however, is a film I do know about. It stars Steve McQueen, one of the coolest men to have lived (apparently), in a fictional 24-hour race using some real footage from 1970's 24 Hours of Le Mans race. The watch of choice for this race was the unique square-cased racing watch from Heuer called the Monaco.
There were a total of six Monaco watches used on the set of the movie during filming. Four of them went with the prop department after filming had wrapped, while McQueen kept two for himself. He presented one of the two he had, this very watch, to his personal mechanic Haig Alltounian, who was responsible for car safety and maintenance during filming. Alltounian initially wanted to refuse the gift from McQueen, but it had already been engraved with Alltounian's name on the caseback, so he accepted it (note that this is also a great way of forcing a humble person to accept a nice gift in 2020).
This particular example of a McQueen Monaco is so well kept because Alltounian realised early on that the watch he was wearing would someday become valuable. He made it a so-called 'safe queen' watch, keeping it in his safety deposit box rather than wearing it (although various accounts state that he did wear it around for a bit before he realised its value).
It's this fine condition, and the fact that this particular Monaco is associated with Steve McQueen, that contributes to the auction price of this watch. Alltounian requested that Phillips keep the reserve price of the watch a secret, so we don't know how much they expected it to go for. What we can tell you is that it sold for $2,208,000, making it the most expensive Heuer watch ever sold at auction.