By Meor Amri Meor Ayob
A Watch That Celebrates The History of Science And Astronomy
Ulysse Nardin Planetarium Copernicus is a watch that brings Ptolemy's geocentric universe and Copernicus' heliocentric universe together. This is a watch that celebrates the history of science and astronomy.
According to Copernicus' universe, the sun is placed in the center of the dial and concentric circles flowing out of it. Each circle is representative of the ancient planets i.e. Mercury, Venus, Earth and its Moon, Mars, Jupiter and Saturn. The Earth is the center of Ptolemy's universe and has numerous lines coming out of it. The position of the Earth implies the month of the year and the outer ring on the dial represents the particular sun-sign period the Earth is in. The detailing is so precise that The Earth is designed to spin in order to make the revolution of the moon visible. The hour and minutes' hands in gold against the blue dial make reading time easy and legible.
These two universes are captured in an 18K yellow gold case with the case diameter of 42mm. The watch uses a fully automatic movement, UN 80 Calibre and is water resistant to 30 meters and comes with a Black Leather strap. The watch is price at USD 73,500.
Trilogy of Time
Are you interested in astronomy and have saved money under your bed?
Then theese three is the perfect choice for you!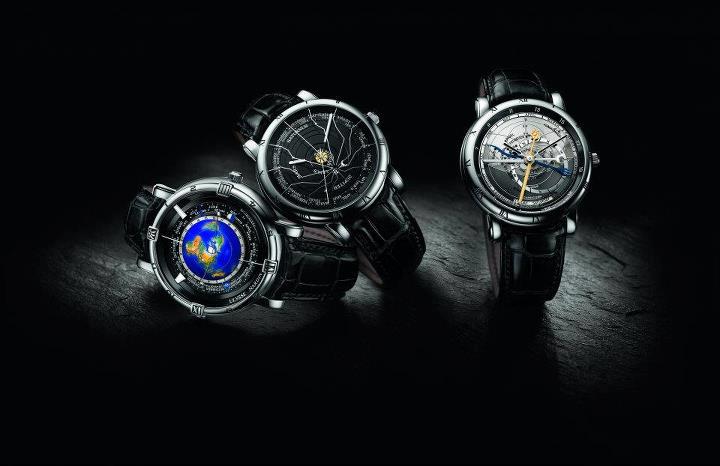 Tellurium Johannes Kepler – Planetarium Copernicus – Astrolabium Galileo Galilei