When is a watch more than just a watch? This is a question which keeps popping up every now and then in my head, and I am sure I am not the only one seeking an answer to this question. Although it might sound a little funny as the primary function of any timepiece is to tell time, it is always intriguing to come across a watch that does things differently, and ends up telling more than just the time such as the Christophe Claret Magicafiore for Only Watch 2017. With this watch the brand pays a tribute to the love of life through a 3d depiction of a cherry blossom. Sounds interesting, let's have a look.
Mr. Christophe Claret, has been in the business of watch making for more than 25 years and one look at his brands watch catalogue, is good enough to exemplify his nonconventional and artistic approach towards watchmaking.
The Christophe Claret Magicafiore for Only Watch 2017 holds true to the Christophe Claret DNA and tells a romantic tale of a cherry blossom flower through its dial. The cherry blossom flower has been done beautifully with a blue enameled center comprising of 28 emerald stamens and applied petals in titanium. The flower is surrounded by a magical display which either shows the numerals at 3, 6 and 9 or can display the text "Pour l'amour de la vie" at a press of the pusher at 2. This is achieved by rotating the metallized transparent sapphire upper disk bearing a mosaic of transparent squares across a 1.5 degree angle over a fixed mother-of-pearl lower disk whenever the pusher at 2 is pressed. Time on this watch can be read through the 2 dragonflies that you see on the dial which represent the hour and minute hand respectively. Though the display with Arabic numerals does make it a tad easier to read the time on this watch, I still feel it would be difficult to read the time accurately on this watch. That said, I would also like to say that it is still more legible than a lot of other idiosyncratic watches I have come across.
The white gold case on this watch has a diameter of 42.50mm and a thickness of 14.45mm, which I find is a little strange as this watch is most likely targeted towards women, but the dimensions seem to suggest otherwise. Yes, I do understand that a statement piece like this does require some real estate to showcase its beauty, but it should not possess the dimensions of a men's diving watch at least. Nevertheless, moving ahead, the bezel of this watch has been nicely decorated with 59 blue sapphires and 15 marquise-cut emeralds representing the leaves of a cherry tree. As much as this watch is beautiful to look at from the front, the rear of this watch has been done equally well.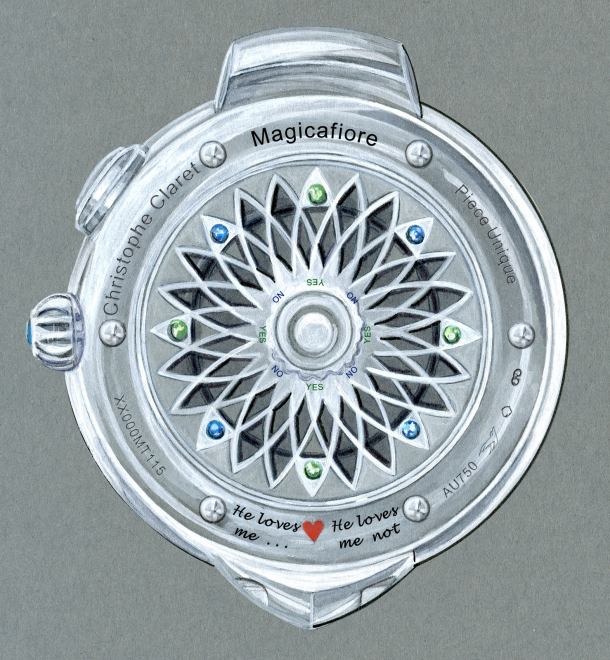 Flipping the watch over, the user is greeted with a sapphire crystal exhibition case back, which provides an opportunity to admire the oscillating weight of the caliber MT115 which has been embellished with 4 emeralds and 4 blue sapphires. The MT115 is a high beat self-winding movement which beats at a frequency of 4Hz, and uses 2 barrels to keep this watch alive and kicking for about 3 days.
The Christophe Claret Magicafiore for Only Watch 2017 is an exquisitely crafted watch with a nice charming story to tell and can be great wrist companion of that special someone in your life. The watch would come fitted on a Blue Alligator leather strap and is estimated to be auctioned in the price range of 70,000 – 100,
000 CHF.