Group 5. Over $95,000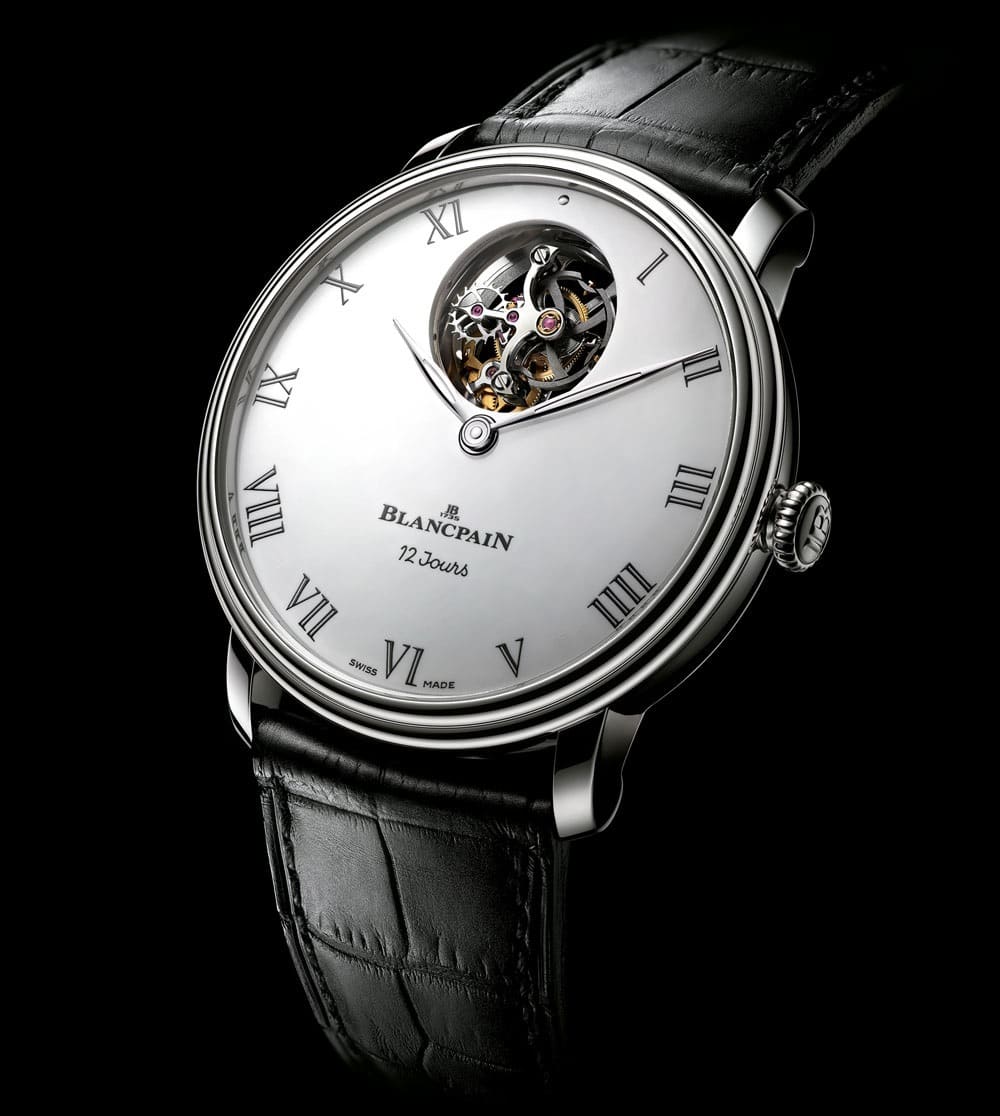 Blancpain Villeret Tourbillon
If that Villeret back in Group 2 just isn't expensive enough for you then maybe this will quench your thirst? The Villeret tourbillon is an automatic piece of the highest quality which also features a power reserve indicator and a rotary date. But, honestly, the real eye catcher is the flying tourbillon at 12 O'Clock. This is another solid gold piece that hasn't suffered from BezelBulging which means it's got a sparse look, saying that there's nothing this watch needs to hide. To emphasise this point the automatic rotor is also open worked so you can see as much of the movement as possible. Blancpain had it in 1735, and it's still got it today. $123,300.
A. Lange & Söhne Zeitwerk Striking Time
The Zeitwerk Striking Time from German manufacturer A.Lange & Söhne is my personal dream watch, especially in white gold. This super expensive watch ($125,800 depending) will give them the pleasure of looking at, wearing, hearing and passing down the family line. Yes, hearing, because every 15 minutes one of the hammers will hit a metal strip which has been acoustically designed for the perfect ring. On the hour, a second one will hit a ring tuned to a different note. Turn over to the back and there's a 3D view of all the components that will make this watch run. Not to mention the extremely complex way displaying the time in the digital style windows, there's also an up/down power reserve indicator and, of course, the hammer mechanism too. The Striking Time, my personal favourite and upon inspection, it'll be his too.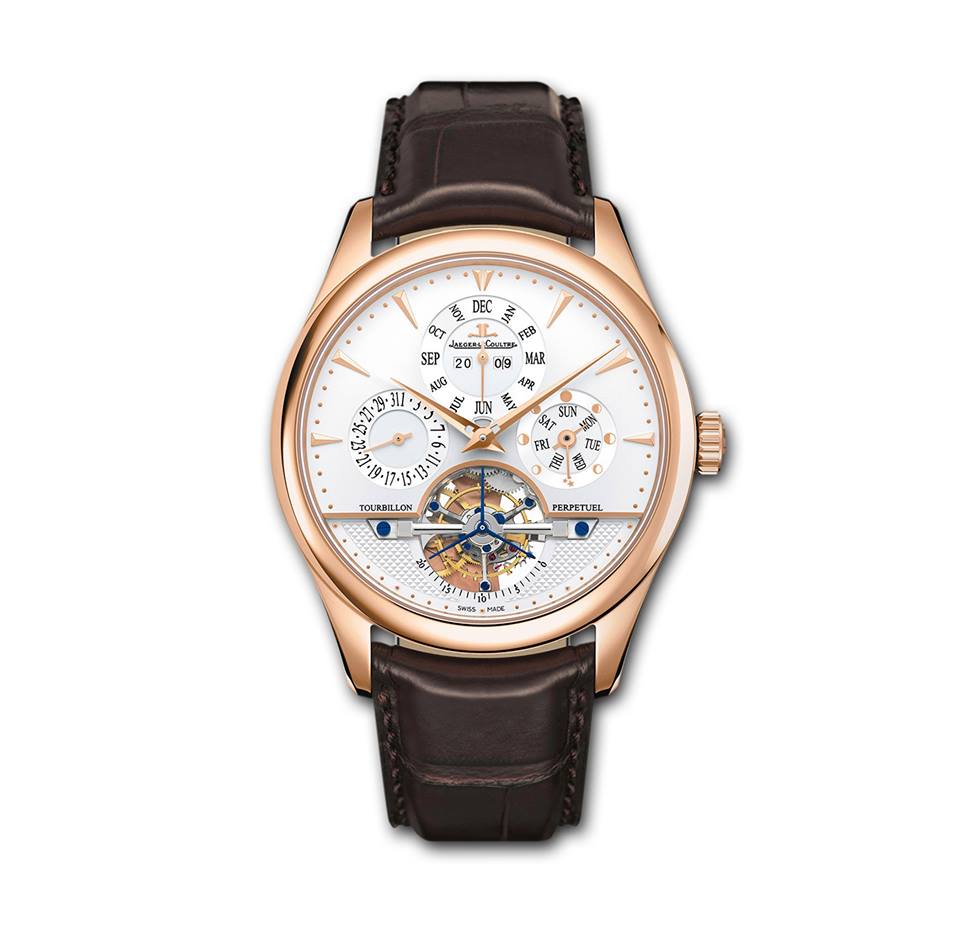 Jaeger-LeCoultre Master Grande Tourbillon Perpetual Calendar
This is a heavy hitter in the watch world. Jaeger-LeCoultre packs everything they know about watches (which is a lot) into this. First, at 6 O'Clock there's a tourbillon which is suspended from the bar running across the middle. There's also a day, date, month, year and moon phase indicator here. The odd thing you don't see much is the year indicator. This is because the manufacturer wouldn't usually how long their watch will last, so they give it a leap year indicator instead. This has a set of plates which flip over at the new year, much in the same way as the outsize date systems work in Lange watches. The moonphase is incorporated into the day sub dial, by the way. This perpetual tourbillon can be yours for $147,600.
Vacheron Constantin Malte Tourbillon
From the super complex to the (almost) super simple. The Malte tourbillon is a manually wound, tonneau shaped tourbillon watch, however, that tourbillon is special. Although all tourbillons are special, this one is made by Vacheron Constantin, the company that is usually regarded as second only to Patek Philippe. Also, there is no JLC parts in here, it's all made in-house at Vacheron and is one of the ultimate in simple/complex dress watches that aren't round. For $215,200 this can be yours to own, wear and pass down.
A. Lange & Söhne Lange 31
Here we are. Our voyage through the world of watches for Christmas has led us to this point, the apex of our journey is the marvellous Lange 31. "Why is it called the 31, what's with that power reserve and please tell me why Monats Werk is written on the dial". I certainly can help you there. The Monats Werk text means Month Factory in German. Secondly, there's nothing really 'with' the power reserve and it's called the 31 because of it's enormous power reserve of 31 days. This is the watch you need to wind once a month, every month and that's it. This is great for a couple of reasons. First, 31 days is a big achievement by anyone's standards and also if you have a rotation system which involves a bank and it's safe deposit box then you don't need to worry about winding it when you return on your rotation. This is also good because you'd have to set the date otherwise, but, even if it stops Lange's thought of that too because the date is adjusted via a pusher on the side rather than the crown. Speaking of, winding 31 days' worth of power into a watch would be really frustrating, so Lange moved the winding system to the back and you use a special key to wind it. A key for a watch is seriously cool by anyone's standards. That cool comes at nearly $235,400 though, so make sure you can invest right because as with all watches it will depreciate. But, who cares, if it's regularly serviced it'll run forever.
Have a wonderful holiday season from all of us at the Wrist Review team. Make sure you share the love with everyone, be charitable and think of those who aren't as fortunate. Let's make it a good time for everyone!
Pages: 1 2 3 4 5 6
Harlan Chapman-Green – Contributing Editor
First introduced to horology with the Patek Philippe Calibre 89 by his father two years ago, Harlan enjoys his passion for fine horology. He prefers to spend his time in the boutiques of upmarket brands, trying out new pieces constantly. His preferred 3 brands are A. Lange & Söhne, Breguet and Vacheron Constantin. Although not much for the smaller brands, he still finds the complications intriguing and wishes to own one watch from each of his three favourites. Read his articles here.