The topic of today's list is my favourite topic in all of horology, complicated Breguet watches. Breguet is one of the oldest and most historically significant watchmakers. Founded in 1775 by Abraham-Louis Breguet, this company has been responsible for inventions such as the tourbillon, the first attempt at shock-proofing a watch and (according to them at least) the very first wristwatch, which was made for the Queen of Naples who grew tired of wearing a watch as a necklace which was the ladies fashion of the time.
Abraham-Louis Breguet was a genius of his time. His modern-day equivalents would be people like Kari Voutilainen, who has styled most of his watches to resemble Breguet's watches. Breguet was a man in love with watches and complications, this love of complicated watches is still prevalent at Breguet today, and we're going to look at five of them with one bonus watch because I'm feeling nice. These don't have to be in a specific collection, although most of the watches were from the Classique line.
To be clear, we're looking at Breguet watches with complications added, so you won't see the 10Hz watches on this list.
5 – Classique Complications 1907
One of the rarest and oddest watches in Breguet's current lineup is the reference 1907. It's rare for well-established watchmakers to continue making pocket watches as no one really wears them. Breguet's "Grande Complication" pocket watch features a tourbillon and a sonnerie/minute repeater setup. This means the watch will chime the hours and quarter hours by itself (although this can be silenced), and the minute repeater can be used whenever you wish (which would be all the time for me). Interestingly, the manual states that you need to keep the time movement and the sonneries wound, and it will be damaged if you only wind the movement but not the striking system. I suppose that's not going to be a major problem as these cost nearly a million dollars apiece.
4 – Classique Complications 3797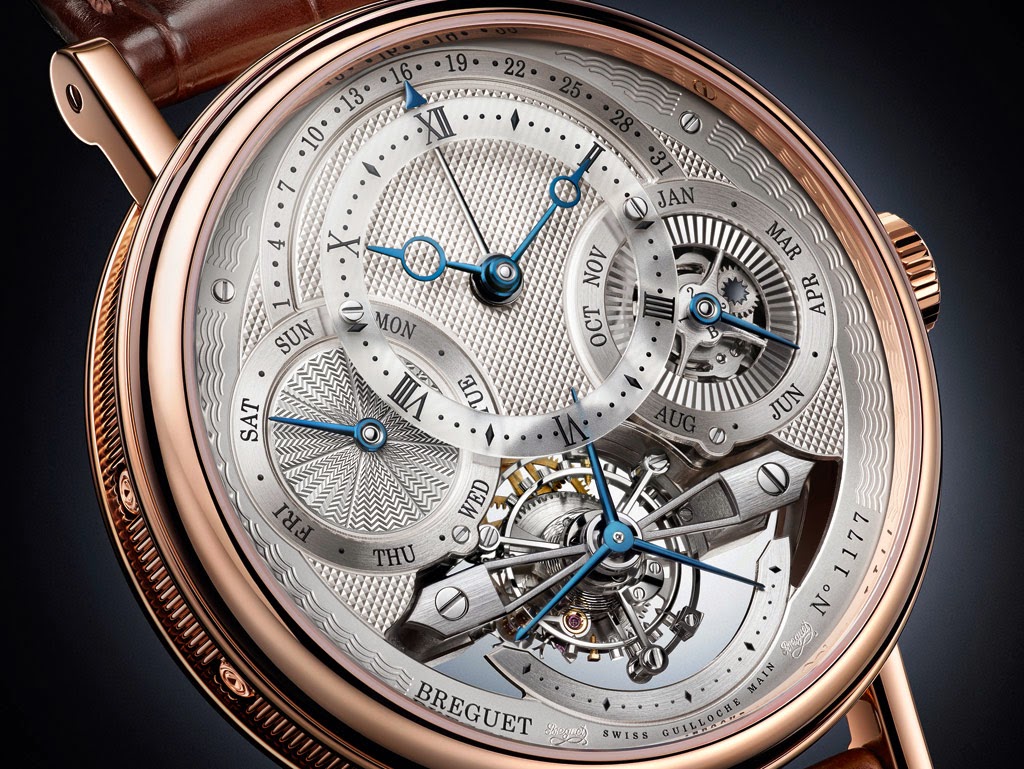 The Classique Complications 3797 is one of Breguet's finest watches. As it's a tourbillon perpetual calendar, it's also a pretty complicated piece. They make a skeletonised version of this watch, the reference 3795. After seeing one of those in person, I can tell you it's not very readable. Luckily, the 3797 fills in the dial with lots of lovely guillochê, and the parts of the movement that are exposed are exquisite. My favourite parts are the sapphire crystal disk with the minutes display on and the cutout for the leap year indicator, which is itself a disk with a blue dot on held within the months indicator. The tourbillon powering it all only sweetens the deal.
3 – Classique La Musicale
There are three versions of the Classique La Musicale, and I didn't give you a reference because they're all awesome. The La Musicale is an automatically wound wristwatch that has a music box built into it. The underside of the central dial section has pins that pluck the comb of the musical system. The watch movement has a solid gold shroud to resonate louder and seal the movement away, this allows the actual case of the watch to have vents in the back to allow the sound to escape while also keeping the movement dry. These watches are enormous at 48mm, but they're unique. Breguet invented a new magnetic governor for the musical system as well.
2 – Tradition Chronographe Independant 7077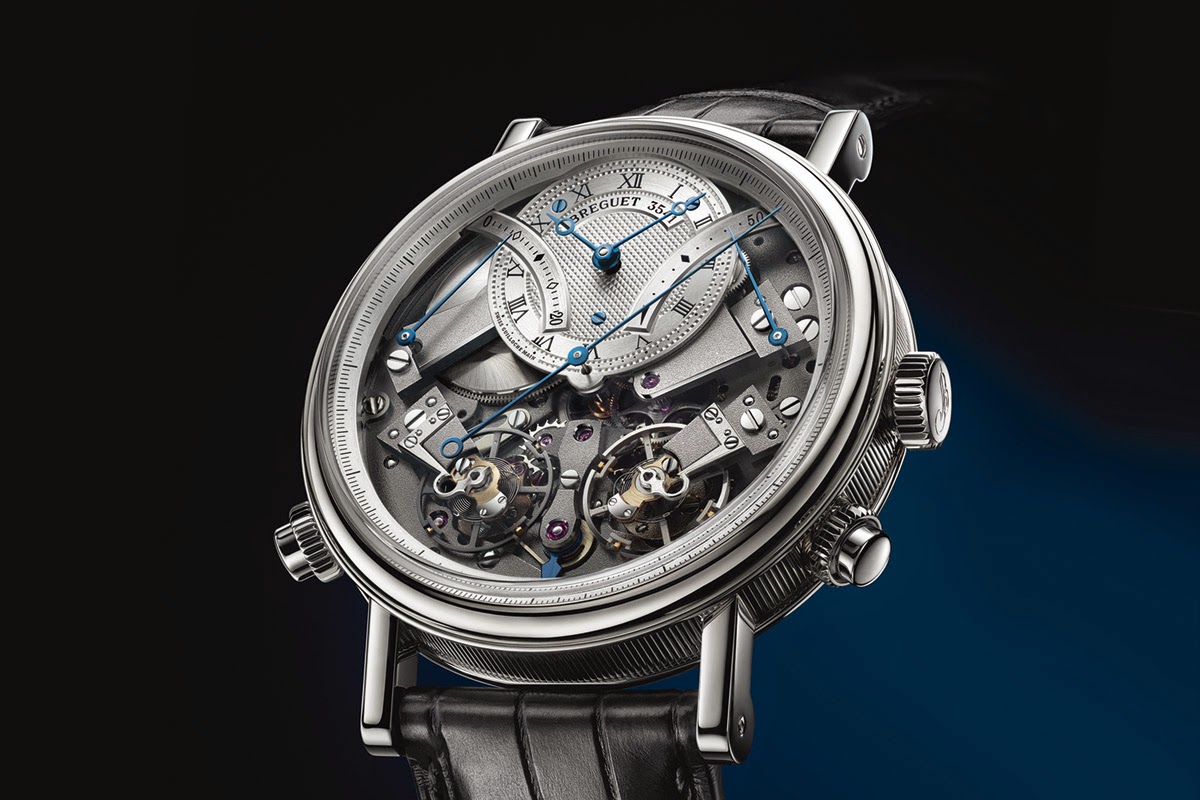 You were probably expecting me to put the Tradition Tourbillon here as I mention it semi-frequently, but the Tradition 7077 chronograph is one of Breguet's finest watches. Featuring the classic Tradition dial setup (inspired by the works of Abraham-Louis Breguet himself), the Tradition 7077 features an unusual chronograph setup. Typically, a chronograph is bolted onto a base movement and runs off of the power supplied by the movement's mainspring barrel, and the existing escapement assembly also provides the accuracy. In this, these two are separate. The primary time movement uses a 4Hz balance wheel, while the chronograph has its own 5Hz balance wheel. This allows it to be very accurate while not affecting the accuracy of the main movement either. The minute indicator is a retrograde one as well, and while it only goes up to 20 minutes, this watch is still in another world of coolness.
Honourable mention: the Tradition 7087 Minute Repeater Tourbillon
The Tradition reference 7087 was one of Breguet's finest watches, featuring a tourbillon with a novel minute repeater. The gong springs (a Breguet invention) were laid out across the dial and resembled a B, while the hammers struck upwards to make them ring. It also had a fusée and chain powering the minute repeater (a world first), the magnetic governor I mentioned earlier from the La Musicale and an extra-flat tourbillon thrown in too. I remember that Breguet may have had some problems with the striking mechanism on this one. This might be why there's no mention of it anywhere on the website. Such a shame, too, as it was a next-level watch for sure.
1 – Classique Complications Double Tourbillon 5345 "Quai de l'Horloge"
A surprise to no one who knows me or my work, the number 1 complicated watch from Breguet is the Classique Complications Double Tourbillon. It's been my grail watch for a number of years, but this more recent version from 2020 took it to another level. I'd wondered whether Breguet had lost some of its sparkle as it seemed that Patek Philippe, Vacheron Constantin & Audemars Piguet seemed to be doing more daring things with their watches. Thankfully, Breguet came out swinging, and this one was a real cracker. Featuring two tourbillons and two barrels set on a rotating plate, the Double Tourbillon seems like a tiny city of gears and springs thanks to the amazing depth effect only achieved by other watches of this calibre such as A. Lange & Söhne's Triple Split. Truly worthy of our number one spot.
If our readers love this list as much as I loved writing it then there is potential for another Top 5 in the future. Breguet certainly has enough watches for it!