So, you know how Zenith is making some of the coolest watches around, right? Yeah, that snuck up on us didn't it. After the divisive yet wild Defy Xtreme, Zenith seemed to have a bit of a lull in making watches that grabbed people's attention. Sure, they came up with quality products like the El Primero Synopsis, which offered the open-dial cool factor of the current El Primero with an overall dressier appearance, but they lacked a showstopper. When the Defy was revamped as a model more in line with its past designs, it became a cult hit. Then they changed it up again with skeleton dials and chronographs and such, eventually reaching their opus with the Defy Lab.
Or was it? You see, the Defy Lab was an experimental watch, no one was sure how Zenith's new oscillating disk design would hold out over time. A watch that is more grounded in traditional horology, that of oscillating balance wheels and Swiss lever escapements, comes forward in the new Defy Double Tourbillon. You'll have seen watches with multiple tourbillons before. My grail piece is the Breguet Classique Complications Double Tourbillon. Antoine Presziuso makes a watch with three tourbillons on, and Greubel Forsey has made a few with four. But, what makes the Defy Double tourbillon stand out is the way it uses the tourbillon.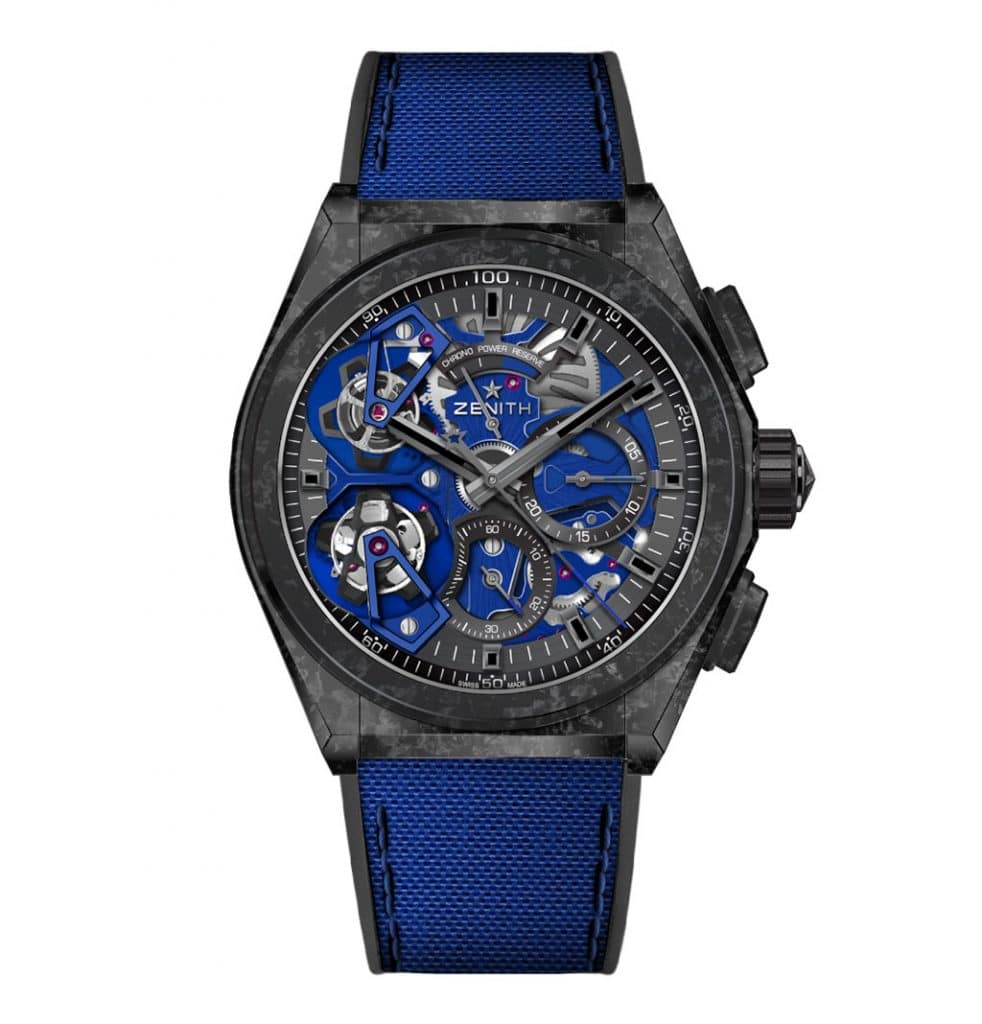 Traditionally, it was an escapement used for combating the errors in precision caused by Earth's gravitational field. Great for a pocket watch, nearly pointless on a wristwatch. These tourbillons are not gyroscopic or designed to combat the effects of gravity on the watch, but they are still an extra complexity. The watch runs off of one tourbillon most of the time, the lower tourbillon as a larger diameter and a relatively standard beat rate of just 5Hz. When the watch isn't being used to time anything, rather, just to display the current time, it's all pretty much business as usual, and it'll run for 60 hours.
Activate the chronograph, though, and it immediately becomes evident that there is very little that is 'normal' about this watch. The second tourbillon comes into play. It's smaller and lighter, designed to do much more than 5Hz, more like 50Hz. That means that not only is it the fastest rotating tourbillon on the planet (one rotation of the carriage takes 5 seconds as opposed to the standard minute), it also means the chronograph can time down to 100ths of a second, which is incredibly precise for a mechanical watch. To power this beast requires a dedicated spring barrel, which provides the chronograph with a power reserve of 50 minutes, not bad for something that fast. The El Primero even receives a chronometer certification from TimeLab.
All these watches are large at 46mm in diameter, they need to be to fit it all in. There are a couple of different options to choose from:
Ref. 10.9000.9020/79.R918 comes with a carbon case and limited production of fifty units priced at CHF119,900.
Ref. 40.9000.9020/78.R582 has a platinum case, is limited to just ten units and is priced at CHF149,900.
Visit Zenith here.