When it comes to war memorabilia everybody seems conservative partly because of what such items represent. However this doesn't always apply and I'm glad about the resurgence of Alpina KM–710 which is a remake of the WWII German Kriegsmarine wristwatches. Take note that this is not really the original watch but the design doesn't divert from the original concept hence, the classic semblance is very much intact. If you like a little bit of history then this military grade timepiece will make you interested. Note that what we like here is the simple classic design plus its tough build, come in being a military issue watch speaks for itself.
So more of its history, Alpina was just one of the watchmakers that provided WWII German Navy (Kriegsmarine) with wristwatches. These watches were rather small at 33 mm case diameter but they are very effective at telling time. The clarity with the original design was outstanding but I wonder if men with big wrists were comfortable with it in the first place. The Germans were probably after absolute clarity and comfort since smaller timepieces are easier to wear and maintain. Besides the original watch also sport silvery-white dials and black Arabic numerals which were amazing even in today's standard.
So what does the new Alpiner Heritage Manufacture KM–710 bring to the table apart from its rich history? Well for one, the reinterpretation of the watch is generally modern. The size of the stainless steel case also changed (41.5mm vs 33mm) because of the added date indicator. Moreover with a closer look, the resemblance to the original is undoubtedly accurate at least with the case design minus the size. The bezel fascinatingly looks the same albeit with a modern appeal and new crown design. The lugs look the same but the overall case design is somehow modernized if you look at it from a distance when placed side by side with the original. This is good to be honest. Plus the transparent caseback sports a very nice view to the movement underneath. Part of the read out is the water-resistance label of 50m.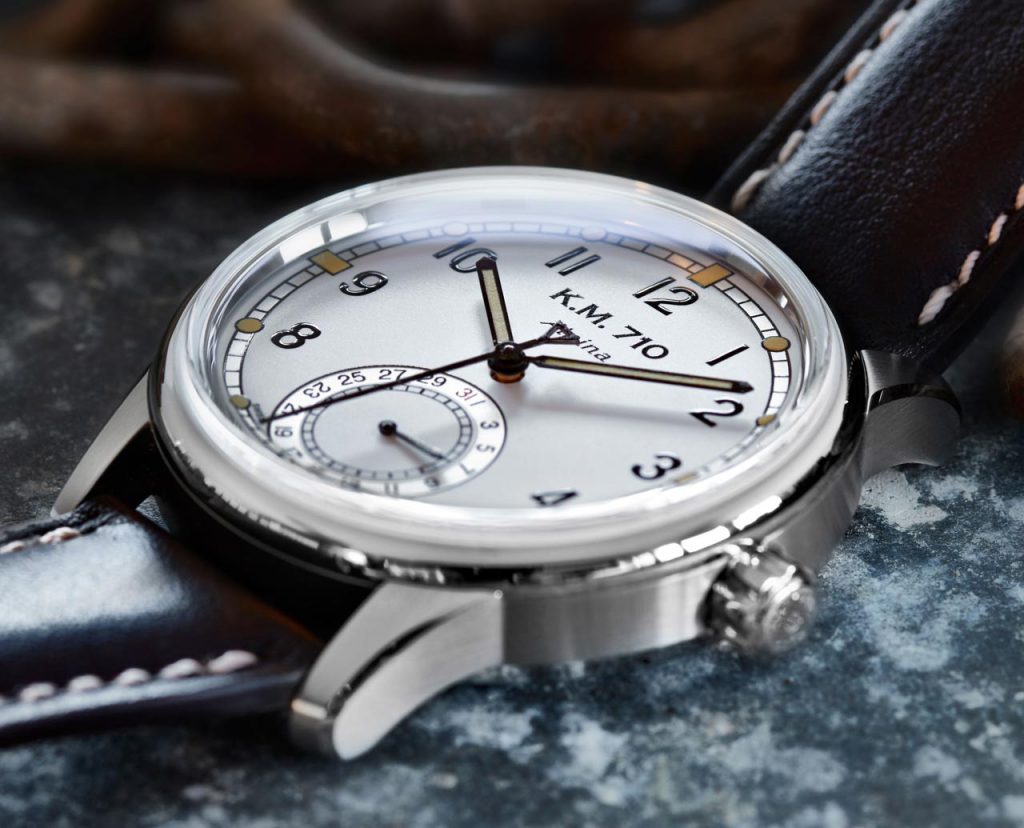 The dial sports a beige Super-LumiNova luminescent material on the hour markers and hours and minutes hands which is completely safe while offering excellent legibility compared to the original's luminescent radium – golly ain't radium a bit dangerous! Moreover the new dial is also enhanced by the glass box sapphire crystal that can protect the watch from most scratches. The seconds hand is obviously added with a classic design still maintaining the classic appeal of the watch. The date subdial is very trendy too however you may have to squint several times to see the small date numerals. I like why the designers chose date subdial instead of a date window simply because of the nice retro look.
Furthermore, the Alpiner Heritage Manufacture KM–710 is powered by an in-house AL–710. This movement has the capacity of providing 42 hours of power reserve. The watch also comes with an elegant leather strap with white stitchings. For more info, please visit alpina-watches.com