Audemars Piguet's Royal Oak Offshore collection has been divisive amongst watch enthusiasts since its inception in 1993, in fact, its design was so polarising that the Gerald Genta who designed the original Royal Oak gave them a right earful when he saw it unveiled. This new set of more colourful Offshores looks set to be even more divisive, especially as they're built on the 44mm version of the watch. So, are these new beasts their own works of art, or are they duds?
Let's go over the appearance first, as this is undoubtedly what causes the most controversy with these timepieces. As I mentioned, the new coloured collection is based on the 44mm Royal Oak Offshore Chronograph, and each model has a black ceramic case. Offshores are pretty much the archetypical oversized sports watches, and the 44mm version is the most extreme of the standard range. The standard 42mm models "wear larger" than their dimensions suggest, that is, they appear to be larger on the wrist than other watches that are also 42mm in diameter. On average, a 42mm Offshore wears like a 44mm-45mm watch, and these 44mm watches with their enormous pushers wear more like a 48mm piece. That means you need some serious wrists to pull these off.
I know a lot of people who would liken the 44mm Offshores to overcomplicated jumbles of bits that all seem a bit unnecessary. I prefer to describe them as something coming close to a type of architecture known as Brutalism. This style developed in the United Kingdom and was often associated with things like social housing and shopping centres made with square slabs of concrete arranged in a function-over-form manner. I don't think these do brutalism any justice; you'd need to look further afield to things like Montreal's Habitat 67 to get an understanding of how this initially simplistic approach can be quite complex.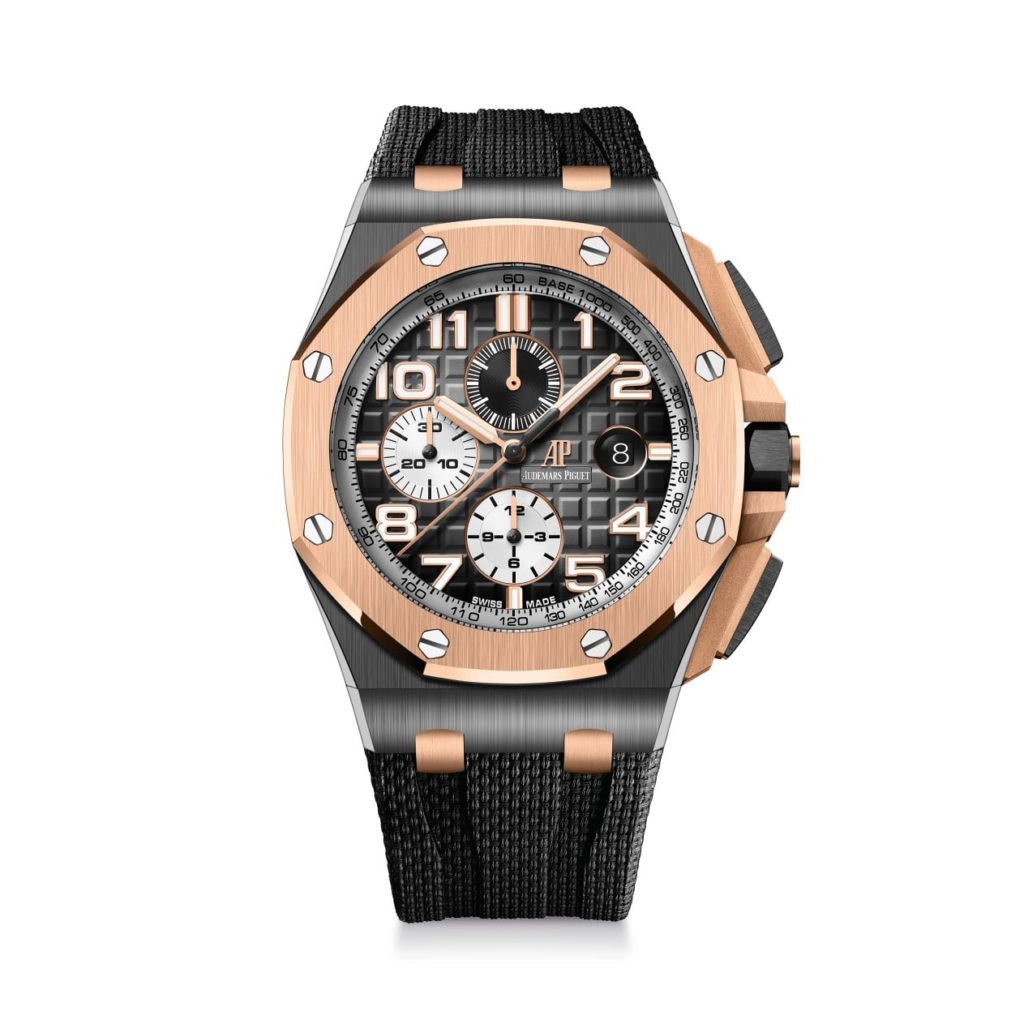 Brutalism uses geometry to be imposing, and you can't deny there's something imposing about the 44mm Offshore, even if these versions are uncharacteristically colourful for brutalism. There are three versions of the new Offshore coming our way. Two of them combine colour with black ceramic. Your choice of colours is either blue or a bottle-green type which is found on the pushers & crown, ceramic bezel (which has been both brushed and polished) and the mega tapisserie engraved dial. If that's not enough then there is a black and gold version as well which fuses the ceramic case, crown and pushers with pink gold accents. All watches have a gradient dial which makes them appear modern but also adds to the amount of visual stuff that's going on at the same time.
All three watches use an in-house calibre which has had a Dubois-Depraz chronograph module on top. To be honest, this surprises me. Audemars Piguet has acknowledged that they need to up their game in terms of making their own chronograph movements entirely in-house, and they did that, it just came in the Code 11:59. While I was hoping to see the new AP4401 calibre in there, the 3126/3840 will suffice for now. It has a pretty tinted rotor and some excellent finishing. It's also got a 50-hour power reserve and a 3Hz beat rate, which are adequate for the price. It also looks tiny in the back of the watch thanks to to the giant case, but at least they didn't just put a massive rotor on it.
The prices of these watches vary, as you'd expect. The blue and green versions both cost $34,900 while the gold and ceramic watch costs $42,900.
Visit Audemars Piguet here.