While at Baselworld we took the chance to go and see Peter Speake-Marin and talk watches with him while sipping on champagne and getting a little rowdy with end of day celebrations. What was fascinating was to hear the story behind the man and what influenced him to be where he is and do what he was doing. Suffice to say he is one of the masters of the art, a real watchmaker at heart with a passion and drive that shines through in his work. His style is distinct and it would be very hard to mistake his timepieces for someone else's.  Before we get too carried away though, let's get to the reason we are here, the beautiful new Speake-Marin Velsheda that was unveiled at Baselworld 2015.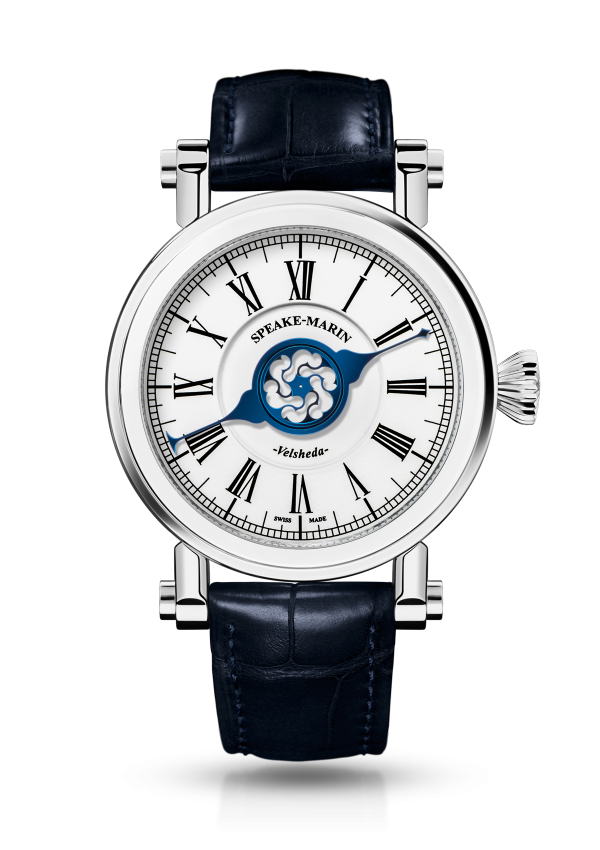 What immediately jumps out at you is the fact that the face features one distinct different to most other wristwatches on the market. It features a single blued steel hand that extends across its entire diameter of the dial. What this does is provide a backdrop for the beautiful optical effect of 2 superimposed topping tool motifs, the Speake-Marin logo, rotating at different speeds. Counter-balanced at one end by a pointer and at the other by an arc, it is a very unique way of telling time and works like a compass that works in five-minute graduations around the peripheral chapter ring. It's a really beautiful way of telling time even if it's not the most accurate in the world.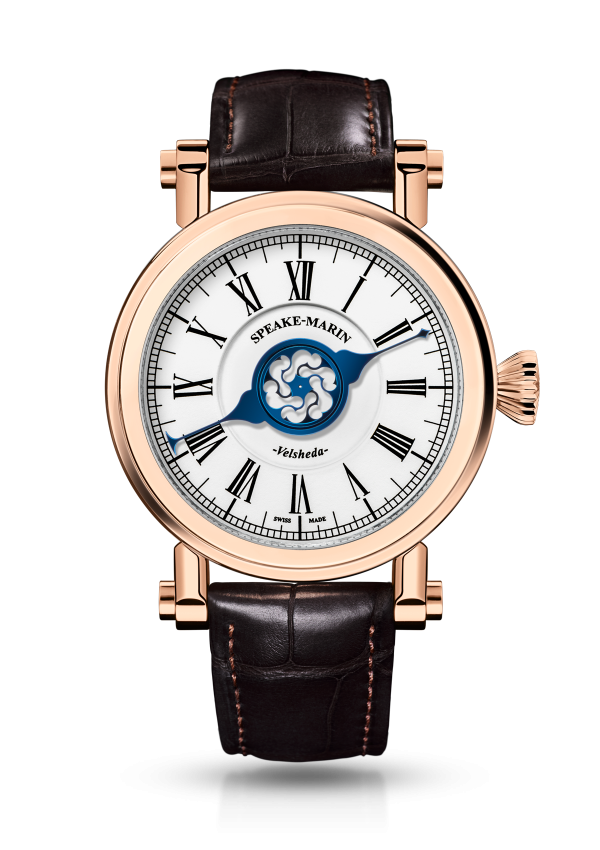 However, before we get too technical, what inspired the name Velsheda you might ask? Well as we found out by Peter himself, the name Velsheda is nautically inspired and is named after the "J Class" yacht that was built-in the 1930's as a racing boat that is still raced to this day.  The timepiece is obviously inspired by the high seas and the Piccadilly case works wonders in tying the entire theme together. Measuring in at 42mm in diameter, the 18 carat pink gold case features 2 crown positions: hand winding and stop-seconds. The dial with its unique single blued hand is finished with a stunning multi-layered lacquer dial with tapered Roman numerals and peripheral chapter ring. Anti-reflective sapphire crystal is utilized for both the front of the dial and the display caseback to view the beautiful heartbeat.
The heartbeat of the Speake-Marin Velsheda is the mechanical Vaucher calibre 3002 automatic movement, with 28 jewels and Speake-Marin topping tool mystery rotor, hand-finished bridges and rotor with 50-hour power reserve. The timepiece is finished on a hand-stitched alligator strap with 5N 18 carat gold buckle.
The Speake-Marin Velsheda is a bold and daring timepiece that's both inspiring and refreshing with a unique way of telling time and a beautiful multi-layered lacquer dial that really pops from underneath the single blued steel hand. A standout from Baselworld 2015!
For more info, please visit speake-marin.com


Osheen Arakelian – Contributing Editor
Drawing on a lifelong love of horology and a more recent introduction to appreciation of fine whisky, Osheen brought the two together with watch & whisky. He is proprietor of the site, which covers everything related to watches and whisky. In between completing a degree in commercial law and supporting a rich social life, he is out and about attending all the latest watch and whisky events Sydney has to offer. His passion has also taken him around Australia attending a number of events and he hopes to continue his career in the watch industry on a more serious level after he graduates. Read his articles here.