Blancpain has had an odd relationship with exclusive edition watches. I'd say, their Lamborghini partnership didn't make a lot of sense to us as the Italian supercar maker is known for being extremely flamboyant while making flashy cars. Blancpain is the exact opposite of that for the most part. We never understood why this partnership existed, or why Blancpain suddenly had a motorsports championship of its own (the Blancpain GT Series, now the GT World Challenge Europe). When Blancpain announced the Ocean Commitment project, we sat up and paid attention. As a brand that has been making watches designed to survive the ocean's depths since 1953, Blancpain knew it had a new responsibility: to protect the diverse ecosystem only found underneath the waves.
In its latest bid to raise awareness for the ocean environment, Blancpain presents an exclusive 50-piece limited edition version of the Fifty Fathoms Bathyscaphe called the Bathyscaphe Mokarran Limited Edition. The name of the watch, Mokarran, comes from the scientific name for the Great Hammerhead shark, Sphyrna Mokarran. These majestic creatures can grow up to 20 feet in length and feed on crustaceans, fish and even other sharks. They live along the coastlines of every nation near the equator, are apex predators and generally inquisitive of nosy humans.
Unfortunately, humans are not always simply being nosy. Great Hammerhead sharks are subjected to extreme levels of fishing for the Asian market where they are made into shark-fin soup. This traditional dish is supposed to demonstrate affluence but is reported to taste of next to nothing (click here to see Gordon Ramsay's reaction to this dish). To collect the fins for the soup, the shark is caught and has its fins cut off before being thrown back into the sea dead or alive. This process is extremely cruel and disrespectful to these magnificent creatures.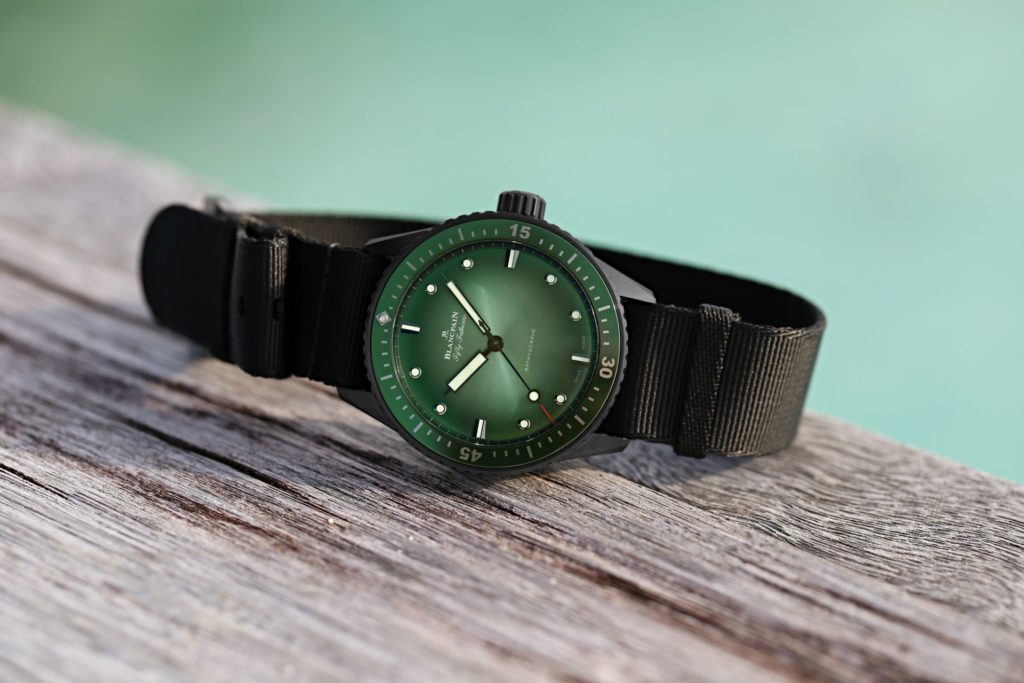 In recent times, several countries, including the United States, have made the possession and sale of shark fins a criminal offence, but more work needs to be done. Blancpain's Fifty Fathoms Mokarran watch has been presented to raise awareness further, as well as make a difference. This watch features a unique green sunburst dial with a green ceramic bezel as well. The case of the watch has been crafted from black ceramic which has been given a brushed appearance. The case measures at 43.6mm x 13.83mm and has a depth rating of 300m. It's presented on a black NATO strap as well.
Around the back of the watch is the calibre 1318 which has been put on display. It's got a 4Hz beat rate, is made of 204 components with 35 jewels and has a power reserve of 120 hours. It's 13 lignes across, and measures in at 5.65mm thick. For this movement, the oscillating rotor has been engraved with the outline of the Great Hammerhead.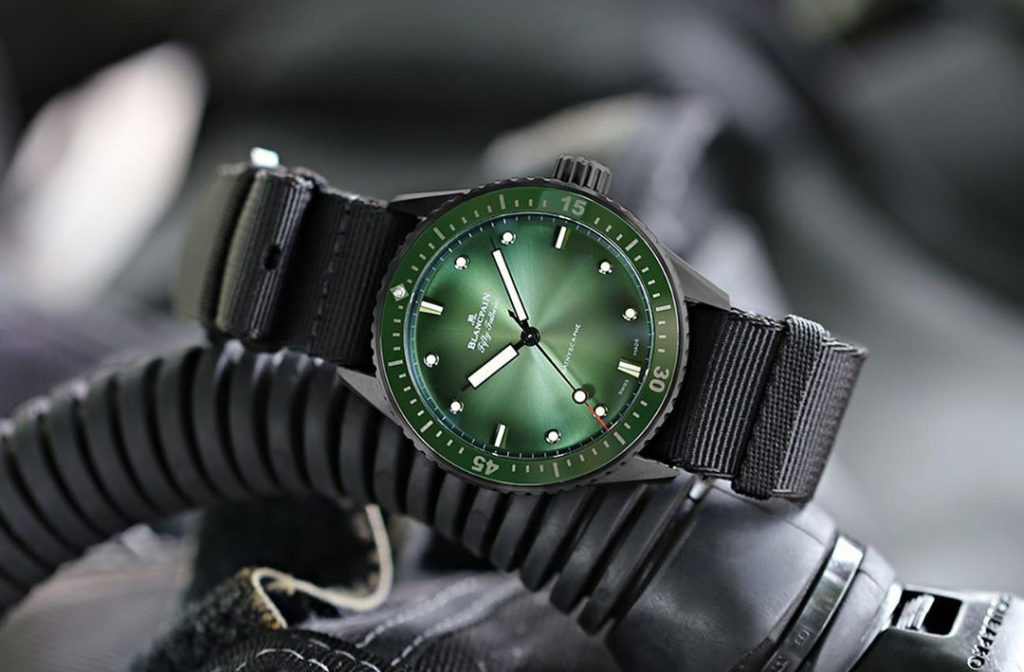 This special edition has been limited in its production and is only available through Blancpain's boutiques in New York and Las Vegas. By purchasing one of these watches, Blancpain will donate $1000 to the Mokarran Protection Society. That means a total of $50,000 will be added onto Blancpain's regular donation amount.
The price for one of these watches is $15,500. I hope Blancpain keeps us updated on this project. The Great Hammerhead is considered to be critically endangered, just one step away from becoming extinct in the wild. Now is the time to act. The reference number for this watch is 5005 0153 NABA.
WristReview is entirely opposed to the idea and method involved in hunting sharks for their fins. We do not feel this abhorrent process should be allowed to continue. It is inhumane and wrong in every sense. We wish Blancpain and their team the best of luck with the project.
The Humane Society International states that roughly 100 million sharks are killed every year for their fins. For us, this is 100 million too many.
[button color="black" size="normal" alignment="center" rel="nofollow" openin="newwindow" url="https://www.exquisitetimepieces.com/watch-brands/blancpain-watches.html"]BUY YOUR BLANCPAIN HERE[/button]