So here's the second part of my unique comparison series, Clash of the Chronos. Last time we looked at the Breitling Navitimer and Omega Speedmaster Moonwatch. We have some seriously heavy hitting pieces today so firstly i think we'll take a look at the Rolex Cosmograph Daytona.
Where to start with Rolex. This is a start for me as I've never reviewed a Rolex piece before. The Cosmograph Daytona has a huge legacy  but I'll cut it down as short as I can. It was introduced in 1963 and is named after the Daytona raceway in Florida and is arguably the most well known chronograph after Omega's Speedmaster Moonwatch. Sorry, Rolex fans but Omega gets it there.
Oyster Perpetual. Two words, along with many others, that Rolex is well known for. The Oyster refers to Rolex's own waterproofing system and the Perpetual literally just means automatic. So although Rolex loves to dramatise everything about itself (it has got a top marketing team to be fair) it's pieces are actually pretty simple and do what they say on the tin. Or dial. Or whatever Rolex uses nowadays.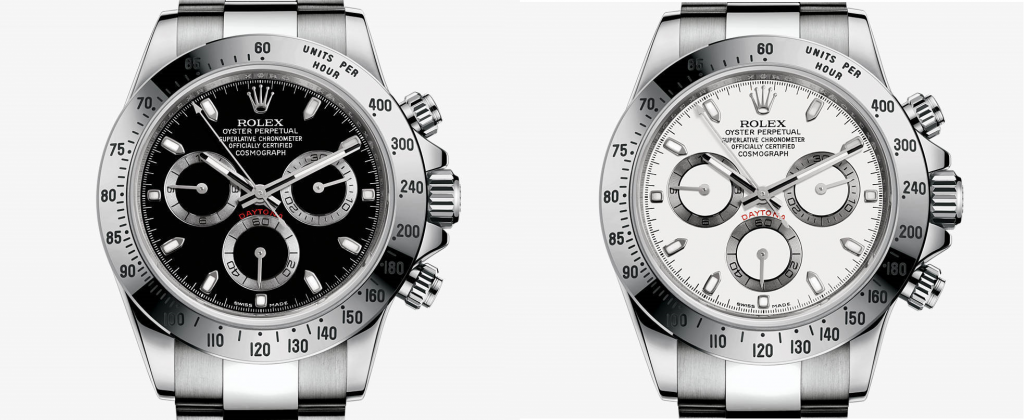 However, it's still a pretty reserved piece, with Daytona written on the dial once and on the movement, which you can't see. The tachometer scale on the bezel adds a touch of classy bling, however, I'd be worried about getting it scratched, particularly if it were in gold.
Speaking of the materials, you can get the Daytona in solid steel with either black or white dial. My favourite of the two is black dial with steel, I'm not sure why. It's also available in two tone with yellow gold, solid yellow gold, solid white gold, solid Everose gold and solid platinum. Each model has it's own special features on the dial such as with solid yellow gold that has black sub dials, or the platinum that has many green features. It's also 40mm in diameter so it's not the largest piece ever.
The Daytona is a solid performer, just like any Rolex really. And with Rolex's network you're bound to find an authorised retailer in your area who would be more than happy to service your Daytona.
Pages: 1 2