Published by Pierre-Paul Godts
GEO.GRAHAM Tourbillon Orrery 1713-2013
CELEBRATION OF THE 300 YEARS OF THE ORRERY
Limited edition of 20 pieces
Great men do great things. GRAHAM create never-seen-before watchmaking.
Renowned watchmaker and pioneering scientist of the Age of Enlightment, George Graham, is GRAHAM's main source of inspiration. Interested in mechanics, physics, astronomy and mathematics, he was a real wealth of knowledge. Considering the undeniable connection between time and space, he is the inventor of the first Orrery in 1713.
With its solar system wrist machine, GRAHAM take you to a unique Space Odyssey in the heart of its Tourbillon Orrery.
GRAHAM is possessed by the same passion as George Graham, who in the 18th century, devoted his life to the creation of the unmakeable.
You probably know this feeling, when you have this strong desire inside, a stomach swarming with courage and ideas that can make you move mountains.
It led "Honest" George to transform his world through his art. He is the inventor of the first Orrery in 1713.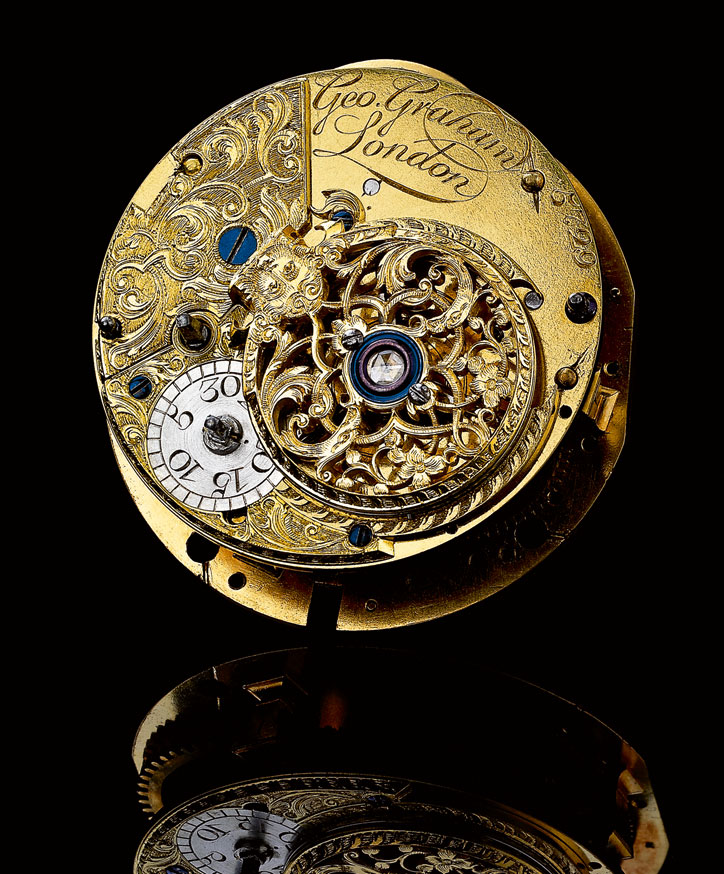 Original movement by George Graham
Friend of astronomers, such as Sir Isaac Newton or Edmond Halley, he created the first mechanical solar system model, in 1713. The invention was presented to Charles Boyle, 4th Earl of Orrery, from which all such tellurians and planetariums take their name. The Orrery overturned the conventions of watchmaking and astronomy…and it was 300 years ago!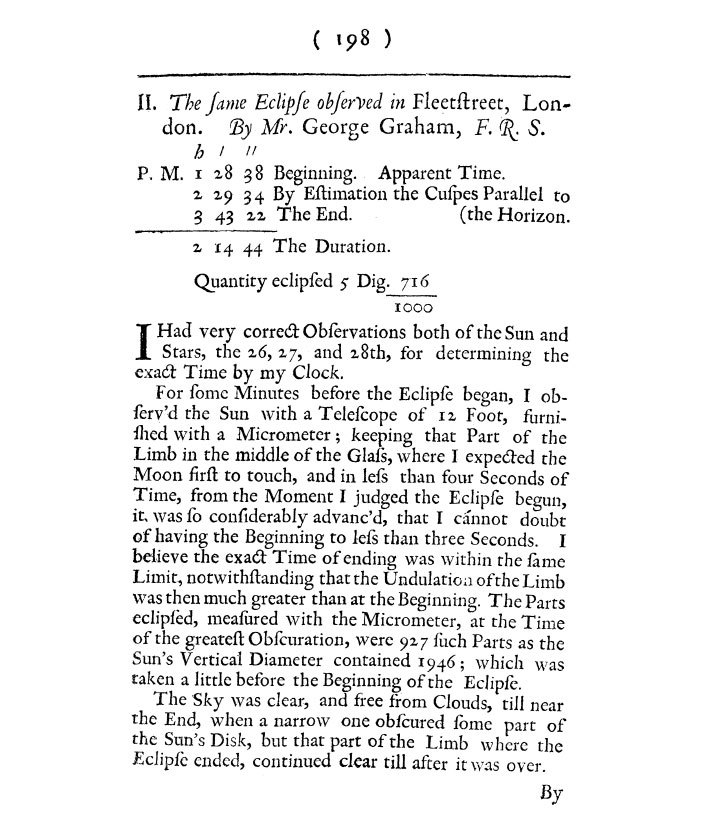 Observation made by George Graham for the Royal Society © Royal Society
It would have been unforgiveable for GRAHAM to miss the 300th anniversary of the invention of the Orrery. That is why GRAHAM presents the highest level of innovation in watchmaking with his Orrery wrist machine.
Original Orrery by George Graham © Museum of the History of Science, Oxford.
High-technology was used to realize a tri-dimensional Tourbillon Orrery.
Set in motion by Christophe Claret Manufacture in Le Locle, Switzerland, the Orrery includes the Moon, Earth, Mars and the Sun based on a 300-year calendar. The Sun represented by a pink gold (18K) hand-engraved Tourbillon bridge with 2 Phoenix heads celebrates the decoration used by George Graham.
The year counter on the case back enables to identify correction for the planets (Moon: 7 years, Earth: 1156 years, Mars: 25 years).
The wrist Orrery developed by GRAHAM is functional for the next 300 years. We will leave future generations to create the third Orrery in 2313.
Designed to last a lifetime and longer.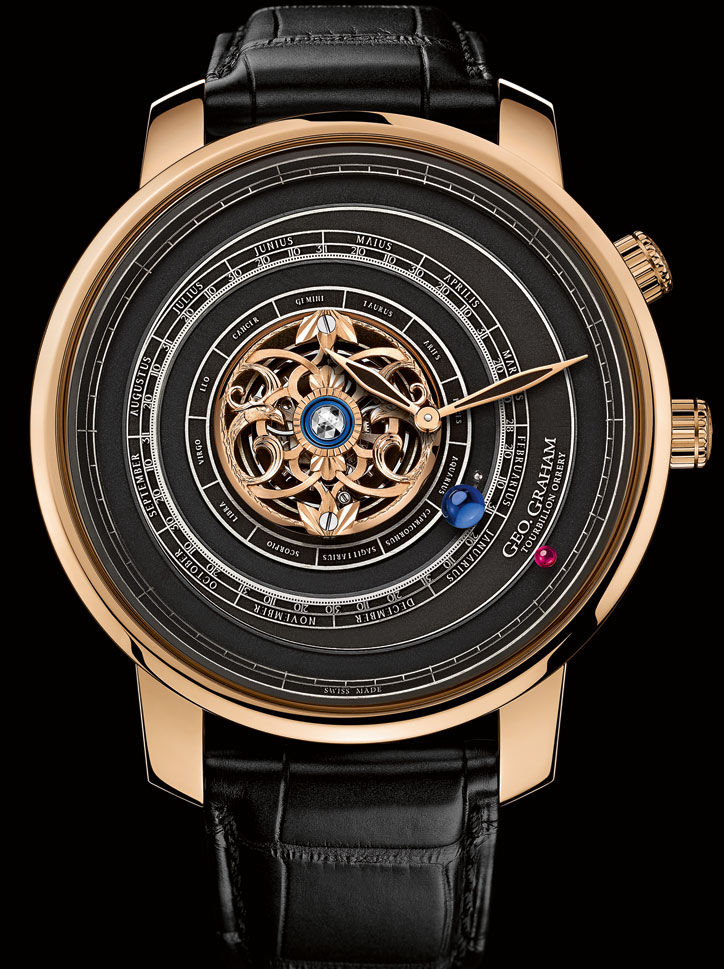 Technical Specifications
Ref. 2GGBP.B01A
Limited edition: 20
Functions
Manual Tourbillon Orrery, mechanical solar system model with 100 years calendar (two additional graduations of 100 years – 300 years in total). Year counter on the case back with planet correction indicators. (Moon: 7 years, Earth: 1156 years, Mars: 25 years)
Hours, Minutes
Calibre
G1800, high precision mechanical movement exclusively made for GRAHAM by Christophe Claret with Haute Horlogerie finishing, circular « Côtes de Genève » decoration, Tourbillon Orrery (solar system mecanism), 21'600 A/h (3Hz), Incabloc shock absorber
35 jewels
Power reserve : 72 hours – 2 barrels
Case
48 mm pink gold (18K) case
17.60 mm thick
Pink gold (18K) right hand control crowns (planets' crown at 2 o'clock, manual winding and time crown at 3 o'clock), Moon corrector at 4 o'clock, Mars corrector at 10 o'clock
Pink gold (18K) bezel
Dome sapphire crystal (semi-spherical), anti-reflective coating on both faces. Full size dimension: 43.5mm opening
See-through sapphire crystal case back with 100-year scale, Moon and Mars correction indicators and serial number hand-engraved
Water resistance: 160 feet / 50 m / 5 bar
Dial
Black dial with Geo.Graham Tourbillon Orrery inscription at 4 o'clock
3 scales – from the outside to the centre: hours and minutes scale, Gregorian calendar (365.25 days – Earth indicates the date), Zodiac scale (12 astrological signs – Earth indicates the zodiac sign). Counter-clockwise reading.
Solar system: The Moon (rhodium, Ø0.90 mm); The Earth (blue sapphire, Ø3.20 mm); Mars (ruby, Ø1.70 mm); The Sun (pink gold (18K) – hand-engraved Tourbillon bridge with 2 Phoenix heads inspired by George Graham decoration and a close set diamond at the centre (Ø2.50mm). Counter-clockwise reading.
Off-centre skeleton pink gold (18K) hands with black Super-LumiNova coating
Strap
Hand-sewn black croco
Pink gold (18K) pin buckle