If you cast your mind back a bit to the madness of SIHH, you might be able to remember that we showed you some live photos of the Lange 1 25th Anniversary piece, which is one of A. Lange & Söhne's presents to itself in this year, the 25th year since its founding in 1994. You might also have remembered that that watch was not a one-off event, and indeed, my wording in this article thus far has hinted to that. On the 24th of every month, they will unveil one new model up until October as an extended celebration. Did your 25th birthday celebration go on all year? I don't think so.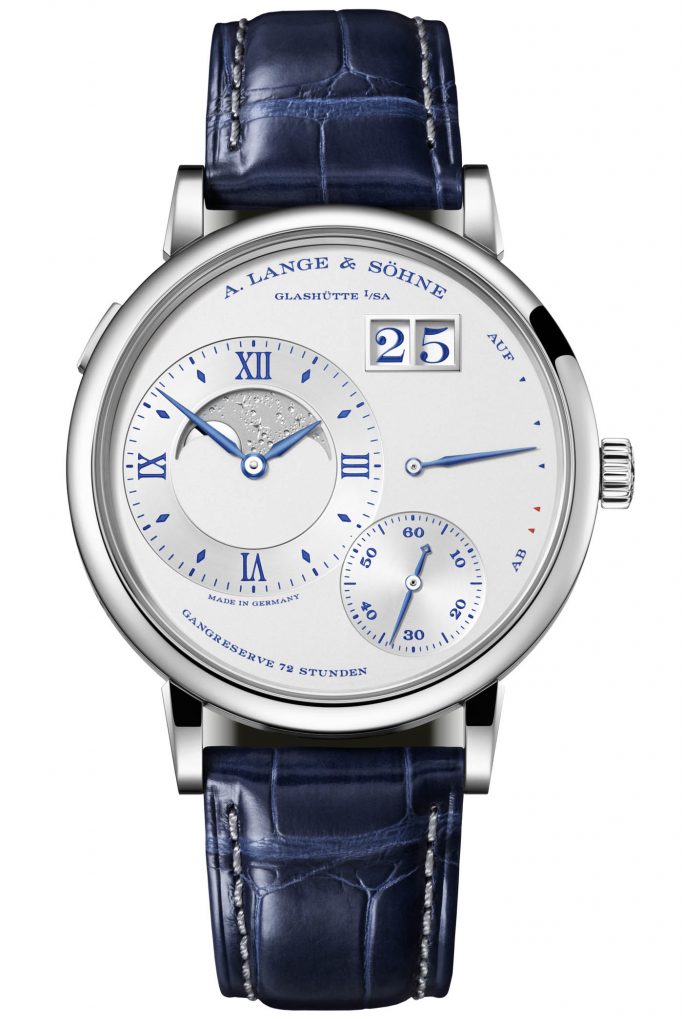 To shore up its collection, A. Lange & Söhne produces quite a large variety of watches all based on its classic Lange 1 watch. Among those is a classy moonphase watch, which changes in appearance depending on the size of the case. On the classically sized Lange 1, it's found in the subseconds dial. On the Lange 1's larger brother, the beefy Grand Lange 1, that moonphase moves to the main time display. Of course, this is no ordinary Grand Lange 1. It's a special edition with a unique colouration.
The new Grand Lange 1 Moonphase 25th-anniversary watch plays with colour and succeeds in all the right ways. The leather strap has been coloured blue, which accentuates the 18k white gold case brilliantly. On the dial, that same light blue has appeared in the Outsize Date window, on the hands and the markers as well. Interestingly, it seems A. Lange & Söhne has taken a leaf out of Glashütte Original's book and gone with a monotone moonphase display. Lange is well known for its striking moon phases which combine yellow gold with a royal blue backdrop. The disk is solid white gold and engraved to perfection with six big stars and a multitude of small ones. The moons are made separately and then placed in a recess on the disk, making for a visually attractive play on depth.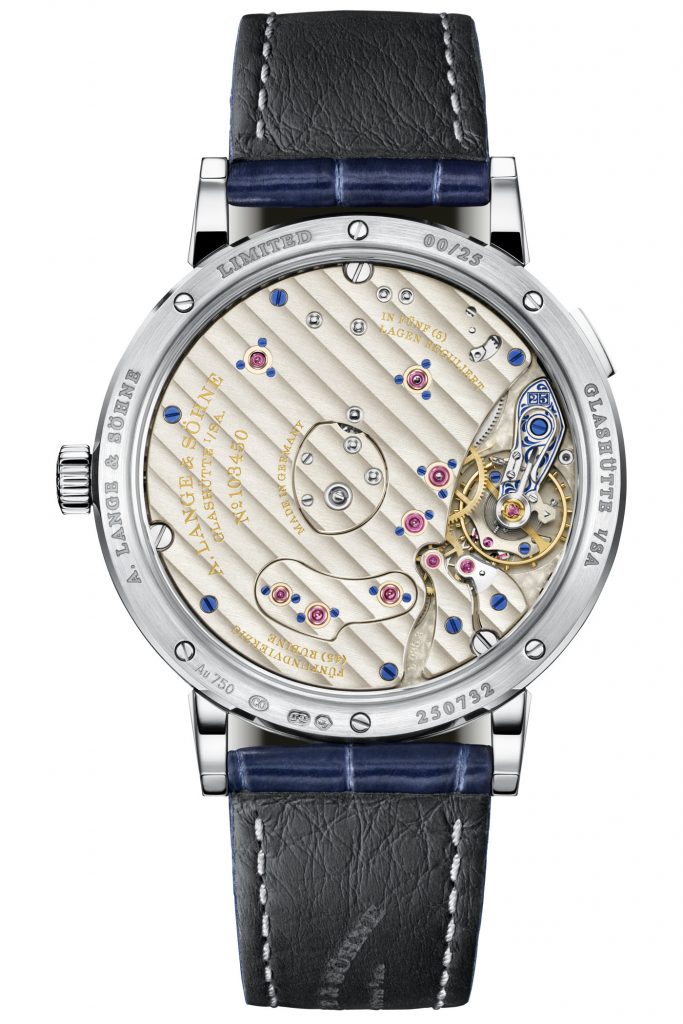 The calibre of this watch is the same as the production version. The calibre L095.3 is beautifully finished as expected, with inlaid Glashütte stripes covering the majority of the watch. Traditionally, movements from Glashütte bear very little of their inner workings to the viewer, as a three-quarter plate covers them. We can, however, see the balance cock and balance wheel, which runs at 3Hz for a total of 72 hours. There is a special signature on this limited edition. The engraving on the balance cock has been filled in blue, and there is a little 25 moniker engraved into the cock as well.
The watch retains its classic dimensions, 41mm in diameter and 9.4mm thick. The Outsize Date is adjusted via a pusher on the case. Given my two week experience with the non-moonphase Grand Lange 1, I expect this to be buttery smooth and just as mechanical on the Grand Lange 1 Moonphase. The moonphase disk itself is operated via a small pusher lower down the case. The price of this watch is €45,800, but it is limited to, you guessed it, 25 pieces.
Visit A. Lange & Söhne here.