So, we all know that boys just love their toys, whether that's simply a games console, car, motorcycle, a rifle or perhaps a model aircraft. But, let's think bigger for a moment, to those lucky enough to be graced with cash. What is the ultimate toy then? Sure a Bentley Mulsanne is a good start, a Cessna Citation X even better, but even they have their places. Of course, the ultimate toys, the largest and most expensive of them all are yachts. Not just any yachts, big yachts from luxurious marques such as Riva, Feadship, Sunseeker, Princess, Pershing and many more. Let me add in a disclaimer at this point, no, Ulysse Nardin is not moving into yacht building (that would be cool, though), but they have released a new Marine watch which deserves to be on a yacht, not just any yacht, a mega yacht.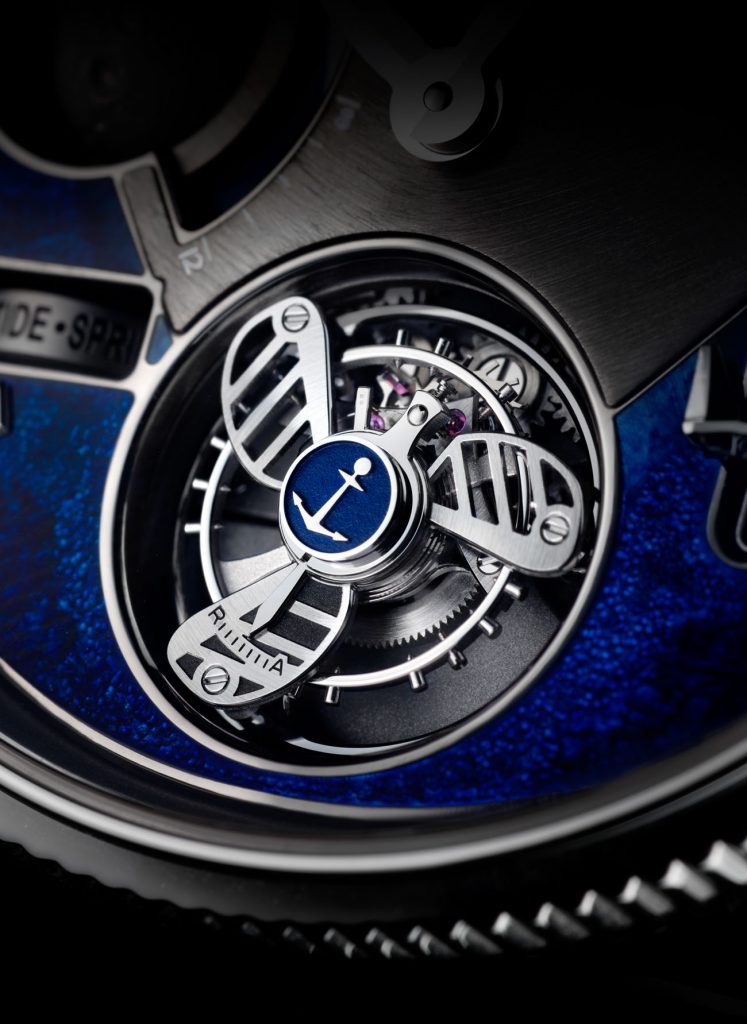 Crafted from platinum at a size of 44mm and with a limited run of just 30 examples worldwide, the new Marine Mega Yacht watch from Ulysse Nardin features a dial that wouldn't look out of place on something from DeBethune. Only, this isn't a small independent brand. That dial features a guilloché pattern cut to create the look of a mega yacht slicing through the fearsome blue seas. That blue sea on the watch? Grand Feu enamel no less. Below that is the flying tourbillon, designed to mimic a propellor, not necessarily connected to that boat motif I suspect, as traditionally propellors are at the back, but it's no less of an ornamental implementation that serves a practical purpose.
This is no paddle steamer chugging away slowly. Parts of the dial indicate that this isn't merely some arty watch with complications and a beautiful dial either. Ulysse Nardin could have done that, and we'd be no less impressed, but following on from their sailing yacht inspired Marine Grand Deck Tourbillon watch was always going to be a challenge. The power reserve on the dial is not a hand or some other kind of arrangement, no, it is, of course, an anchor, because like a power reserve hand, an anchor goes up and down to add security. In this way, the anchor shaped hand adds security to the user, security in the knowledge that the watch is not going to stop any time soon. The chain connected to that anchor is entirely functional and is coupled to a polished miniature windlass (a system used to wind up the ropes on a yacht) at the top of the dial.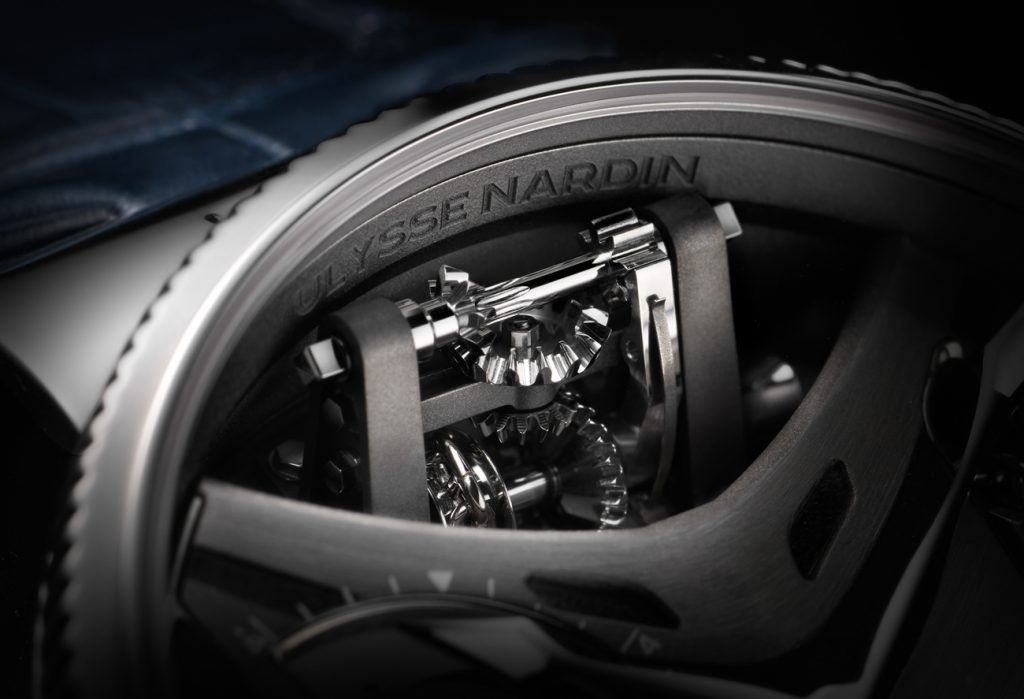 On the opposite side of that is perhaps my favourite part of the watch. These connect to the moonphase, a 3D engraved moonphase with a representation of the surface engraved onto it. One side has been blue PVD coated, the other given a rhodium treatment. It's connected to a wraparound cutout which indicates the tidal coefficient (the height difference between consecutive high tides and low tides, click here for more) and a small cutout below that shows tidal volume (the difference in water between low tide and high tide). Before GPS, maps, charts and star tables were some of the essentials needed for maritime enthusiasts and skippers alike, knowing the tides is key to this day.
All of this runs from a hand wound UN-631 calibre. It runs for 80 hours between winds. The movement itself is pretty sparse in terms of decorations, the components of the movements themselves provide catches for the eye to examine. The caseback is said to have been inspired by engine rooms of ships, and I'm inclined to agree on that, it is undoubtedly industrial but still pleasing.
The final cherry on top is how this system operates. All of the complications and the winding are set through the crown, no surprises there, but to accurately display which position does what there is a small cutout on the side of the case. Inspired by an Engine Order Telegraph, that thing they move around in a circle to indicate to the engine room for more or less thrust (often called a Chadburn), there is a window with a hand that indicates which position you're in. There's a choice of three, S for setting the time, TM for setting the tide and moon indicators and W for winding. Believe me, this is cool right up until you decide to try and yell out your orders as you pull the crown out and set the 'engine' to the correct time, after that the magic is lost.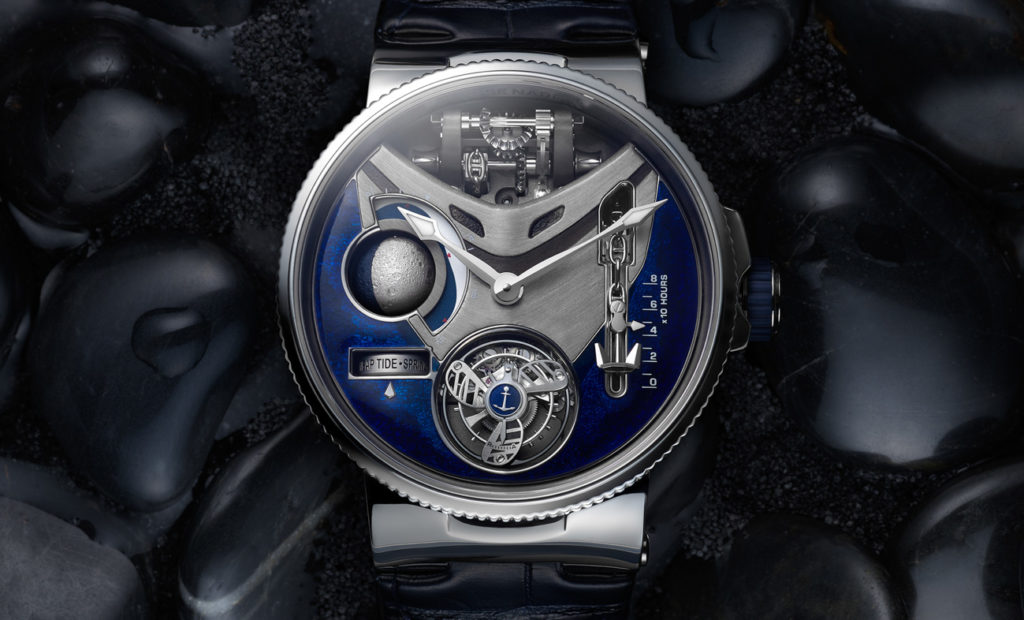 Is this the coolest watch to come out of 2019 so far? Almost certainly, though not necessarily for innovation (though that anchor chain system is patent pending), more for accurate yet whimsical reproduction of one of humankind's greatest achievements, the sailing of the seas. The only catch, other than the limited run, is the cost of $310,000, but you saw that coming, it's not like a surprise iceberg or something. Visit Ulysse Nardin here.