So, here it is, the watch that apparently quite a few owners and fans have been demanding of A. Lange & Söhne: their very first sports watch. In some ways, it's quite an odd thing to think about. This brand, since its rebirth in 1994, has never produced anything remotely sporty, the thought would have been inconceivable not five years ago, and yet here we are. In a way, you could see why someone would ask them to produce something sporty and wearable. If they already have a Lange 1 and a Zeitwerk, a Langematik Perpetual and a Datograph Up/Down (isn't that the dream for all of us?), the obvious next step is a Lange that can accompany them on their holiday to their remote island or ski resort. 
"Wait a sec, haven't you previously indicated there would never be a steel watch from A. Lange & Söhne?"
Yes, we have. On my visit, I had the chance to sit down with director of product development, Anthony de Haas in A. Lange & Söhne's new boutique in the square opposite Dresden Cathedral and chat about the new piece. Admittedly, I knew about this watch before the official reveal, I'd had a chance to wear it and play around with it at a fancy dinner the night before. One question kept me up for most of the night: when we interviewed him back in 2016, he told us that making an A. Lange & Söhne watch in steel had been considered by Günther Blümlein, one of the partners that revived the Saxon brand, to be his biggest mistake. You may not have even been aware that they did make a few watches in steel, it's because they made very few and they are extremely collectable.
When I brought this up, the response I received was that, although it Mr Blümlein did consider steel to be his biggest mistake, it was more focused on making steel versions of the existing model line, which is entirely logical. If they made a steel version of one watch, there would be an expectation that they made a steel version of their other watches which could damage the reputation of the brand and put excess strain on their production.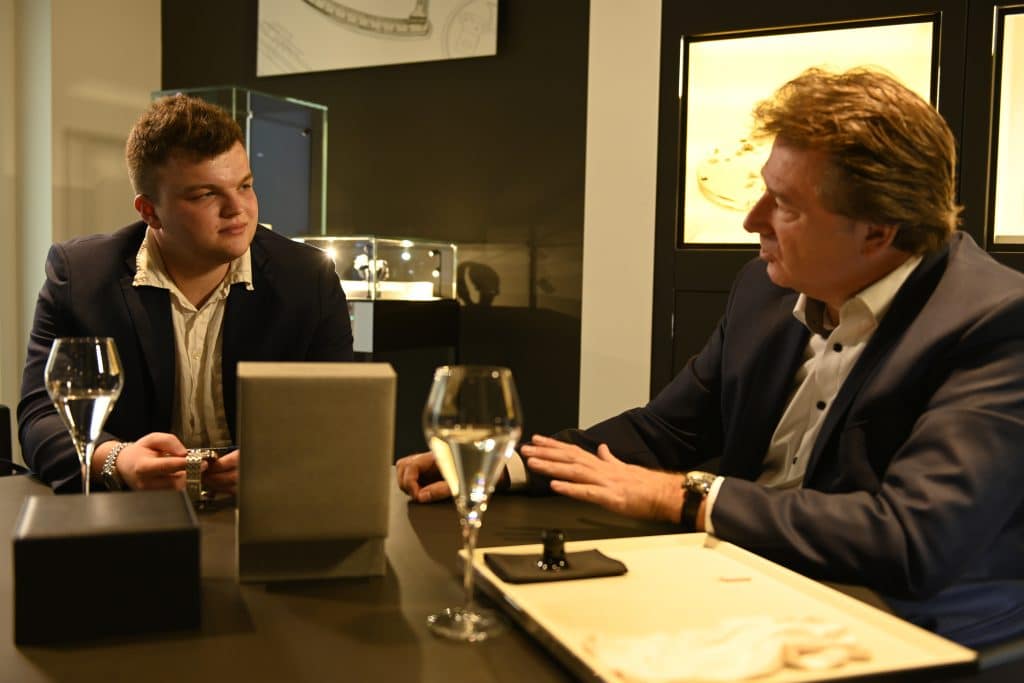 One of the things stressed in our previous interview back in 2016, is that A. Lange & Söhne's levels of staffing and physical space are very much the determiners of their overall production. Up until their new factory build was completed, they had R&D and production split all over Glashütte and the surrounding area, with some staff working at home in Dresden because there wasn't the capacity to have them onsite. Their new build, which I got to have a second tour of before the reveal, was designed to bring everyone closer together, rather than increase staffing levels. To clarify, A. Lange & Söhne isn't raising their production to include the sixth family, and their current output will incorporate it instead.
"So, unlike with some other brands, if I wanted to go to a boutique and pick up one of these when it's released, I could?"
To Anthony's amusement (or possibly chagrin) I did bring up A. Lange & Söhne's Swiss competitors who currently make watches with integrated bracelets that cost a fortune to buy. Although no allegations were made, it was clear that this watch would not be available in big numbers, despite the steel case, for the reason I mentioned above. Moving staff onto this project takes them away from the other watches. There won't be many staff working on them either, so expect production of the new watch to stay in double figures for now.
"Of all the times to do this, why now?"
This isn't A. Lange & Söhne's first attempt at a sporty piece. Though they are not prepared to share with us any sketches or drafts of concept watches, I've been told that A. Lange & Söhne has made three attempts before this one, one of which included somehow fitting the round movement of the brand's signature timepiece, the Lange 1, into a tonneau case, it's not such a significant loss after all. It took over four years to develop this watch into something that they felt was not only immediately recognisable as an A. Lange & Söhne product, but also something unique and new. 
Also, it's good timing on their part and presents an opportunity to celebrate their 25th birthday, as if they haven't been delighting us with a new watch every month since SIHH as a part of their 25th birthday anyway. 
"What's it called, then?"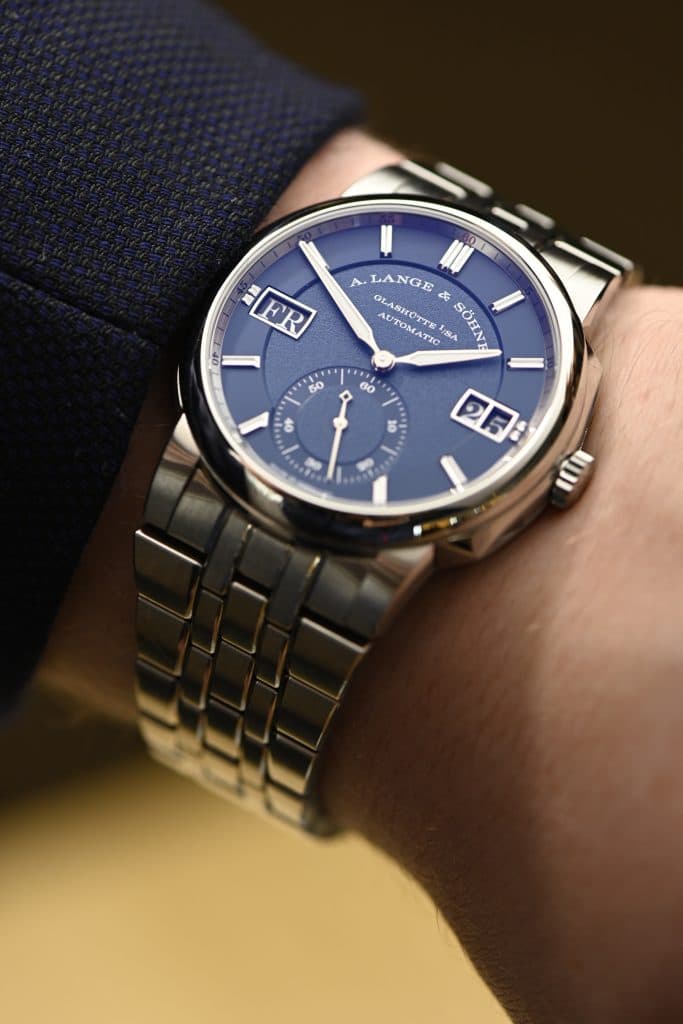 The new sports watch is called the Odysseus. On the one hand, it could be named after a Greek hero who both fought bravely in the Trojan war and got severely lost on the way home from it, killing his entire crew in the process. On the other hand, it could be related to the Jaeger-LeCoultre Odysseus sports watch, a relation through Günther Blümlein, who also worked tirelessly to revive IWC and Jaeger-LeCoultre as well as A. Lange & Söhne. 
"It's not really what I was expecting an A. Lange & Söhne sports watch to look like."
Indeed not, I will admit although I had an inkling there would be a more activity-focused timepiece from the brand. This wasn't what I had in mind either, and I know I'm not alone in that. Perhaps the best part about it is that it is almost entirely different from the other models, a fusion of the best elements of A. Lange & Söhne watches from the past and with a new identity. At the dinner I mentioned, we all had a little welcome speech from company CEO Wilhelm Schmid. One of the parts that stuck with me was that while they were expecting the reaction to be mixed, they will challenge anyone who says it's not a product from A. Lange & Söhne, and you can see what they mean. 
The brass dial is made of several layers. At the centre of it all is a grained portion with a sub-seconds dial and a large A. Lange & Söhne logo at the top, similar to some of the Saxonia models. Surrounding the centre section is a stepped ring engraved with concentric circles, a technique known as azurage, this is also where the white gold applique batons are, as well as the watch's complication which I'll get to in a moment. Around those rings is the angled seconds track printed on the inner flange ring, finished in silver to match the colour of the steel case. The bezel of the watch is polished to aid in the luxury appeal. Overall in the 20-minute space I had it at the dinner, and then 15 minutes with it in the boutique, I found it to be legible with no issues reading the time. The signature Lancet hands are also luminous.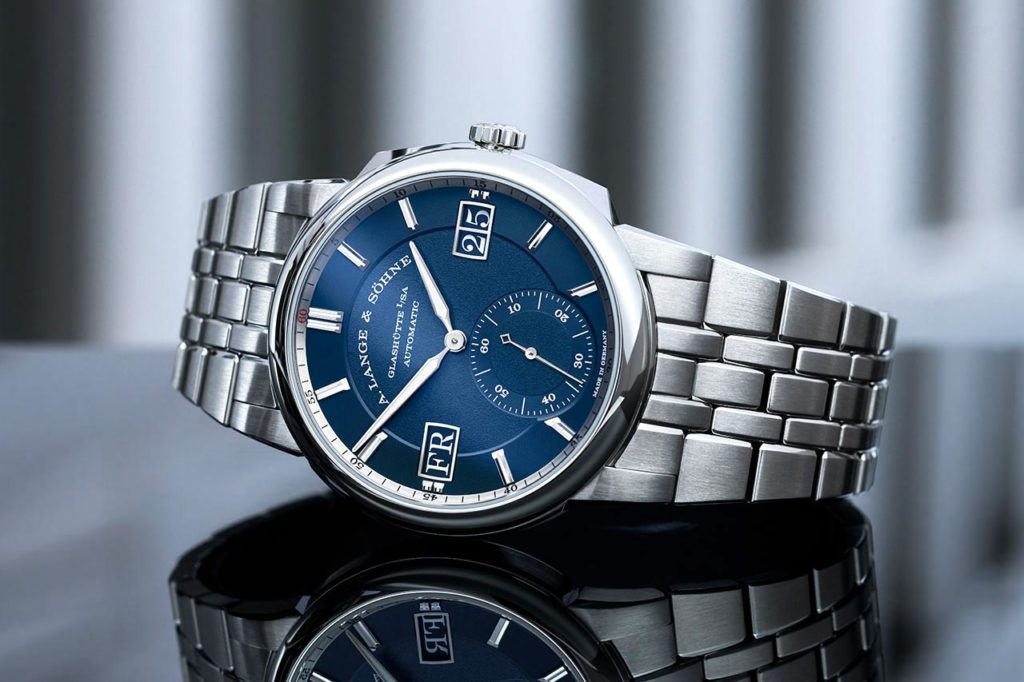 The watch features two symmetrically positioned windows which have been framed as per the brand's tradition. On the right is the signature Outsize date, with a white font on a blue backdrop to match the colour of the dial. On the opposite side of the watch, you see A. Lange & Söhne's Outsize Day-of-the-week indicator, I tried hinting that name at them, but they didn't seem to notice, so I shall name it so. Both of these are controlled by pushers that are integrated into the shoulder guards for the crown, they feel excellent to operate not because of their smoothness, but because you can feel the levers and gears connecting every time you push, it's satisfying in an unquantifiable way.
If you read my Fortnight on the Wrist article of the Grand Lange 1, you will see why I call it the most mathematically perfect watch, thanks to its dial layout. This watch follows suit and uses symmetry to good measure. I imagine that, with a design like this, the imbalance of the Outsize date on its own would be too noticeable. 
The bracelet has been very well finished, too. It blends with the case profile and produces a smooth and quality feel. If you get the chance, put the watch around your wrist and use your other hand to grab onto the watch as it sits on your wrist. Move your hand around on top of the watch backwards and forwards. You should feel a smooth and uninterrupted feeling. The designers wanted to merge practicality with the luxury expected of a brand that competes blow for blow with the Swiss Holy Trinity brands, so it needs to be exceptional in every way.
The folding clasp is unique, too. Connecting the two halves of the smooth tapering bracelet is a smart-looking clasp which the brand recently posted on their Instagram feeds as a teaser. It works without a fuss and provides some extra length thanks to an integrated micro-adjuster which you unlock by pushing down on the round A. Lange & Söhne logo. It offers 7mm extra room to make the watch more comfortable in warm environments, even better is that you don't need to take the watch off to extend it, it can be adjusted in a second.
Around the back is a brand new movement, the automatic-winding Datomatic calibre L.155.1. You've undoubtedly seen other A. Lange & Söhne movements before, and this one is no exception to their rules on construction. Only the highest standards will do for this level of watchmaking, the artisans in the manufacture use their own tools and tools they've made especially for the components in the factory's toolmaking departments to create, finish and assemble the movement. To make it more complicated, they're going to do that twice. 
A part of the build process involves putting the pieces together before they are fully finished to ensure that they function. Once testing is complete, the watch is disassembled, the components are finished, lubricants replaced, and then the parts are reassembled. Despite being built once already, the movement is tested once again to ensure it still runs as expected after decoration. All watches are tested to timing rates stricter than chronometer standards, although they didn't specify what these were. The watches are also tested in six different positions, though they only state they test to five different positions. When I asked why this was the answer was that most people wear their watch on the left, so the crown is pointing down towards the floor. They do the extra test with the crown facing the sky, just to be sure, but it seems that righties like myself are uncommon.
Also of note in the movement department is the new movement's durability. The fine folks at A. Lange & Söhne may not have made sports watches before, but they understand the necessities that must be included in them. For example, the all-new escapement assembly consists of a free-sprung balance to help absorb severe impacts such as dropping the watch. It's also suspended from a balance bridge, as opposed to the traditional balance cock that we see in their other timepieces. The balance cock is still made of German silver, and even receives the unique engraving pattern of the individual engraving it, but now offers more security and allows the new balance wheel to operate at the higher-than-normal beat rate of 4Hz. Most of their other offerings are half this, so the new watch should be even more accurate. I also remembered to quiz them about magnetism and whether there was any particular resilience to it for this 'everyday Lange' and the reply was that this watch is as resilient to magnetism as their other watches, whatever that is.
"So, that's it then. It's a new Lange movement in a new case?"
If you take that literally, then yes, but there's more as well. For example, the case is 40.5mm in diameter, 11.1mm thick and 120m water-resistant (though for safety they test it to 150m), whereas their dress watches are around 30m. This is the first time they've had such a high water resistance rating or a screw-down crown for that matter. The new movement should be more robust, but it still features A. Lange & Söhne's incredibly high levels of decoration. It's not a huge selling point, but the watch will also come with a beautiful leather travel pouch in the box so that you can bring a friend for your sporty watch.
One part I've left until the end of the article is wearability. This watch wears like a luxurious timepiece. If you've worn A. Lange & Söhne watches in the past, then you will notice how different it feels. Usually, a watch like the Lange 1 or a Datograph or some such will feel very heavy, sturdy and well built, as you expect German products to be. They have a more brutal elegance than Swiss design. This watch, with its stainless steel bracelet, still feels lighter than their dress watches, bar the Saxonia thin perhaps. It's both elegant and sporty; it slips under a cuff with ease, too. The operation of the bracelet extension system is buttery smooth as well, as you'd expect. You'd think it was a new dress watch, but it's got some sporty credentials. 
"It doesn't look very sporty."
I'd say it falls under the smart casual sports segment, along the lines of the Royal Oak, the Nautilus, Overseas and the Laureato. So, you could go and do some non-impact sports activities with it, and then go to a formal dinner with it as well. Just, make sure you wash in-between.
"Blue dial, how original."
Who saw that one coming. Blue dials on watches are all the rage right now, A. Lange & Söhne would be foolish to go to all this trouble of making a brand new watch and then fitting it with a dial colour that doesn't sell as much. Don't forget, they've got to make ends meet as well, and thanks to the staffing I mentioned earlier they won't be making many, either. It'll be interesting to compare this to the established competition and the new entries such as Chopard's Alpine Eagle watch which also comes into this category at the higher end.
If you aren't a fan of blue dials or you want something more, stick around as I can confirm there will be more dial variants to come in the future. We'll also see the introduction of gold in the range at some point in the future, and more complications as well. This is the point where the Swiss sit up straight and perhaps start sweating in their seats a little bit, because they've had this market to themselves and now the Germans are coming, and A. Lange & Söhne has upped the ante.
If you want one of these, it will cost you €28,000, and don't worry, we will get a Fortnight on the Wrist with one as soon as possible.
Visit A. Lange & Söhne here.