BY HARLAN CHAPMAN-GREEN
You know, I've said it before, and I'll say it again: Chopard's high-end watches are underrated, so underrated that it's almost criminal. The brand makes high-end watches, watches with multiple complications, watches that have won awards and watches that have more seals of approval applied to them than just about any other watch. And yet, they always seem forgotten. Chopard has made a couple of oddball watches here and there as well, stuff that's less up-tight Swiss design than you might expect. These watches were called the L.U.C Engine One watches and as far as I'm aware they've been discontinued. They were racing-styled tourbillon pieces with some cool (and weird) case and dial designs, but they were unique. If you visit our article where we visit the manufacture, you can see Jovan working on one in the factory!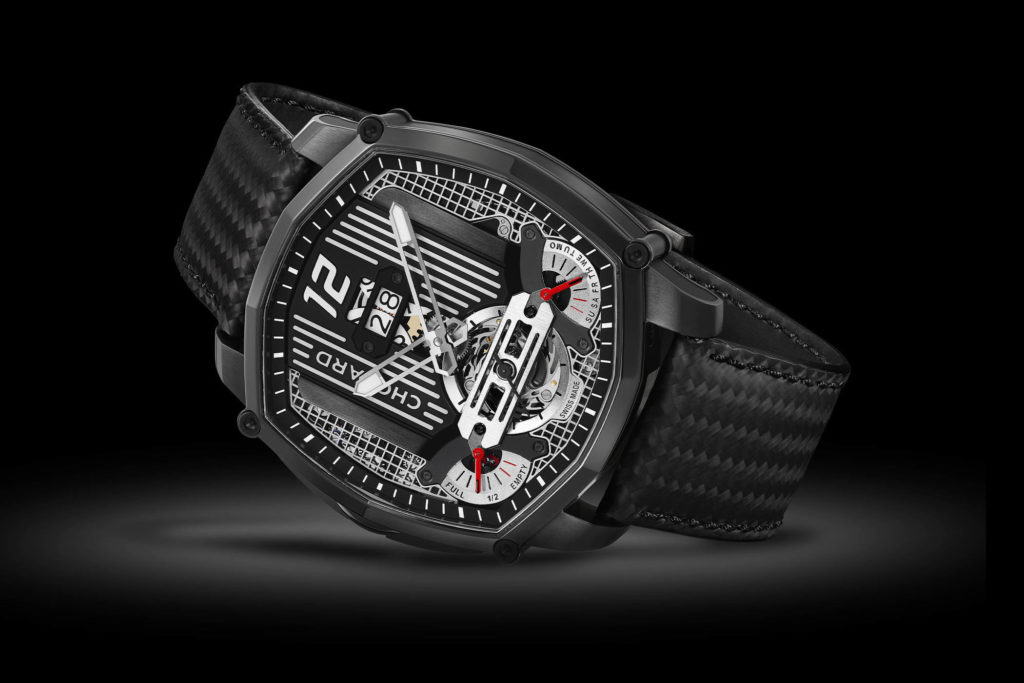 But the L.U.C line was, perhaps, not the best place for these pieces. It's a very conservative range where sportiness isn't factored in. I'd go as far as to say that if someone were to mention the word 'sporty' when planning the next L.U.C watch, they'd have been fired. Instead of ditching the whole oddball-tourbillon-one-of-a-kind watch idea, Chopard has moved it to the Mille Miglia collection, and that makes a difference. This means that the watch sits at the pinnacle of the collection, rather than being the weird sibling you invite because he has a hot girlfriend.
According to the press-release, company co-president Karl-Freidrich Scheufele (who we've interviewed) assembled his A-Team from the staff he employs and tasked them with imagining the future of sporting haute horlogerie. They came up with the Mille Miglia Lab One, a mechanical marvel and challenge for the team behind it. I always get excited when brands call their watches "Lab" something-or-other or include it in the name. It reminds me of the Jaeger-LeCoultre Master Compressor Extreme LAB watches, which were that brand's attempt at making the most cutting-edge watches ever.
So, this is Chopard's creation, and I have to say it's quite striking. The design is reminiscent of sports cars. The dial is adorned with vertical lines and Chopard's logo written sideways like you'd see on the cover of an engine (though it seems more BMW than Porsche, which Chopard sponsors). I like it, and I like that within the 'engine bay' there is a large date made of two disks. I like the mesh that exposes some of the wheels of the movement as well. The power reserve is based on the full/empty markers you'd get on a car, and on the other side of the dial opposite the power reserve is a retrograde day indicator. Between those two is a tourbillon with Chopard's unique-looking tourbillon cage and a full balance bridge with cutouts recreating the feel of an engine bay. The applications of colour on the dial are quite limited, but I fear that the largely skeletonised hands may make this less legible than I'd like, they do have lumed tips which will help, but it needs to be seen in person to judge.
There is another aspect of this watch that I'd say needs to be seen in person before final judgement is cast, and it's the case. Put simply: it's large and an odd shape. It measures at a whopping 48.6mm x 46mm, but it's pretty slim at 14.85mm. The case is made from titanium which has been bead-blasted and given a black DLC coating so it should be light. It's also presented on a "rubber-lined carbon bracelet", it uses carbon fibre that's been woven neatly and then sewn to a rubber base. That's right. The strap is carbon fibre. I think that's pretty cool.
Chopard says that ergonomics were the core part of their design with this watch. I remember when I had a go with the Jaeger-LeCoultre mentioned above and their ethos was much the same, this is a big watch, and there's no doubting that, but it still needs to be wearable and enjoyable when being worn. Because the case is not a proper cushion shape, it has fewer angles that can dig in, but it also makes the most of the amount of dial you get relative to the diameter of the watch, and because it's not round it's a little more unique.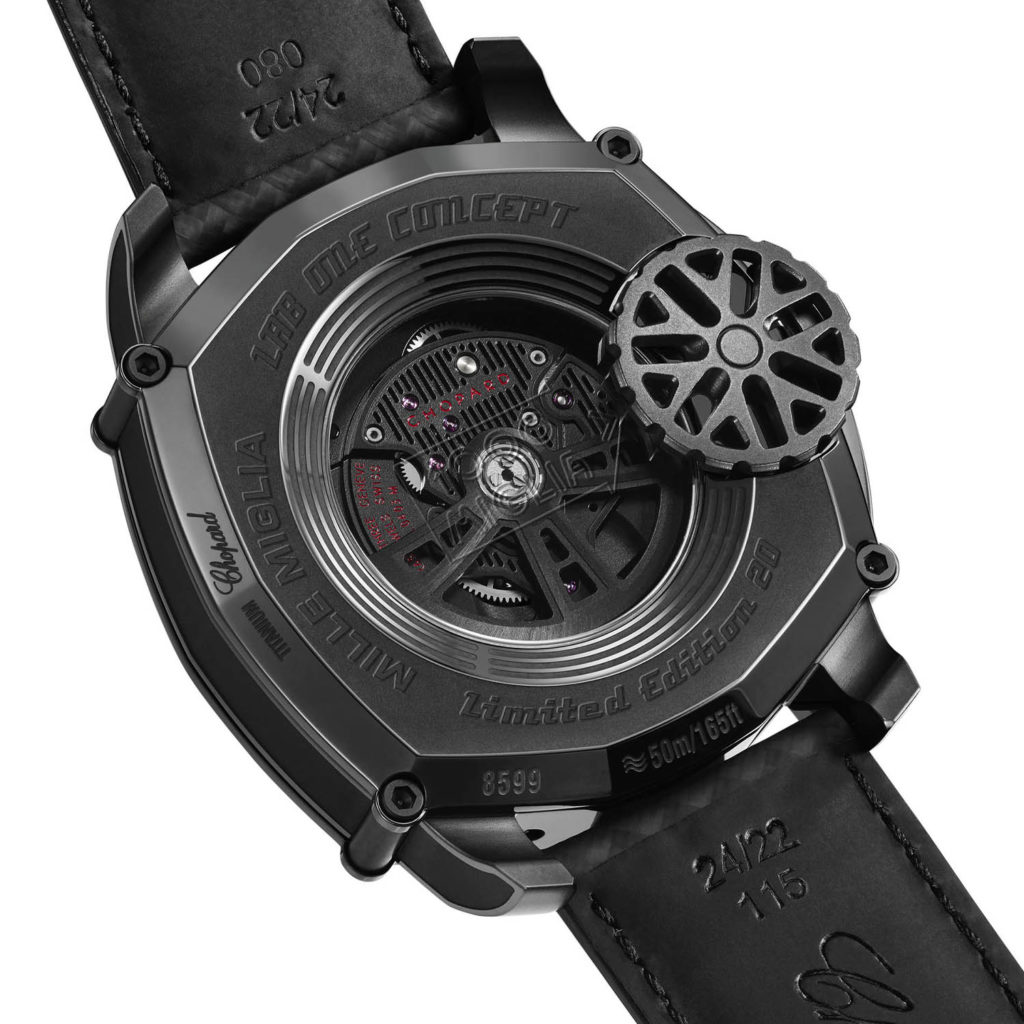 But it's around the back of the watch where the uniqueness kicks in. The most prominent part is the sticky-out thing that looks like a wheel. That is the crown for the watch, and it's got a patent for the design and mechanism behind it. Rather than have a crown poke out the side and thereby ruin the ergonomics for some, Chopard decided to mount it to the back where it can be flat but have a large and easily operable diameter. I wonder if it is flat enough to not be noticeable when worn by both righties like myself and lefties, which are the norm, but that requires a hands-on.
The movement is also brand new for Chopard. The calibre 04.03-M is the first automatically-wound tourbillon movement for the brand. The power reserve is also a hearty 60-hours, meaning that this one will be good if you want to leave it at home on your weekend trip away. Chopard has also implemented a brand new type of stop-seconds mechanism for the tourbillon. It's been inspired by the disk brakes used on cars and uses levers to stop the balance wheel and thus the watch. This mechanism has received a patent as well.
The balance wheel itself has a patented "Variner" balance which Chopard says compensates for inertia variations throughout the running time of the watch (not sure what that means). The balance wheel oscillates at 4Hz, though. The movement is mostly black, which is contrary to most of the high-end sports watches in this sector. Chopard has also said that this is the first time they've used a self-winding tourbillon movement that is not round in a case that also isn't round, which is a little unsurprising as they've never made a self-winding tourbillon before.
Despite its quirks, it seems like the Mille Miglia Lab One is an exciting watch that has some undeniable appeal. It's also limited in production to just 20 examples, it's boutique exclusive, and will retail for EUR 128,500.
Visit Chopard here.