MB&F is among the few Horology brands whose products offer a unique and engaging time-telling experience. The latest from the house of Maximilian Büsser and friends is the T-REX, a table clock inspired by one of the most powerful predators of all time, the Tyrannosaurus Rex, made in collaboration with Swiss clockmaker L'Épée 1839. Initially introduced as a one-off piece with a child sculpture sitting atop the hybrid beast for the Only Watch 2019 exhibition, the T-REX now makes its public debut.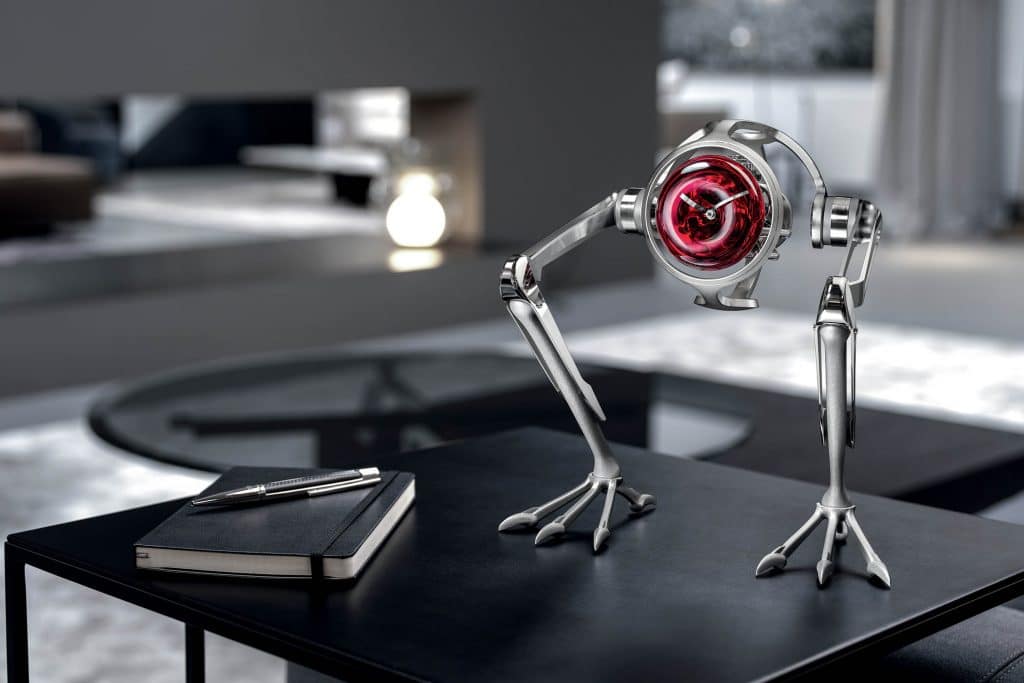 While it is functionally meant to display the time, where the MB&F T-REX really shines is its design. Modeled around the skeleton of a T-REX, the long legs with sharp angular clawed feet on this horological masterpiece mimic the mighty limbs of the ferocious creature and give it a bold and aggressive stance. Centrally mounted on top is a skeletonized housing that comprises the brain and the face of the watch. Made using age-old glass blowing techniques the dial on this clock is made from Murano glass and resembles a big eyeball with two steel hands at the center to read the hours and the minutes.
The dial is being offered in a choice of three colors; deep blue, red and green. Each color offers significant depth and provides the clock with a unique visual identity. Moving on to the dimensions. What you have here is a structure which is a mix of stainless steel, palladium-plated brass, and bronze. It stands 265mm tall, has a width of 258mm and a depth of 178mm to create a significant footprint that would call for the viewers' attention.
Powering the T-REX is a mechanical movement designed and manufactured in-house by L'Épée 1839. The hand-wound movement consists of 138 components, beats at a low frequency of 2.5 Hz and offers an autonomy of massive 8 days using just a single barrel. It can be wound by inserting a special key at the back of the piece. The complicated internals have been left open and can be fully admired when the T-REX is looked upon from the side or the back.
So, in case you are a diehard fan of Dinosaurs and are also a watch nerd, the MB&F and L'Épée 1839 T-REX is a must-have for you. Production would be limited to just 100 pieces for each color variation.
Visit MB&F here.