Last year, Panerai expanded its Submersible collection dramatically and added a couple of new watches that were tied with Mike Horn, an extreme adventurer who has been around the world quite a few times. Last year's limited-edition Submersible watches offered the first owner a chance to undertake some arctic training with Mike himself. He would show them how to survive in the most inhospitable part of our planet, along with the damage that we are doing to it daily.
The new Submersible for 2020 follows the same theme. The buyers of this watch (limited to five examples) will get to go on an arctic expedition with Mike himself, who will undoubtedly show them the damage that industry is doing to the natural habitat of many endangered species.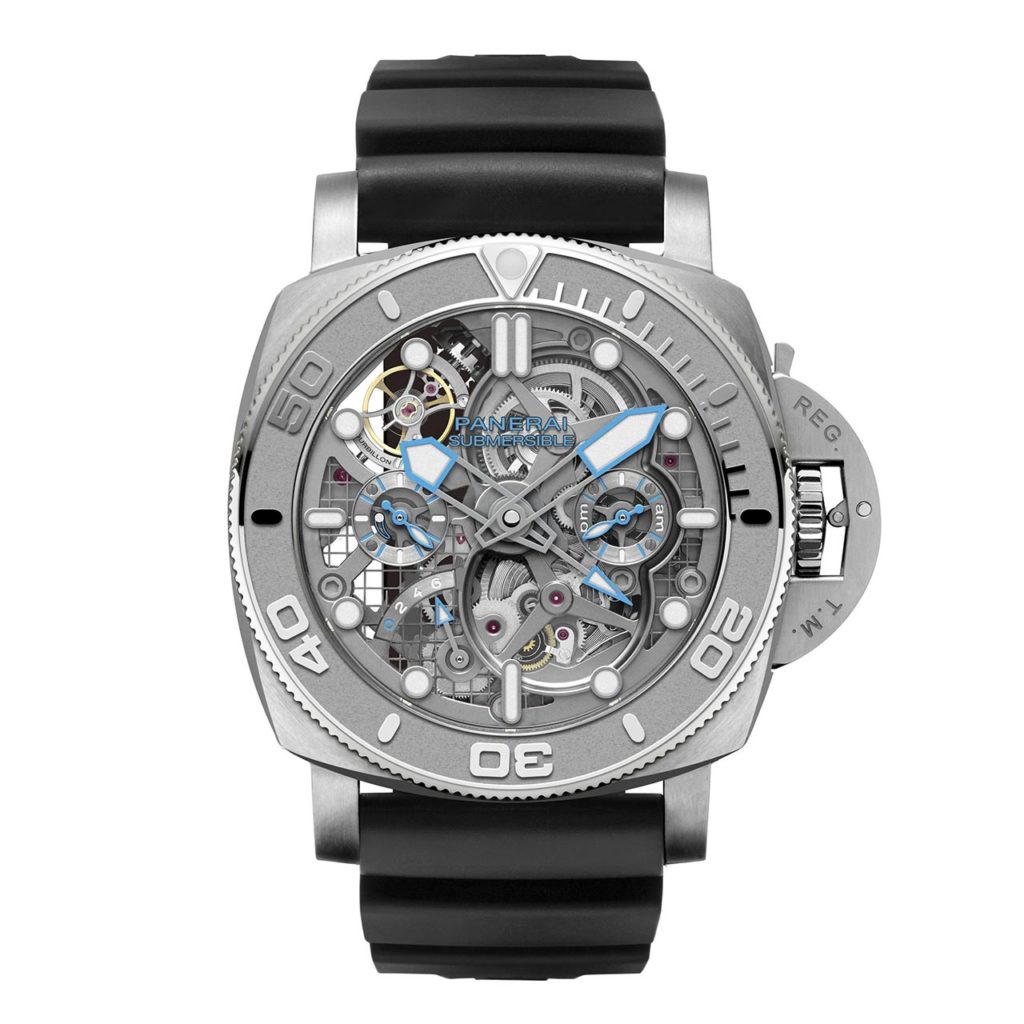 That's right, Panerai is only making five of these bad boys, and for a good reason. The movement in this particular Submersible isn't like the rest. It's been skeletonised, the parts that cover the inner workings of the watch have been stripped away, so the mechanics are laid bare. The vertically rotating tourbillon is a particular delight, rather than spinning on the same axis as the rest of the movement, this one rotates at a 90-degree angle. Supposedly, this solves the problem that regular tourbillons have, which is that their design was made for pocket watches that stay vertical all the time. 
Panerai's haute horlogerie department in their factory tour showcased the making of this particular tourbillon, and I can guarantee that it's quite a feat. It's on display both from the front and the back, with splashes of blue on the dial marking out the various indications. As well as a tourbillon, this watch also has a GMT function, an am/pm indicator, small seconds and a power reserve.
Pulling this watch off convincingly would also be a feat for most. It's 50mm in diameter, and God only knows how thick. Giant Panerais put most people off, but part of the fun is knowing just how ludicrously large the watch is and just laughing it off. It's a fun watch, which is how it's meant to be.
It's a fun watch with a serious message. It's crafted from EcoPangaea steel, which is taken from the drive shaft of Mike Horn's 35m Pangaea sailing ship. The strap is made from recycled PET (Polyethylene terephthalate), which is a plastic customarily used to make drinks bottles, clothing and generally anything that needs to be blow moulded and uses velcro to fasten the watch in place.
Velcro on high-end timepieces is coming into fashion now, Richard Mille has been doing it for some time, so it's only fitting that Panerai adds it to their $190,000 boutique exclusive. I wonder if they've all sold yet? Who am I kidding, of course, they have.
Visit Panerai here.