It was back in 2007 when Nomos introduced the Club collection of watches, a range of timepieces that have proven to be hugely popular for this Saxon brand. Indeed, I had a go with a Club Sport Neomatik for two weeks in 2019 and was delighted with the watch I was sent. Two years later, Nomos is updating the line again with some new and exciting limited edition watches.
The Club's best feature is arguably the design. The unforgivingly clean and strict art style makes Bauhaus appear more youthful and friendly while still retaining a couple of key elements. Sure, the markers and font are a bit too large and prominent to be genuinely considered Bauhaus, but it's easy to see where they got their inspiration.
The proportions of the Club remain the same for these limited edition pieces. I like that Nomos didn't go overboard with changing things for these watches. The dial colours are different for a start, and there's a choice between Onyx Black, Navy Blue or Olive Green. All three dials have a grainy matte finish to them which is unique for the limited edition trio. The only other significant change is the case size, which is a healthy 40mm x 9.7mm. The Club usually comes in either 37mm or 41.5mm diameters, so this middle of the road sizing is quite welcome. This thinness is partly attributed to the case, which is made up of two parts, the bezel & caseband and the screw-down caseback.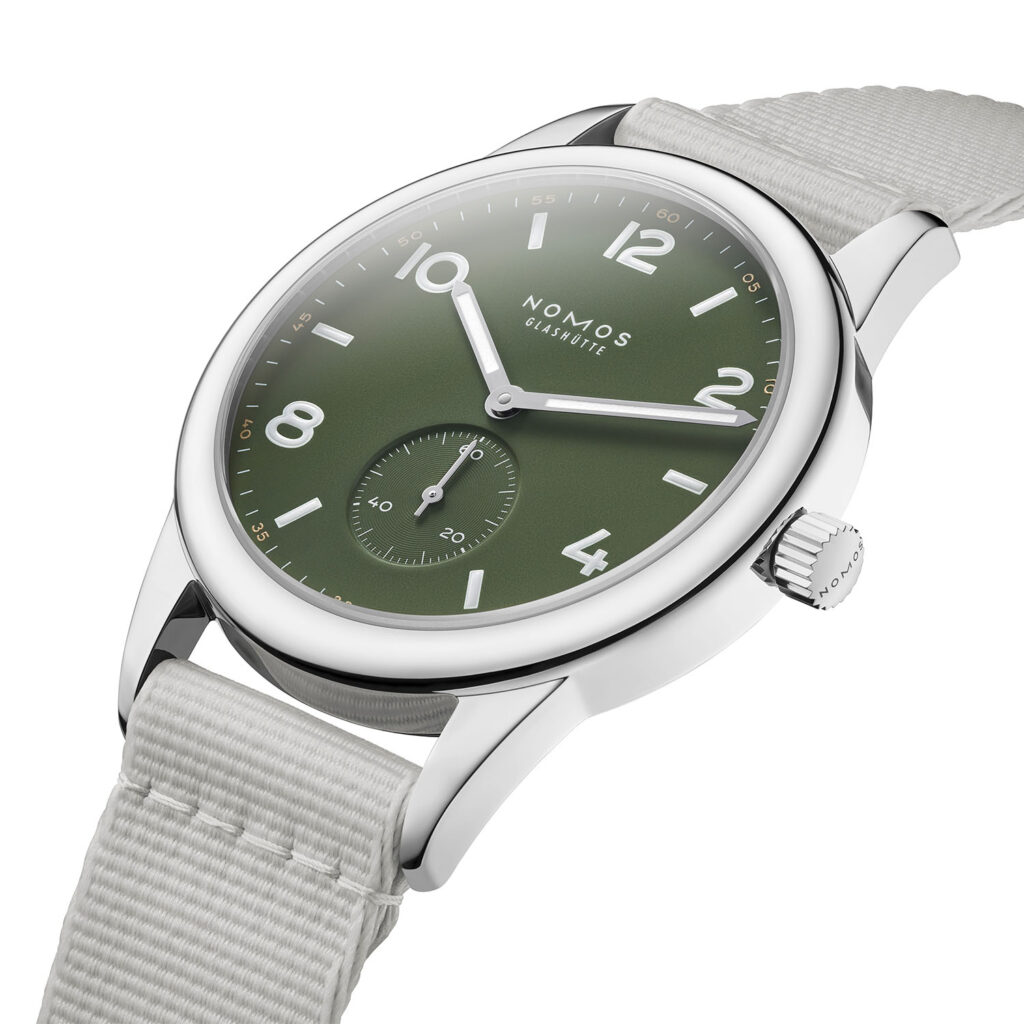 Like the Club Sport, the new limited edition Club watches have an unusually high water-resistance rating for this watch style thanks to the screw-down caseback and screw-down crown. Smart/casual sports watches typically get a water-resistance rating of 50-100m, making them suitable for everything from washing your hands to snorkelling if you follow our advice found in the Lexicon. The limited-edition Clubs are water-resistant to 200m, meaning they can survive impact watersports and even a spot of scuba diving, although you're best taking a dive computer with you as well.
Inside the new watches is an automatic movement called the DUW 5001. The DUW 5001 was Nomos' first crack at making their own movement in-house, and that was back in 2005, so that gives you an idea of how good it is. The watch runs at 3Hz and can go for up to 43 hours, although you'll probably be wearing it a fair bit, so it should be alright. I like that Nomos added a level of finishing on this movement in the form of striping on the plates and circular polishing on the barrel.
Nomos is only making 175 of these in each colour, and they come on either a light grey textile strap (for the olive and black dial models) or a dark blue strap for the navy dial variant. These will cost you €1960, but if that's not your thing, you can pay Nomos €2240 and have it on a stainless steel flat-linked bracelet.