Case Back
Being a quartz movement, this watch doesn't have the ease of slapping an exhibition back on. Even though it's more challenging for quartz watches to have really cool case backs, I am slightly disappointed with the plain back. The reason is that the watch/company has such an interesting story to it…I feel like the back is a canvas for artwork that can contribute to that unique story. If I had advice for Talley & Twine it would be to use that blank canvas for their own artwork. The best example I have seen of this is the Ballast Trafalgar limited machined edition. It's case back was beautiful and intricate, as if it had been carved…and most importantly it added to the watches rich story.
Now then, keep in mind I'm being a stickler. A case back is nothing to fuss over, but it also has plenty of potential to make watches really cool and interesting and it should be used! What we do have is a really cool slightly textured back with the minimalist logo and some necessary information. It's all stainless steel and 5ATM water resistant…very respectable. Don't skimp on quality: check!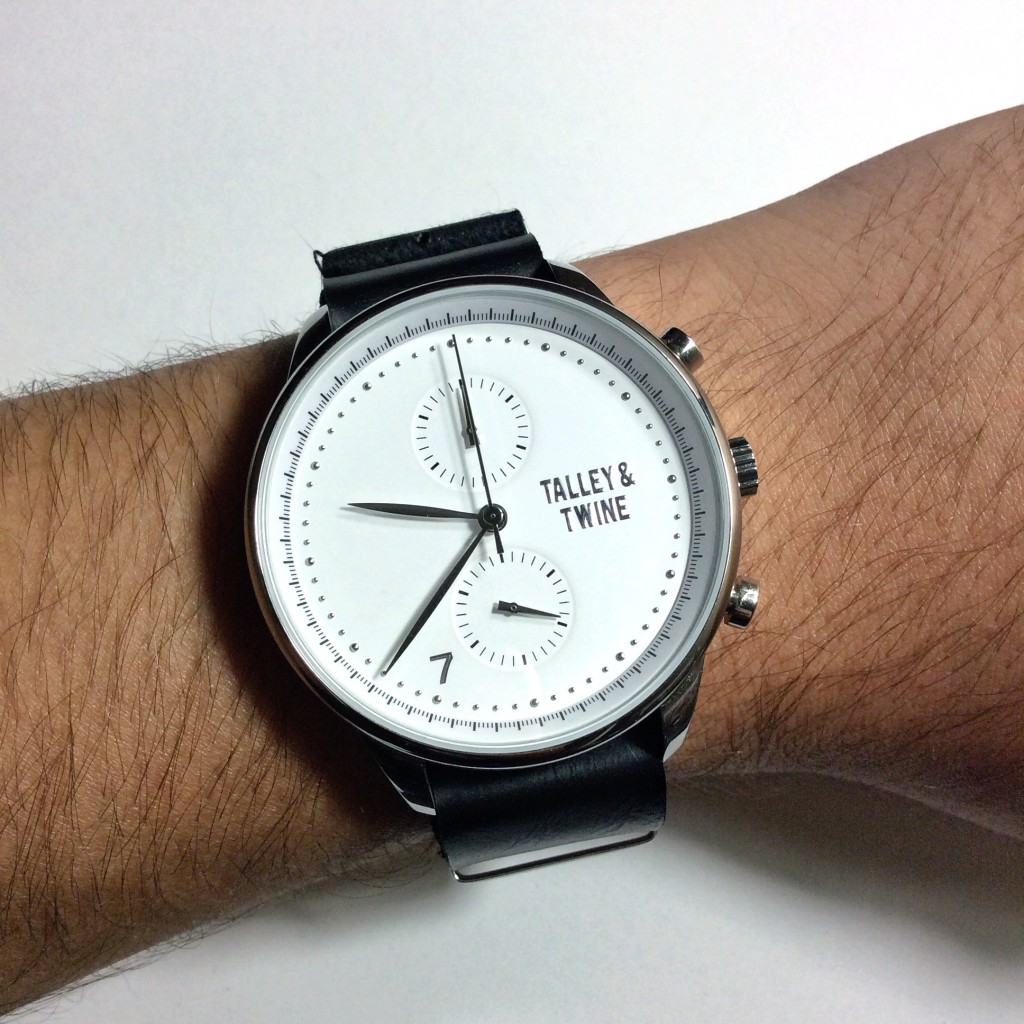 Strap and Buckle
As I always begin the strap section of my reviews: "I'm a huge watch strap fan. I love custom straps made by old guys in their garages, NATO straps from Europe, and odd straps like denim, ostrich, or stingray. Just one beautiful strap can create multiple new looks for your collection."
The black leather NATO that came with this model is fairly nice. It's very comfortable and looks great, but is not real leather. I don't mind too much, but overall Id prefer to see a two piece genuine leather strap on this watch instead of a NATO because it wouldn't add thickness and would make the watch feel much more premium. When I put a strap like I described on it, it does indeed feel and look much better. Talley & Twine didn't skimp on quality when it came to the face, but they slipped a little on this strap. If making a quality face means a little less strap quality, though, I'll take it…but gentlemen shouldn't have to compromise.
The Verdict
A classy, elegant design with unique aspects such as raised bead like markers, slow sweeping chronograph seconds hand, and silver accents. The case is quite large and could perhaps be a unisex watch if made 3-4mm smaller. The overall design would benefit from a two piece genuine leather strap. For more info, please visit talleyandtwine.com
Pages: 1 2
Mark Wisdom Phillips – Contributing Writer
Mark largely collects practical watches, but never hesitates if he can snag a deal good enough to call it an economical decision. He loves taking photos of his collection and participating in the tight knit watch community on Instagram. You can see his photos and follow him here. He is highly opinionated and expects nothing but the best and at the cheapest price possible. In his eyes, a watch needs to have superb and bold design to be worthy of anybody's wrist. To him, organization creates valuable time and so you should expect it from him in his reviews. Wisdom is his middle name and he is here to share it with you. Read his articles here.