Back at the start of the month, we introduced some very special watches created for a very special birthday. This year marks the 300th anniversary of the birth of the company's founder and namesake, Pierre Jaquet Droz. To mark this occasion, Jaquet Droz introduced the Grande Seconde Moon in 41mm size. The brand is known well for its desirable and elegant dress watches, that's not what it's most well-known for. Its most famous watches are its automaton watches, these feature dials that display an animation using wheels, gears, rods and levers instead of a graphics chip and LED display. Automata were the reason Jaquet Droz was an important figure in mechanical history; his creations were the best of the best.
The dial of the Bird Repeater 300th edition is beautiful, and it encompasses some of the key parts of the views around La Chaux-de-Fonds, where watchmaking happens. To the left of the time dial is a river valley view with trees, reminiscent of the panoramic views around La Chaux-de-Fonds. To the right, a small farmhouse sits in a meadow. This is a recreation of the farmhouse Pierre Jaquet-Droz was born in 300 years ago. Two robins are perched on a nest that contains an egg which, when the minute repeater is activated, opens to reveal a chick. The robins' wings also move. The nest of the robins is perched in the middle of a small clearing where flowers and frighteningly out-of-proportion (but beautiful) butterflies and dragonflies live. Horticulturalists will be pleased to know the flowers depicted are real, and they're based on the Gentian Gentiana Lutea, or Great Yellow Gentian. We've linked to a video by Jaquet Droz of a watch similar to this one in action, take a look.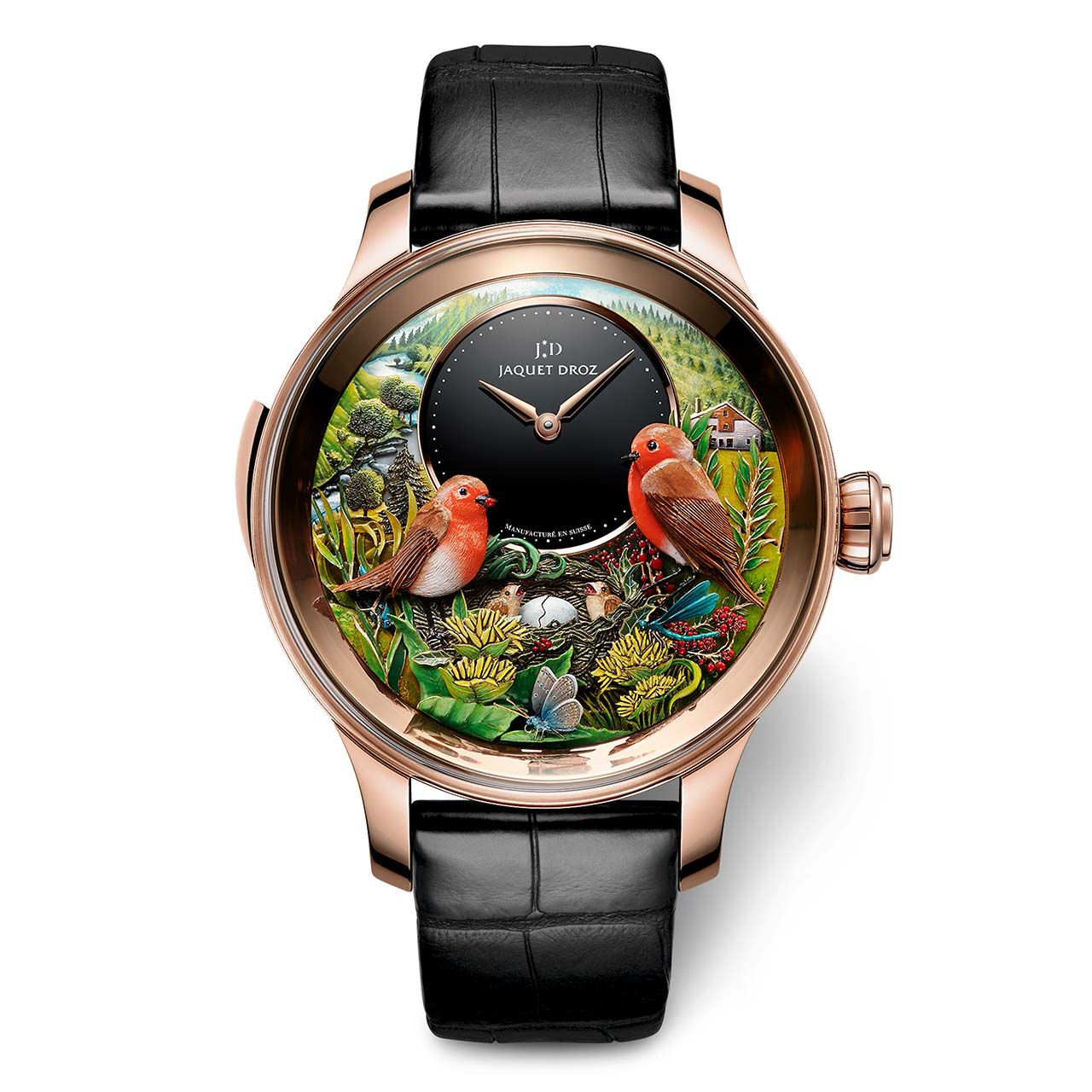 Powering all of this is an in-house made movement from Jaquet Droz, featuring extensive and beautiful hand finishing as well as a minute repeater and all the automata functions, which are activated in tandem with the minute repeater. Jaquet Droz hasn't told us anything else about the specifics of this movement. 
It's all housed in an 18k red gold case measuring 47mm in diameter. Jaquet Droz is only making eight of these, and they're available for pre-order now for a price of €544,700.
BUY YOUR JAQUET DROZ WATCH HERE