Just a few days back we covered the Urwerk UR111-C Cobra, a watch which brings forth an intriguing linear retro graph display and is clad in an all-black body giving it a stealthy appearance. For today we are having a look at another new quirky offering from the folks at Urwerk, the UR-T8 Skull watch. Featuring the brands popular wandering hours complication and a case decorated with the picture of a human skull this new watch exhibits a seamless blend between the world of Haute horology and extreme art.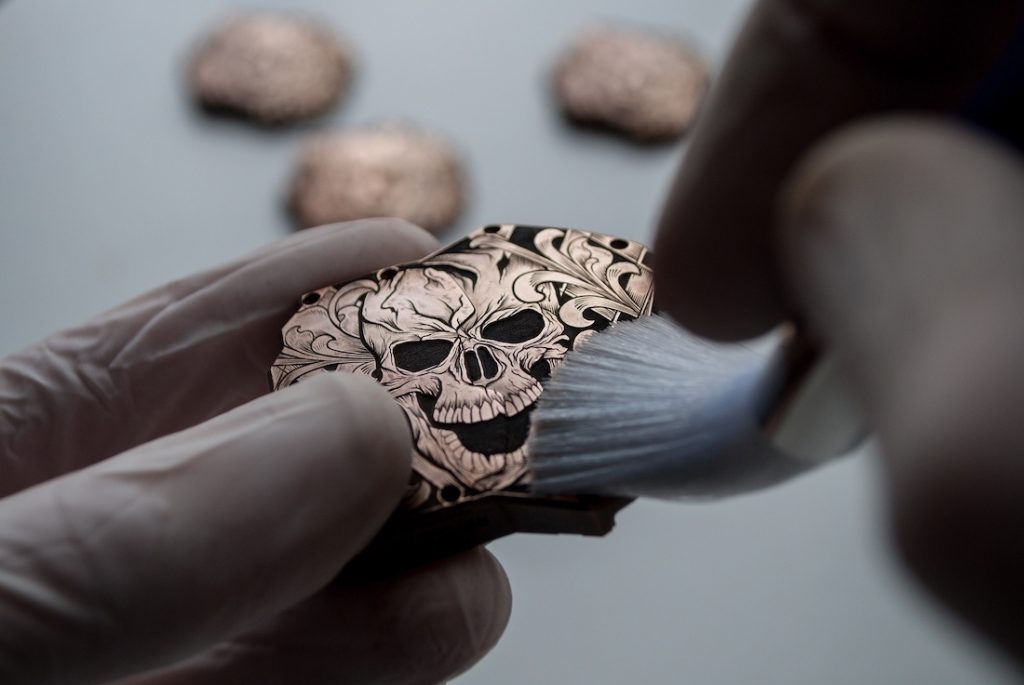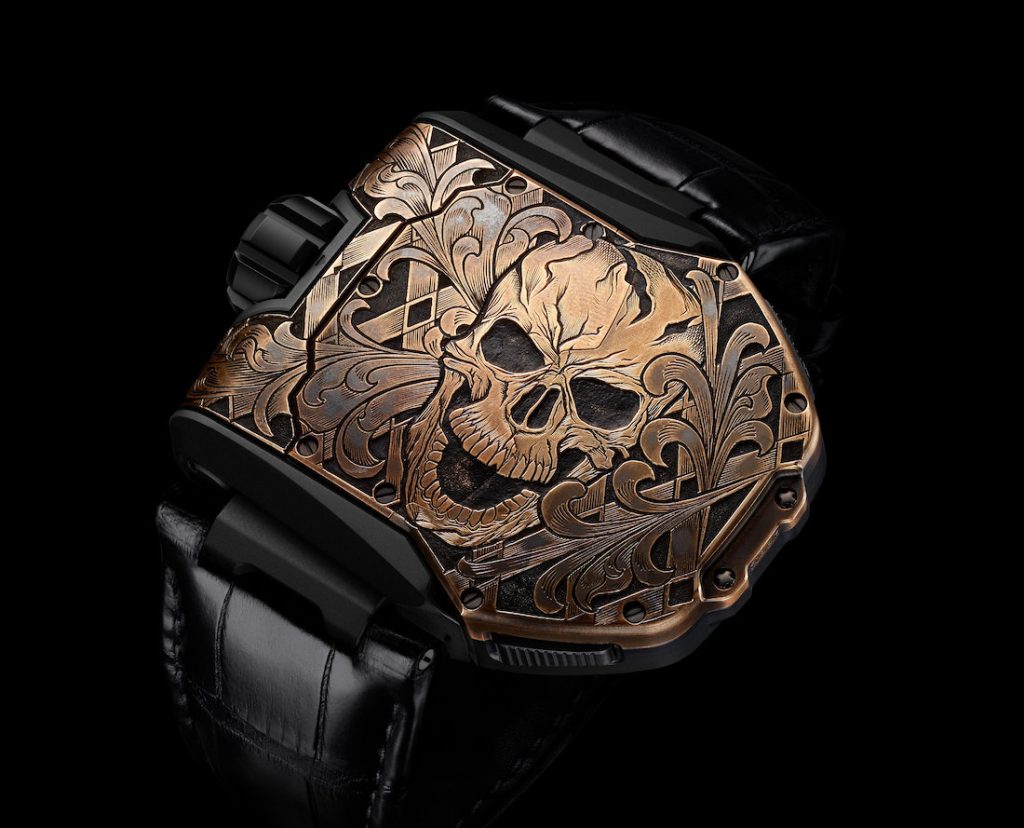 Let's begin by looking at the major highlight of this watch, the case. Made of grade 5 titanium the case is 48.35mm wide, 60mm long and 20mm tall. As the dimensions suggest the case shape is quite unusual and large but should wear lightly on the wrist courtesy of the use of titanium. Measurements aside what makes the case special is the artwork on top. All UR-T8 watches feature a unique case construction wherein the case can be flipped over to expose a textured and more decorative side (akin to a JLC Reverso) when the user does not intend to see the time. For the UR-T8 Skull, URWERK has gone a step ahead and has embellished the flip side of the watch with a bold and daring motif of a human skull with an open mouth. It has been created by expert craftsman Johnny Dowell who carefully hand engraves the design starting with a sheath of bronze. And, while looks are subjective and would vary from person to person the execution does look perfect and quite refined.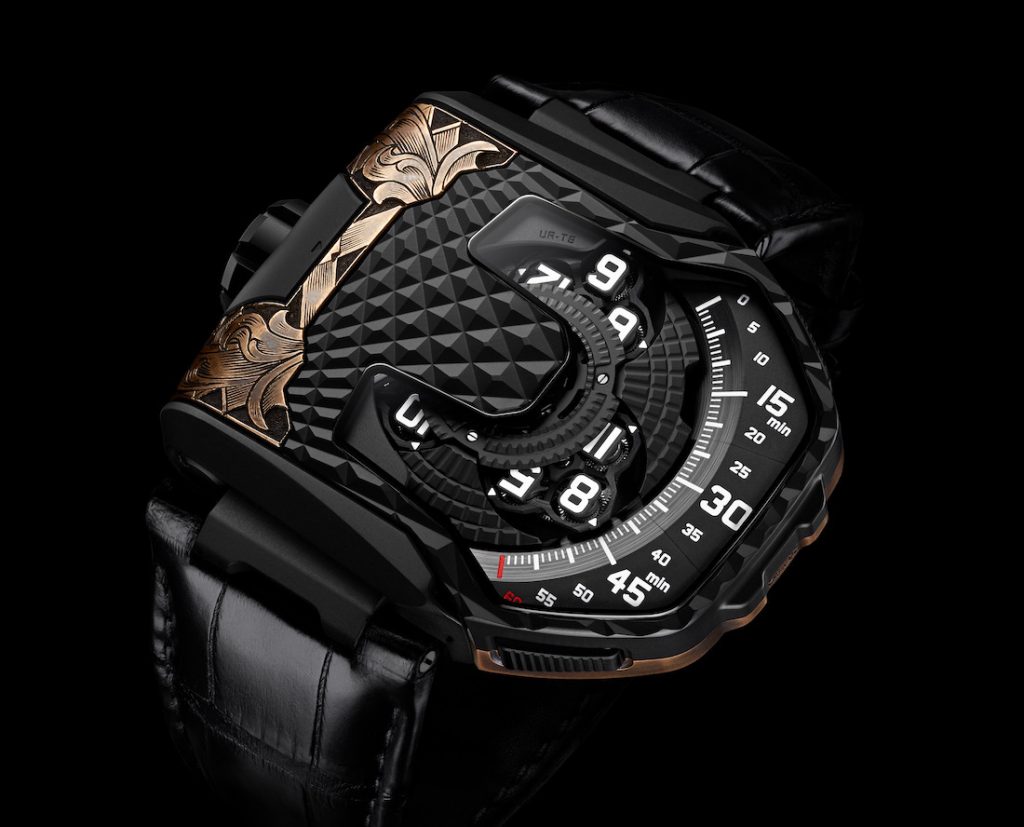 Moving on to the dial front we have in true URWERK fashion an unconventional time telling mechanism. Rotating around the central axis you have the brands signature wandering hours system. It is the biggest and most elaborate carousel configuration yet applied by Urwerk, with each arm supporting a satellite carousel bearing the four hour numerals. Around the floating hours and towards the edge of the case you have a printed minute track which is a combination of white hash marks and Arabic numerals at intervals of 5 with the 60-minute mark highlighted in red to break the monochromatic theme. Powering this watch is Urwerk's UR-8.01 automatic movement. It operates at a frequency of 4Hz and offers a healthy power reserve of around 50 hours. The movement has been nicely decorated using a variety of surface finishes such as circular graining and matting.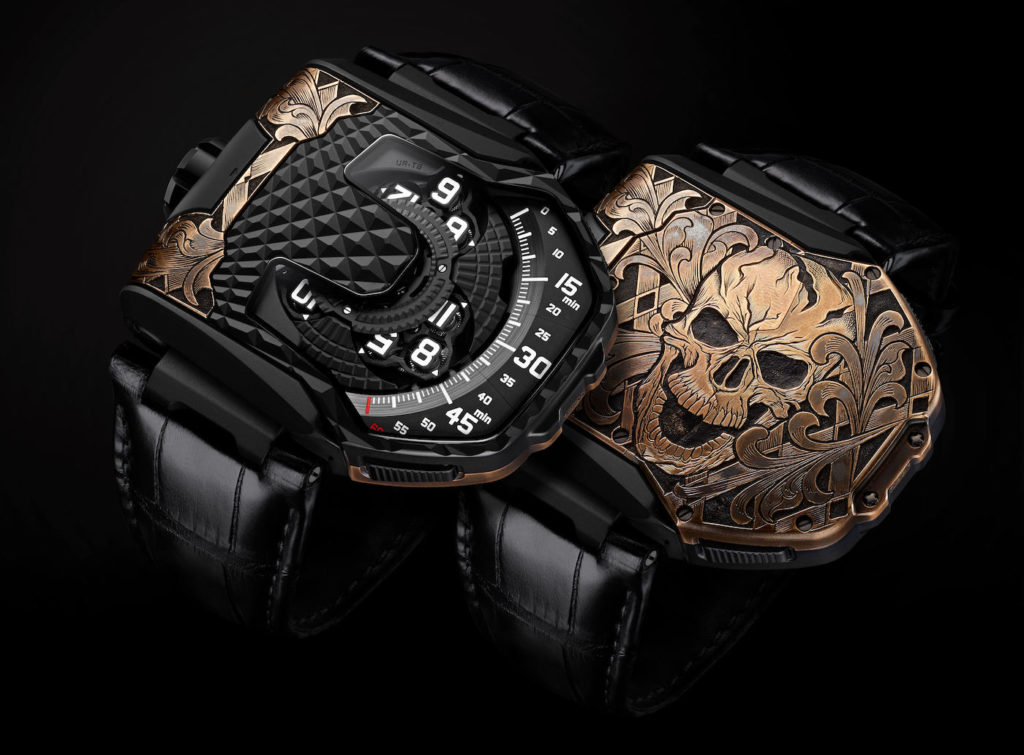 To conclude, all I would like to say is that the Urwerk UR-T8 Skull is definitely not a watch for everyone, but it definitely would make a great grail piece for lovers of skull-related artwork which I believe are quite limited as this watch would be limited to just 5 pieces. The retail price of this bad boy is CHF 144,000.
Visit Urwerk here.