It was 220 years ago, in 1801, that horology pioneer Abraham-Louis Breguet received a patent for a device that would be influential in horology long after his passing. A device that, in the right conditions, can counter the effects of gravity on a watch's balance wheel. He called his machine a tourbillon, which is French for a whirlwind. In a pocket watch, which was commonplace at the time as wristwatches hadn't been invented yet, the balance wheel sat vertically in the watch when worn. Gravity was able to take effect on the tiny components of the escapement assembly, especially the balance wheel. Abraham-Louis Breguet's tourbillon counteracted this.
Interestingly, the idea of the tourbillon was not one of Breguet's own. It was thought of by Breguet's close watchmaker friend, an Englishman named John Arnold, who had been toying with the idea for some time. Arnold, born in Devon in the UK, had been known as the greatest horologist of the time, but the works of Breguet thoroughly enamoured him after the Duke of Orleans introduced a Breguet clock to him in 1792. Breguet and Arnold would allow their sons to spend time learning the craft of horology from their counterparts. Arnold died before Breguet could patent the tourbillon, but Breguet himself attributed the idea to his late friend and even installed his first tourbillon into a watch made by Arnold, Pocket Watch No.11, which he gave to Arnold's son. It now resides on display in the British Museum in London.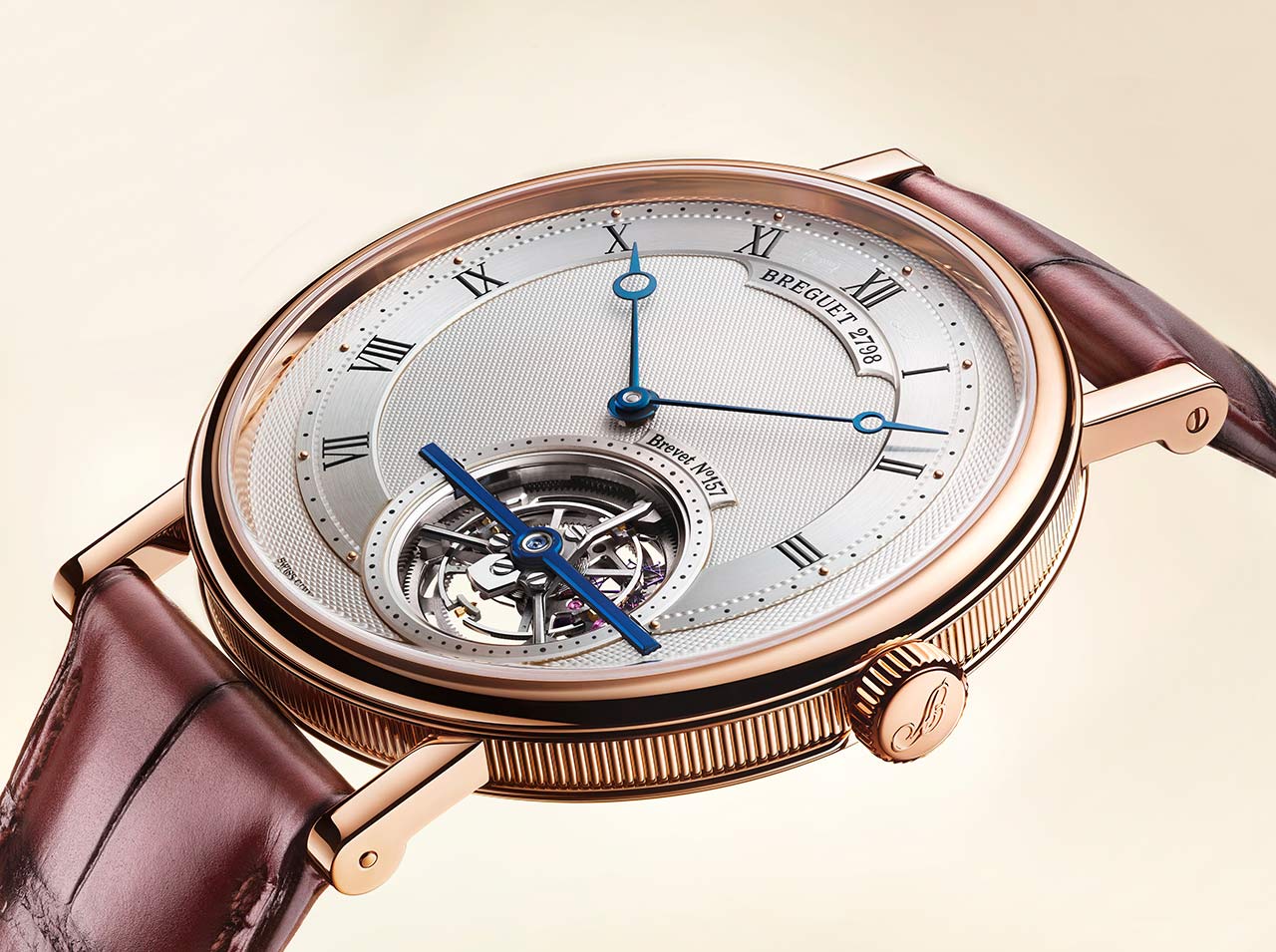 This past year, Breguet has been paying tribute to the tourbillon in subtle ways, but probably the best watch of all the releases is the new Classique Tourbillon Extra-Plat Anniversaire 5365. It's based on an icon of the current collection, the Classique Tourbillon Extra-Plat, an extremely thin automatically-wound tourbillon dress watch. It used to be the thinnest until the Bulgari Octo Finissimo Tourbillon Automatic came along. Oh well, I think the Breguet has more class.
One thing Breguet has done away with from the classic Extra-Plat is the power reserve indicator. The idea is to attract your attention to the tourbillon and the guilloché decoration on the dial. Breguet, perhaps more than any other maker of fine wristwatches today, is known for its guilloché dials. Their quality is second to none, higher than small independents, I'd say. Their secret? A traditional rose lathe, the very same equipment used centuries ago, combined with intensive training for the operator. Granted, Breguet is not the only watchmaker doing this, and yet their dials always seem a cut above the rest.
This watch is no different. The central part of the dial uses a pattern called clous de Paris, otherwise known as hobnail. It's lots of little pyramids cut to give a complex and yet clean finish. Outside the off-centred time display, a hallmark of Breguet design, is a guilloché pattern known as grain d'orge, or barley grain. There's also a line of guilloché between the wide and narrow silver tracks, although I can't remember if it has a specific name. Either way, the devil is definitely in the details, and there are loads to appreciate here. Above the tourbillon, which has been secured by a steel heat-blued bridge, unusual for Breguet but matching the blued Breguet hands, is a plate (called a cartouche) with 'Brevet No. 157' engraved onto it. This is a reference to the patent number awarded for the first tourbillon.
Powering this watch is the automatically-wound calibre 581. It's ultra-thin, measuring at only 3mm altogether, although its construction around a central barrel gives it a power reserve of 80-hours. To make the watch this thin, Breguet mounted the rotor peripherally, meaning it orbits the entirety of the movement rather than being placed on top like a traditional automatic rotor would be. 
That leaves plenty of room to view the movement's engravings. In this case, you're looking at engravings of Abraham-Louis Breguet's original watercolour paste drawings of the tourbillon escapement. This movement is less ornamental than is traditional for Breguet in some ways. They haven't engraved every surface of it like usual. Apart from the tourbillon engraving (which is cool), there's little else but clean finishing, smooth bevels and some hand engraving. Just like on the classic Extra-Plat watches, you can see all the way through the tourbillon thanks to the movement's design and the sapphire crystal caseback. The tourbillon itself is thoroughly modern, the balance wheel inside it beats at 4Hz, and it even uses a silicon balance spring and a lever escapement with silicon horns.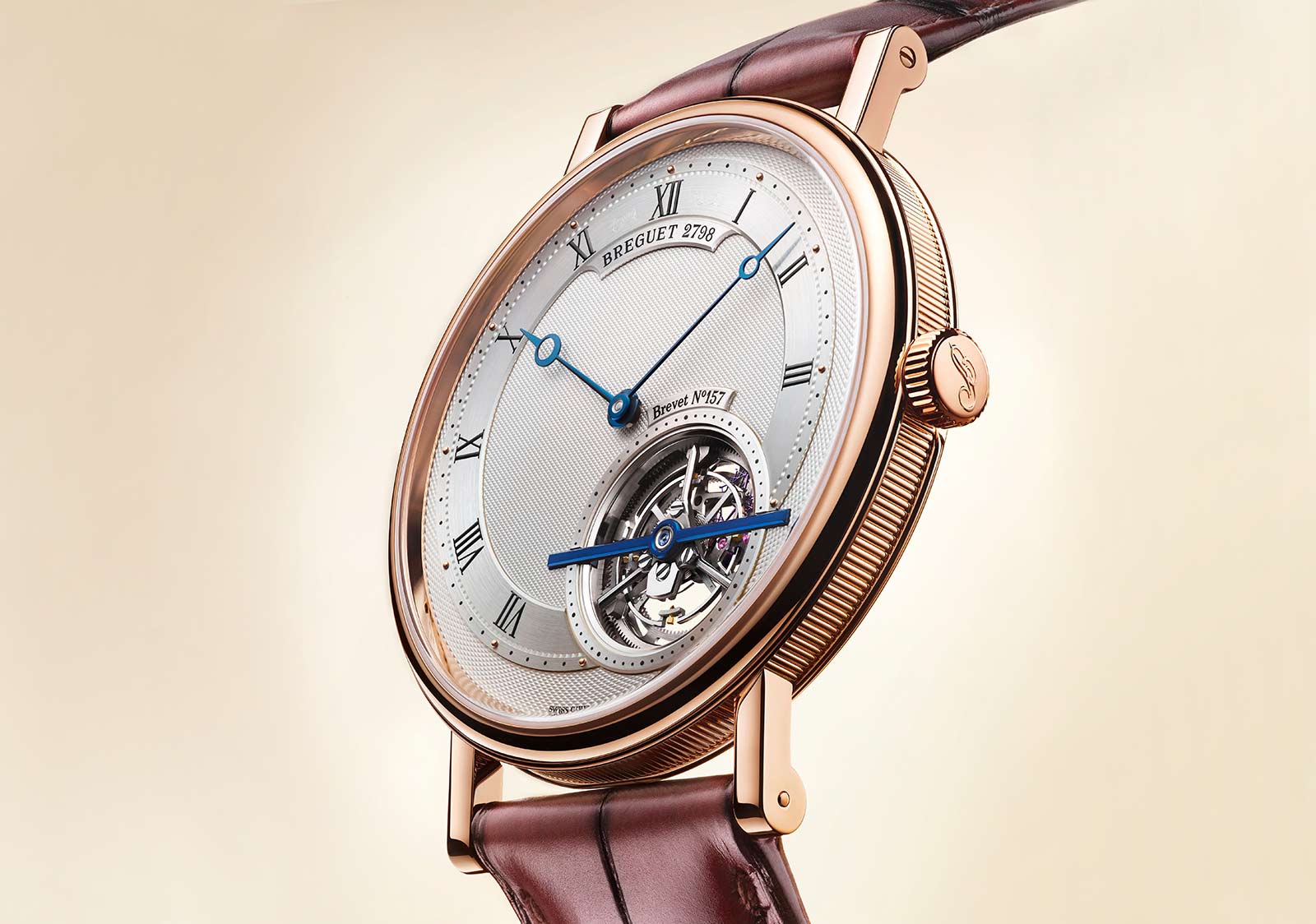 All of this is housed in a rose gold case that measures 41mm x 7mm. Before you all say "I wish it were 38mm", this watch wears smaller thanks to its thinness and its relatively short straight lugs that slope downwards. You don't need to be large in the wrist to pull one of these off.
You do have to have cash, though. One of these beauties will set you back CHF158,000, and they're only going to make 35, as Abraham-Louis Breguet only made 35 tourbillon watches before he died.
Visit Breguet here.