Perhaps the thing we often overlook with our watches, the most crucial point, is legibility. That is, the ease of reading the time on our timepieces. Now, there are some reasons why certain watches are more legible than others. Complicated watches often reduce legibility and easy readability of the time due to the extra displays that must be squeezed onto the dials. Also, it depends on the type of watch that it is. Professional tools for use in the field are required to have extreme legibility at all times for the wearer to be able to use them, whereas more casual and dressy watches don't have lives depending on them.
To avoid filling this list with only pilot's watches and diving watches I'm going to try and limit myself where possible. Also, the inclusion of luminescence is useful, but note that this is not a list of the five watches with the best lume and so it is not mandatory. You should be able to read the time on the watch easily. So, here are our Top 5 most legible watches.
5. Ball Engineer M Marvelight (43mm) NM2128C-S1C-BK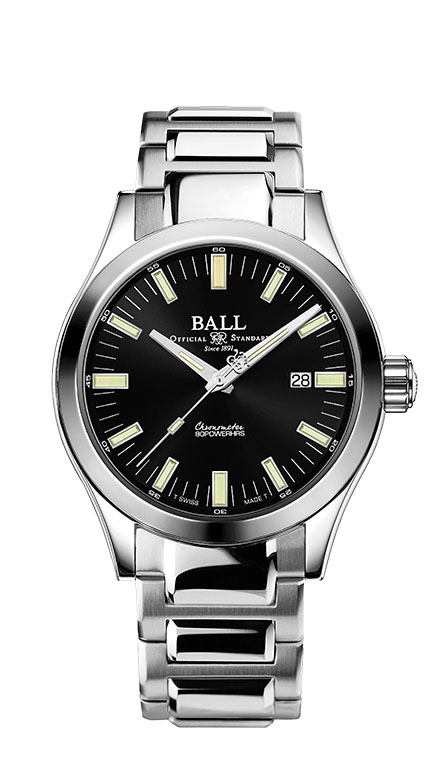 Ball watches are renowned for their usage of tubes of gas on the dials that constantly glow, eliminating the problem of some luminescence being quite short-lived. The Engineer M Marvelight watch features a clean and unfussy dial with three different colour options available. It also includes an automatic movement with 80 hours of power reserve and a 4Hz beat rate in the 43mm case. Even though I said lume wasn't mandatory, the inclusion of the gas tubes is what earns this watch a place.
[button color="black" size="big" alignment="center" rel="follow" openin="newwindow" url="https://www.exquisitetimepieces.com/watch-brands/ball-watches.html"]BUY YOUR BALL HERE[/button]
4. Blancpain Fifty Fathoms Automatique 5015A 3630 63B
The Fifty Fathoms is arguably the greatest diving watch around. I'd say arguably because I know a horde of angry Sub and Panerai owners are now charging their way to my office à la Simpsons Movie style. However, the inclusion of the Fifty Fathoms is based on the easy to read markers, unfussy dial and the impressive sapphire crystal bezel with luminescent markers adds in a few bonus points in my arbitrary points system. Also, the contrast between the black strap and dial and the rose gold case, hands and numerals of this particular reference pleases the eye.
[button color="black" size="big" alignment="center" rel="follow" openin="newwindow" url="https://www.exquisitetimepieces.com/watch-brands/blancpain-watches/fifty-fathoms.html"]BUY YOUR BLANCPAIN HERE[/button]
3. A. Lange & Söhne Zeitwerk 140.029
I never said it had to be a tool watch, did I? The Zeitwerk is on this list because it tells you the time using proper numbers rather than the position of hands which can be misconstrued if read at a glance while distracted. There's no reason not to be on time with this watch, using three numbered disks and a series of heavy-duty springs; this watch displays the time in a digital format, despite being a mechanical watch. Understanding numbers is more natural than hands for most people, and the black and silver contrasting dial of the Zeitwerk helps it stand out.
2. Zenith Pilot Type 20 Extra Special 'Ton Up' 11.2432.679/21.C900
We had to put in a Zenith Pilot now didn't we? Zenith's watches built for pilots are legendary in the watch world for their blend of classic and modern watchmaking design and technology. Long lugs, multiple levels on the bezel and the all-important onion crown are signature hallmarks of this watch. The huge numerals slathered in lume make it easy to read, but the watch features some extra twists in the shape of the cathedral hands which are wide, long and also covered in lume.
1. Bell & Ross BR 03-92 Black Matte BR0392-BL-CE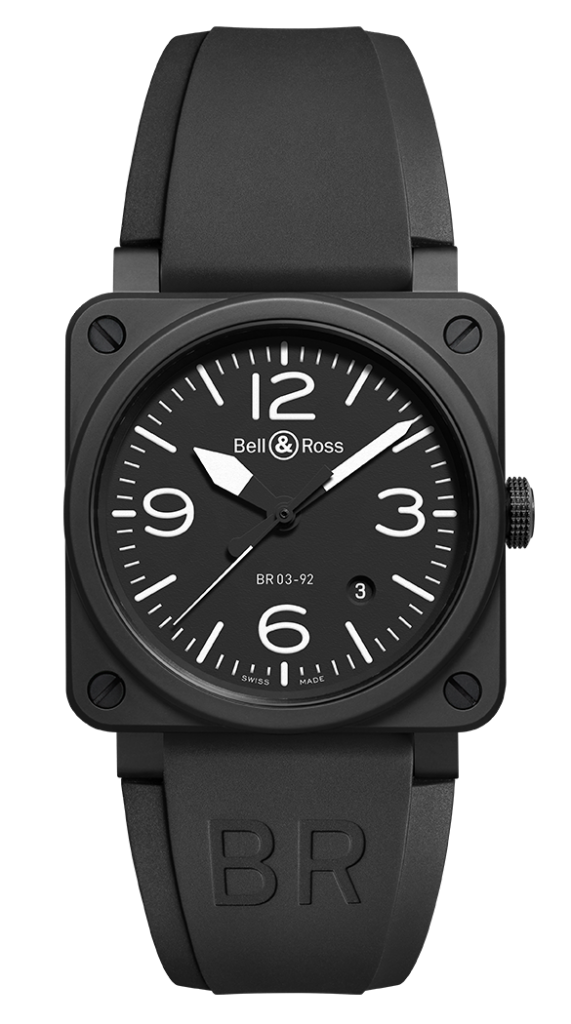 Part of the design of the now-iconic Bell & Ross watch was that it had to look like it had just been torn out of a cockpit and had a strap attached to it. That's why the range is so popular. I've chosen the BR0392-BL-CE watch because of its black case with black strap construction with a highly contrasting dial featuring enormous hands and lume all around. Pilot's watches need to be visible at night to make use of their functions, so it's no surprise that a watch designed to look like it could be a cockpit instrument came out on top here.
[button color="black" size="big" alignment="center" rel="follow" openin="newwindow" url="https://www.exquisitetimepieces.com/watch-brands/bell-ross-watches.html"]BUY YOUR BELL & ROSS HERE[/button]
Yes, there will be a part 2 to this one very soon.