It's essential now more than ever that we are acting responsibly towards each other and towards the world we live in. There are reports of how our climate is faring every day, and none of them are particularly good. Responsibility affects everyone, whether that's by buying a smaller and more economical car over an SUV or just helping someone who's struggling rather than taking advantage of them.
The luxury watch industry has a lot to learn and a lot of improvement to do. These watchmakers are just as responsible for taking resources from the world and adding to its pollution. Yet, the focus isn't on them much, even in the horological press. Today, we're looking at five watches that encourage responsibility, and that doesn't just mean environmental responsibility, but how we treat each other as well.
5 – Seiko Prospex 1968 Modern Reinterpretation model SPB299
Save the Ocean is a project that Seiko has been involved with for a long time. Unfortunately, you'll be reminded again in this article of the destruction that humanity has caused to the oceans. It's a fact that plastics end up in the world's waters and do not break down. As a reminder of this fact, Seiko recently launched some remakes of historical watches to drum up awareness. While they launched three models in total, the SPB297, SPB299 and the SPB311, it's the SPB299 1968 re-interpretation that got my attention the most. It's different from most watches, unlike the SPB297 but not too blobby like I think the SPB311 is. It also has an attractive dial meant to represent ice, although I still think it looks more like a flowing stream.
4 – Oris Aquis Date Upcycle
The Aquis Date Upcycle watches from Oris continue the theme of conserving the oceans by removing plastics from them. It's funny how there's always talk about the impending lack of oil creating a lack of fuel and plastics, and yet the oceans are full of the stuff. The International Union for the Conservation of Nature (IUCN) estimates that eight million tonnes of it end up in the oceans every year and that plastics make up to 80% of pollution in the oceans. Luckily, we know how to use this ocean-based detritus to make something new and exciting. Oris made the Aquis Date Upcycle watches, which sport attractive dials made from plastic that has been mulched and formed into a dial. Because the distribution of the plastics is more or less impossible to control, each dial is unique. It also helps that Oris is a certified carbon neutral company, its Clean Oceans Project has so far offset over 2500 tonnes of CO2.
3 – Panerai Luminor Marina eSteel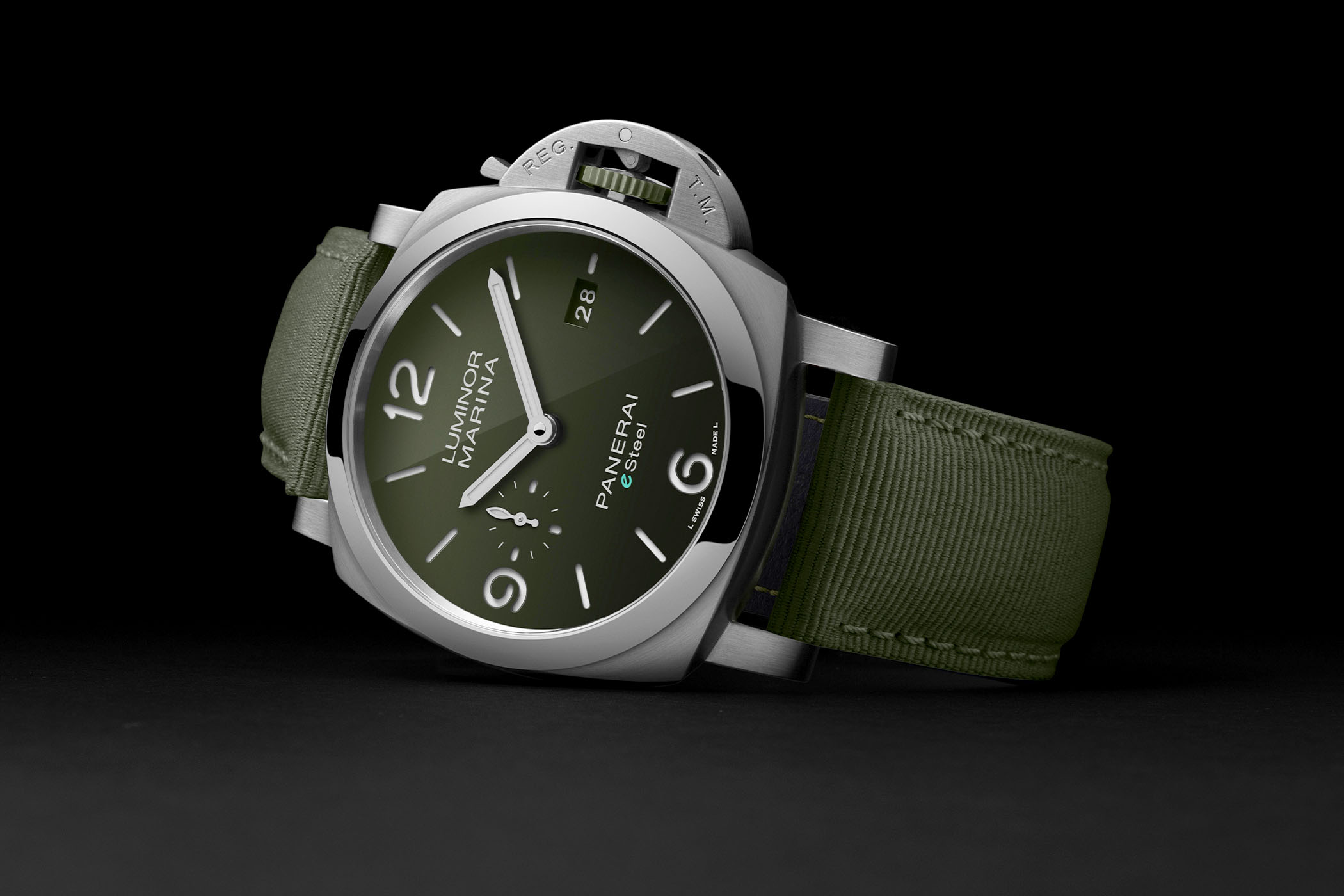 Panerai is famed throughout the watch industry for its use of weird and clever materials and production techniques. They've done it all from ceramics to carbon fibre sheets, using lasers to 3D print metal cases, and much more. The Luminor Marina eSteel watches are interesting because their cases are not made of virgin steel. Unlike most watches which are made from steel mined specifically for that watch, the steel used in the eSteel watches has had a past life, well, mostly. Panerai says that 54.8% of the steel used in the Luminor Marina eSteel watches has had a past life, as in, it's recycled. Who knows what it was before? Perhaps if you've recently written of your car in Switzerland, it ends up in a Panerai. Either way, it's mightily impressive for such a big company to do this, and we hope that Panerai makes its watches out of 100% eSteel in the future.
2 – Ulysse Nardin Diver Net Concept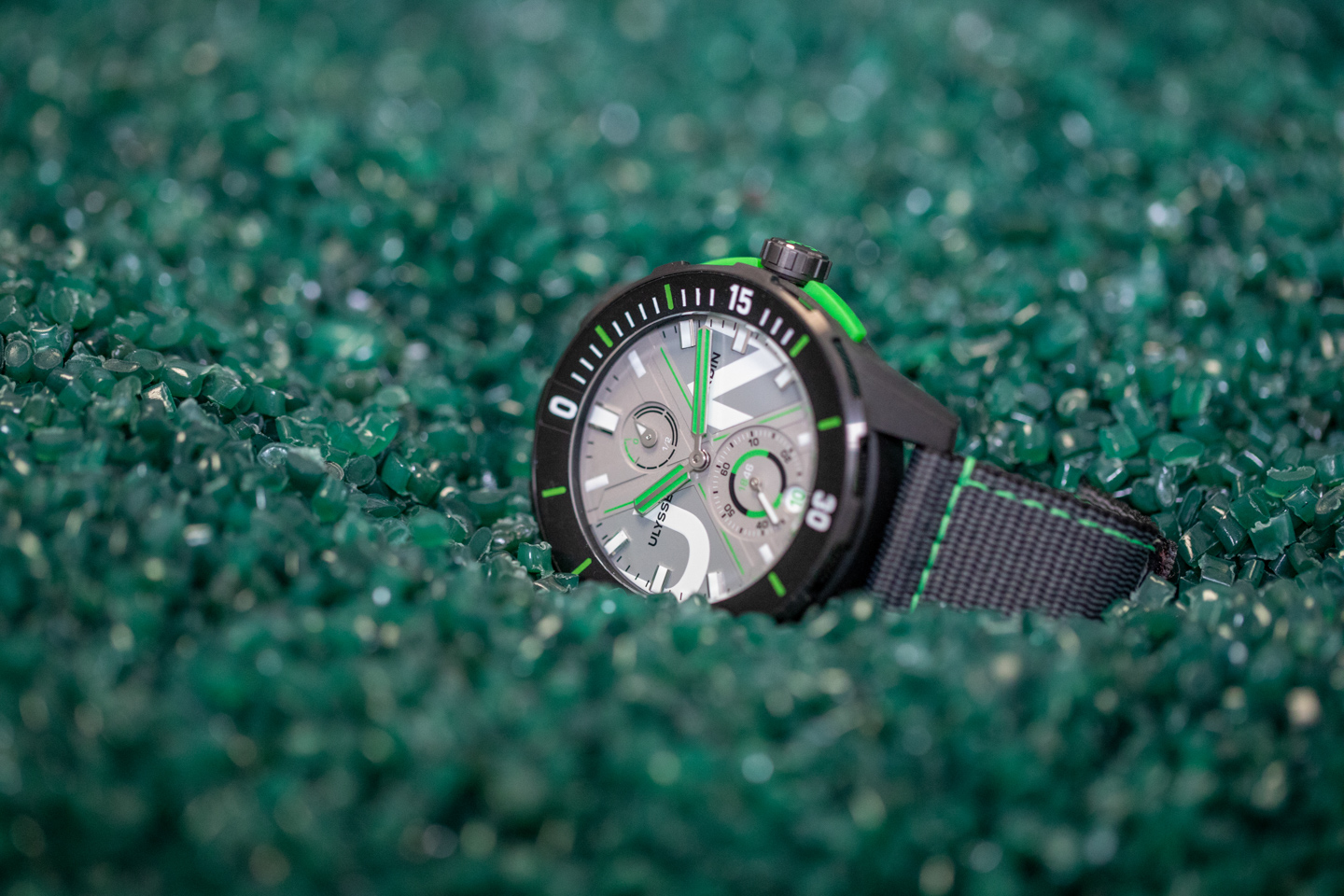 We've seen what Oris is up to with their dials made from recycled plastics from the world's oceans, but Ulysse Nardin has gone a step further. The entire case of the Diver Net Concept is made from plastic-based fishing nets that have been recovered from the sea. Don't worry; Ulysse Nardin's partners at French startup FIL&FAB work tirelessly to ensure there are no fishy pongs left over. Much like the Oris, the nets are mulched, sterilised and then turned into pellets that look like gravel. These pellets can be coloured, melted and cast into shapes such as the case and bezel of the Diver Net Concept. It's also got a high-grade Ulysse Nardin UN-118 calibre. Ulysse Nardin even developed a new type of ceramic-based crystal to go over the movement, which they say uses less power to create. Unfortunately, while you can pick up the Oris without too much hassle, this remains just a concept for now. But what an exciting concept it is.
1 – Chopard L.U.C. XPS Twist QF Fairmined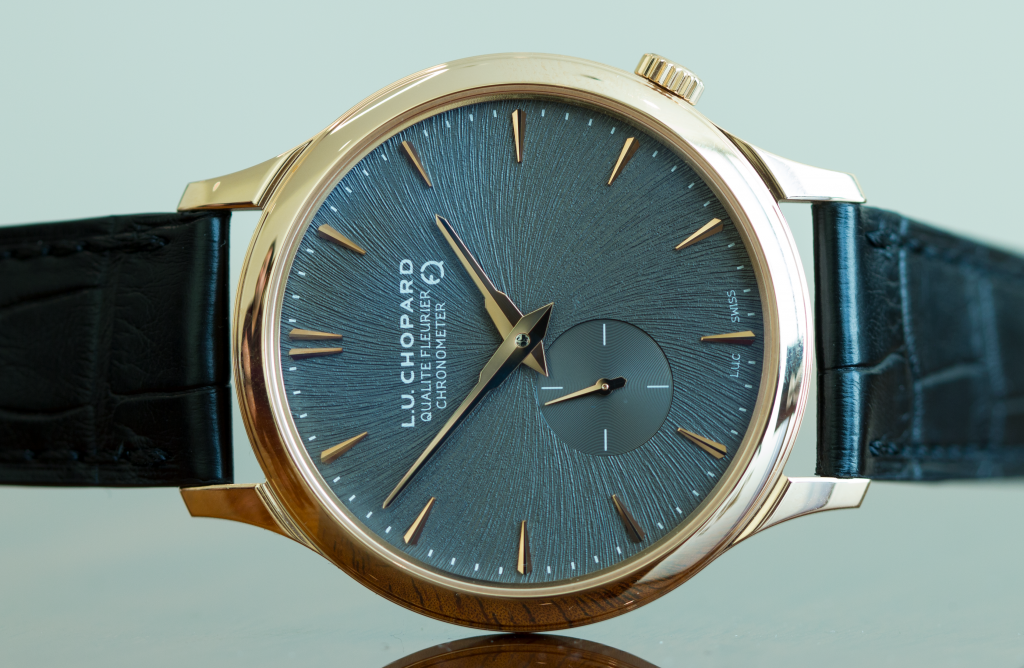 At number one is a quietly groundbreaking watch. We as people have a responsibility to the environment and the wildlife within it and to each other. The L.U.C. XPS Twist QF Fairmined may not be on sale anymore, but it showed where Chopard was headed. The watch is made of Fairmined gold, which means that every step of the way, the people involved in the production of the gold were treated fairly and paid a fair wage. Mining for gold and diamonds has led to the harsh treatment of the poorest for centuries. I'd imagine that most gold in the watch industry is still mined by people forced to work for a pittance. Chopard didn't just make this watch out of Fairmined gold to feel good about itself, it pledged to ensure every gold product it produces is made of Fairmined gold. It's a pledge the company has kept. Now, Chopard has oversight of gold production and ensures better pay and care for all involved. It also helps that the watch looks great.
There are many more exciting watches that have been released with eco themes, what are your favourites?