I'll be frank, we have covered Chopard more than anything else this year, probably. Some people might think we are biased, but then consider that a lot of other big websites cover particular brands too, undoubtedly other low production companies like A.Lange & Söhne have enjoyed higher sales thanks to the repeated work and subtle promotion of their watches on big name watch blogs. Before I really do start blowing my own trumpet I'd like to take a step back and show a bit of history about Chopard, since its inception it's come an awfully long way from respected watchmaker to almost invisible jeweller to global icon in the fashion industry. Whether you like Chopard or not, they have style on their side that is hard to match, it's why they are often compared to Cartier and, personal feelings about their watch collections aside, their design ambitions often overlap which tends to make them direct competitors.
Let's stop there, and go back in time to Switzerland in the 19th century, where in a small rudimentary farming village called Sonvilier, this manufacture was born. It was in 1860 that the company founder and namesake, Louis-Ulysse Chopard (where L.U.C. comes from), started the small watchmaking firm. Sonvilier is located near the Jura mountains, an area of Switzerland where watchmaking has a rich history indeed. In the golden age of watchmaking for this area it is entirely feasible that there were at least 15 watchmaking companies in the Sonvilier area alone, so Louis-Ulysse Chopard made the executive decision that his watch company would make the components of the watch and then fully build the entire watch, a core responsibility that remains true even today.
Chopard watches became known to a lot of very powerful, and more importantly influential, people who treasured their Chopard watches because of their beautiful craftsmanship and attention to detail. They were also known for being thin watches too, thinner the competition and something of a unique item. Thinness in a watch is often linked to the technical prowess of a company, making already microscopic components even more minuscule than before is an art form in itself and, don't forget back then there were no CAD packages or rapid prototyping machines, everything was painstakingly drawn and calculated using nothing but the hand and mind. Not to mention the less precise manufacturing methods. Some valued Chopard very highly for their efforts in this area, especially the likes of Tsar Nicholas II.
Chopard gained even more recognition when it became one of the official watch providers for what is known as the 'Tir Fédéral', the globally acclaimed and dead precise Swiss railway network, if you were involved with that, then your number one concern was accuracy and to have Chopard watches becoming the reference for accuracy and reliability meant a great deal for the company.
What would perhaps be an even bigger deal for Chopard would be its relocation. After the death of Louis-Ulysse Chopard in 1915, the company was handed down to his son, Paul-Louis Chopard and his son too, Paul-André Chopard. The traditional business would soon change, as in 1921 the Chopard company left Sonvilier and moved to Chaux-de-Fonds, a larger town not too far from Sonvilier. However once again Chopard would up sticks and leave Chaux-de-Fonds in 1937, Paul André decided he would take the company to the very top and relocate Chopard to Geneva. For context, that's like having your small local bank grow to the point it takes over an entire skyscraper inside the City of London, it's a mark of not only your success but also your ambition for greater in the future, and for Chopard it showed their desire to compete with and potentially topple the established names such as Vacheron & Constantin and the upcoming Patek Philippe & Co.
It never quite worked that way, but it is awesome to consider and think about how the world would look if that did happen. Sadly, although Paul-Louis and Paul-André Chopard were very involved and interested in the company, no other generations of the family after Paul-André were. So, he ended up looking to sell the company, and thus remove it from the control of the Chopard family. In 1963 the Chopard of old was sold on to Karl Scheufele III, the third in a long line of German watchmakers from the 'Gold City' of Phorzheim who wished to become a figure in the watchmaking world. He was very much interested in keeping the Chopard name alive rather than putting the Karl Scheufele Company name on the product, and said this in an interview after meeting Paul-André Chopard for the very first time:
"As soon as I visited the Geneva workshops and saw the venerable Mr. Chopard seated at his workbench in front of the window, I knew that our two companies were bound to get on well. After half an hour of conversation, I knew it was the right choice."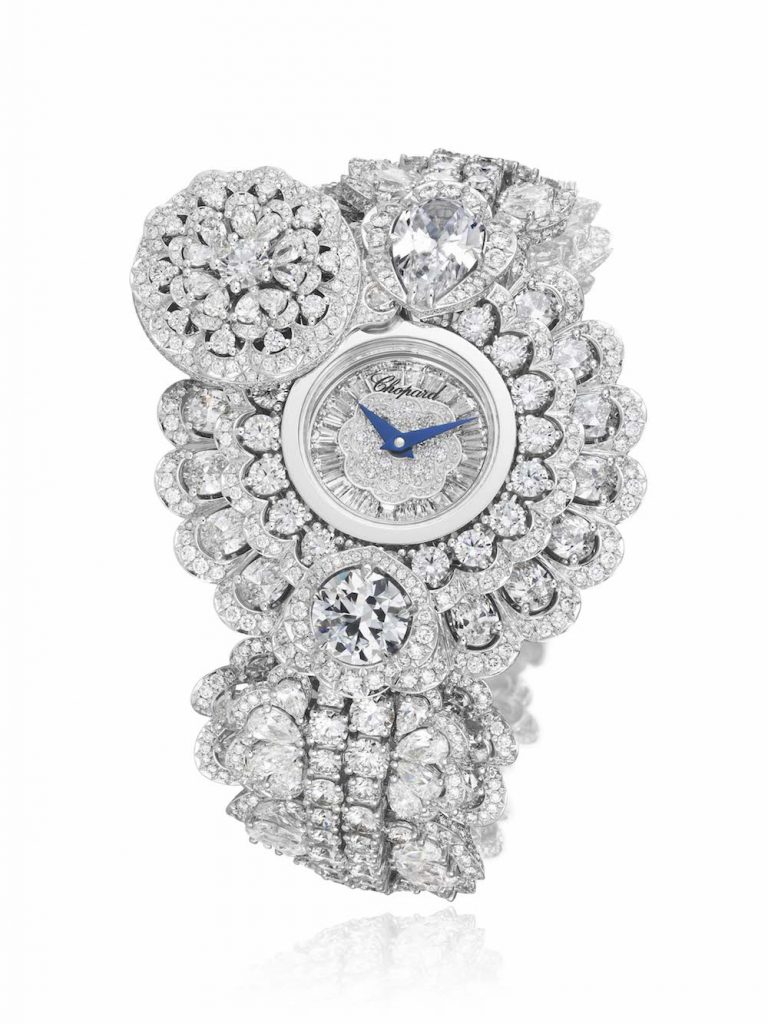 Chopard The Garden of Kalahari
After the purchase was completed the Scheufele family suddenly had what their ancestors had hoped for: control of a Swiss watchmaking company. Chopard was already known for making fantastic watches for women, but it was the Scheufele family with their German heritage and taste for diamonds that eventually lead to Chopard's world class diamond watches, as well as their almost completely independent jewellery line.
Chopard L.U.C XPS 1860 Officer
In 1974 the entire company relocated for the last time to Meyrin, an area on the outskirts of Geneva nearby to the airport. Even though the corporate headquarters is split between the old and new buildings (Chopard has added onto the original facility), and the interiors have been redesigned there is still the weird original textured wallpaper on the walls, a hark back to a time where fashions were crazy and hair styles were starting to be much longer and frizzier and facial hair was all over the place.
Read here about our factory visit:
Read our interview with Karl-Friedrich Scheufele here
In the 1980s Karl Scheufele III and his wife Karin stood down from the business and allowed Karl-Friedrich and Caroline Scheufele to take the reins. From then on it was a much more diverse business, split by its products but united by its owners. Karl-Friedrich took control of the watchmaking division and has stayed there ever since. He spearheaded the operation and oversaw the creation of L.U.C., Chopard's ultra high end range of watches.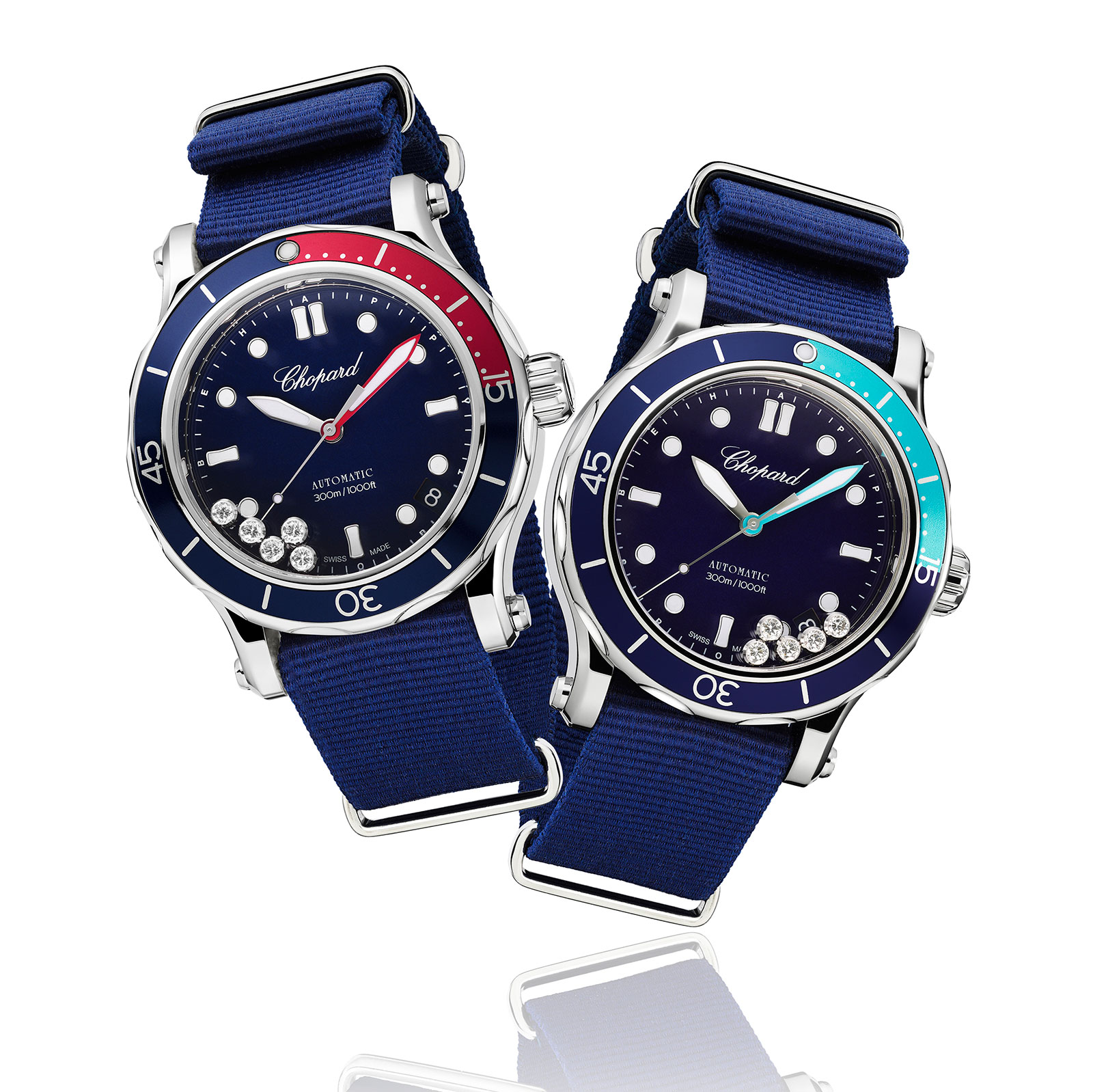 Chopard Happy Ocean Diver
Meanwhile Caroline seemed to take a much more relaxed and creative approach, letting personal ideas get the go-ahead and creating something wonderful at the same time. Though, there have been times where the two sides of the company have worked together, such as is the case with the 'Happy …' collection of watches which feature diamonds suspended between two non-reflective sapphire crystals so they appear to float over the dial and make the owner feel, well, happy. Although this collection actually started in 1976 as a gents watch, in modern day Chopard it's most definitely a ladies item.
Let's not forget as well that Chopard has made, and continues to make, news when it created what was at the time  one of the most expensive wristwatches ever, the 201 Carat Watch which I from my very un-jewellery aware perspective looks much nicer than the Graff Hallucination watch, the most expensive watch ever sold. Nobody can do diamonds quite like Chopard can.
Chopard Mille Miglia Race Edition
At the end of the eighties Chopard revealed the product that would take it to fame in the watch world, as it formed the connection between classic motor racing and horology with the first ever Mille Miglia watch. Co-President Karl-Friedrich Scheufele has a particular fondness for classic motor racing, even going as far as to join the 1000 Mille Miglia in his own cars, so it only made sense Chopard would become the official timekeeper of the race. Interestingly, in 2002 Chopard also became the official timekeeper for the GPMH, the Grand Prix de Monaco Historique.
Chopard L.U.C Heritage Grand Cru
Chopard L.U.C XPS Twist QF Fairmined
Also, around the time that L.U.C. came to life Chopard expanded its operations to the remote and tiny little town of Fleurier, right up in the mountains and no more than an hour's drive from the original Chopard site in Sonvilier. It's here in this zen-like place that Chopard conducts its research and design as well as construction and finishing of its L.U.C. watches, although this is split between the Meyrin headquarters so as to allow for the Geneva Seal. Nearby Chopard also helped to launch the Fondation Qualité Fleurier, which would prove to be the most demanding test in the business for watches.
Chopard is one of the last few watch companies to remain a family owned business, even though it is effectively a small group in itself with ownership of things like Fleurier Ebauches SA which makes movements for Chopard and allows for vertical integration in manufacturing, and also Ferdinand Berthoud which appears in the so-called 'super horology' group alongside the likes of F.P. Journe and Kari Voutilainen.
Chopard Superfast Chronograph Porsche 919 Edition
Chopard's future looks to be brighter and stronger than ever, that's been helped by activities such as their partnerships with Porsche and the Cannes Film Festival, as well as their commitment to ethical mining with the release of the 'Fairmined' watches which now includes multiple accessories from tourbillon watches to jewellery to the Palme D'Or trophy of the Cannes Film Festival, even the plant inspired trophy for the most prestigious film festival is ethically sourced.
 Chopard L.U.C. Full Strike
The release of the L.U.C. Full Strike is perhaps the marker in their timeline, now they've conquered the most fearsome of complications I wouldn't be surprised if we saw split seconds rattrapantes, double splits and maybe something even crazier, it's all a learning journey.