It's been a while since I've been able to get my paws on a new watch to review. The last one I did was Zenith's new (and controversial) Chronomaster Sport which I had a play around with in February. Covid-19 restrictions are still in force here in the United Kingdom, which means it's tricky to get my hands-on timepieces in person. So when one of our favourite smaller boutique brands, Louis Erard, offered me the opportunity to have a play around with one of the watches in their new Louis Erard x Alain Silberstein collection, you can bet I jumped at the chance.
Before we go any further, please note that these watches were very successful and have now sold out.
The model I got to try, which you see in the pictures, is officially called the Louis Erard Excellence La Semaine Louis Erard x Alain Silberstein ref. 75357TT02.BTT88, but I think we'll just call it the La Semaine from now on. The first thing you need to know about it is that its design is one of the most unusual ones I've come across in person. In terms of quirky funkiness, it's up there with some of the more playful Hublots I've tried on. This is undoubtedly thanks to the input from Alain Silberstein, which has transformed the dial.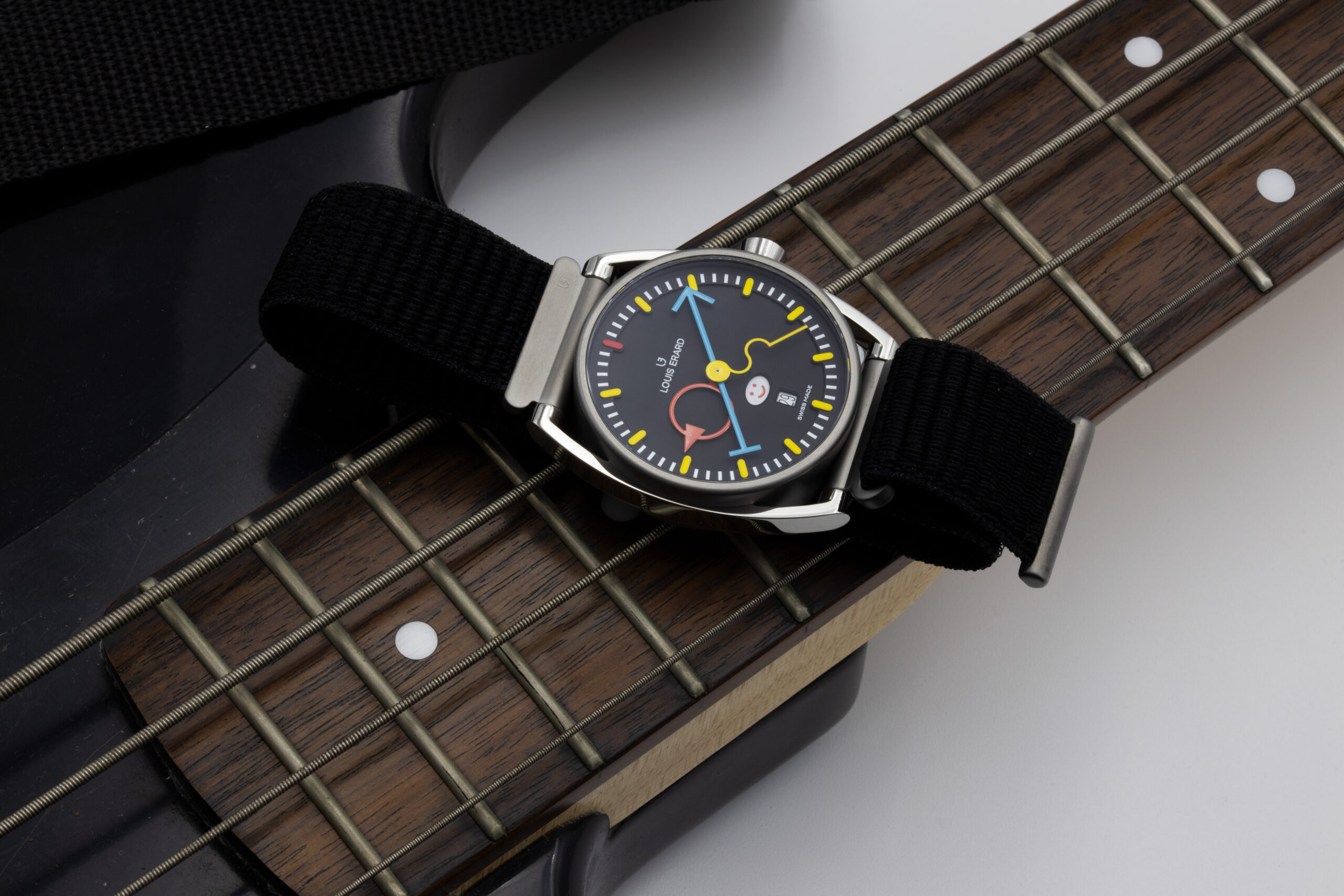 Forget contemporary watchmaking designs with clean and polished lines, images of pretentious people in cheap suits and general thinking-you're-better-than-you-are. The best thing that could have happened to this design was to involve Alain Silberstein. His designs are playful, relaxed and philosophically interesting.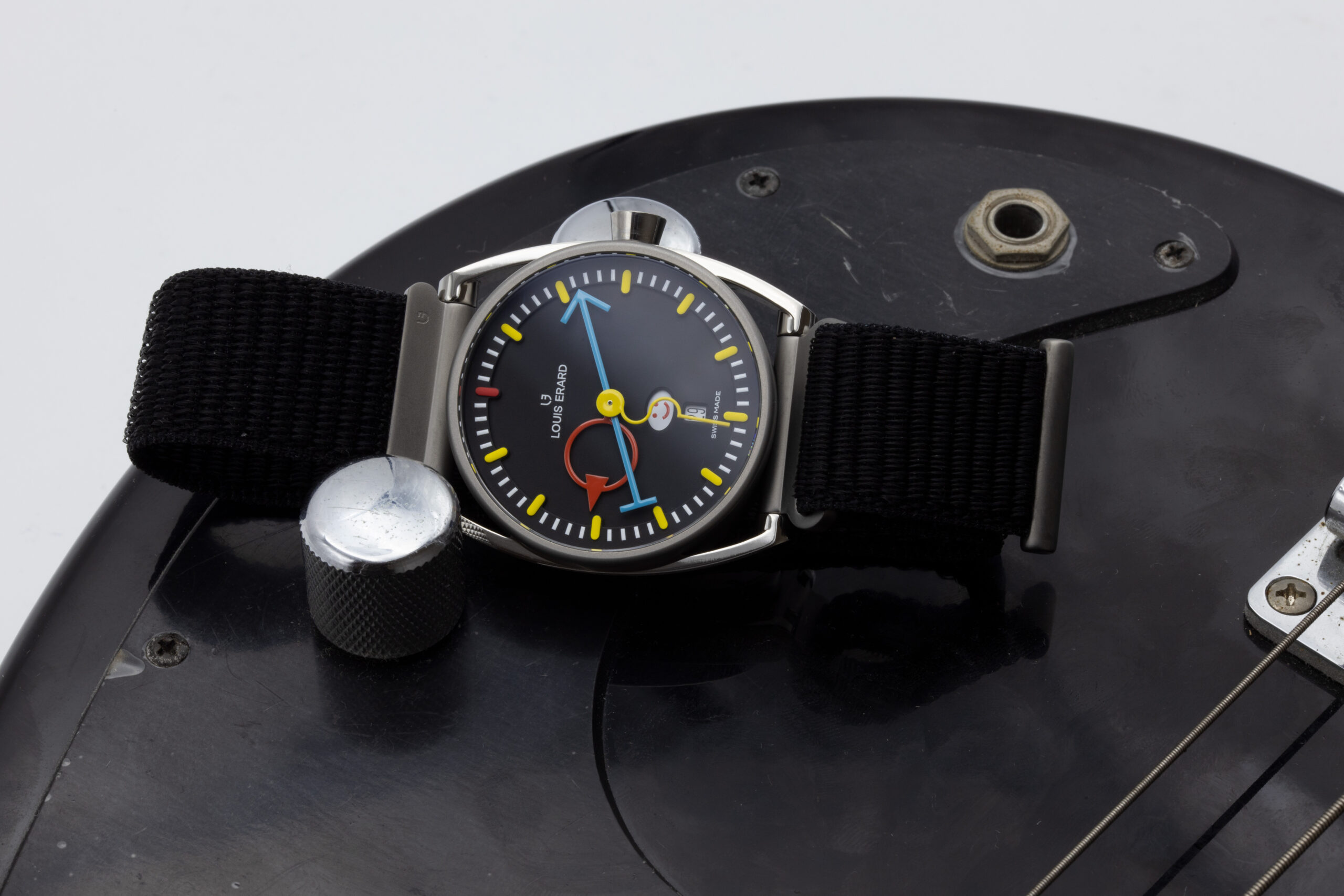 It's hard to state just how important it is for a watch to have a soul. Fans of cars will probably know that folks like Jeremy Clarkson and the guys from ThrottleHouse on YouTube like to bang on about cars needing to have a soul; it's the same with wristwatches. Mechanical watches are fantastic pieces of engineering, but if there's no little spark on there, no hidden joy, then there's no point to them. This La Semaine proves that you don't need to spend a fortune on a watch that was forged in the bowels of Switzerland by ancient masters to have a great piece.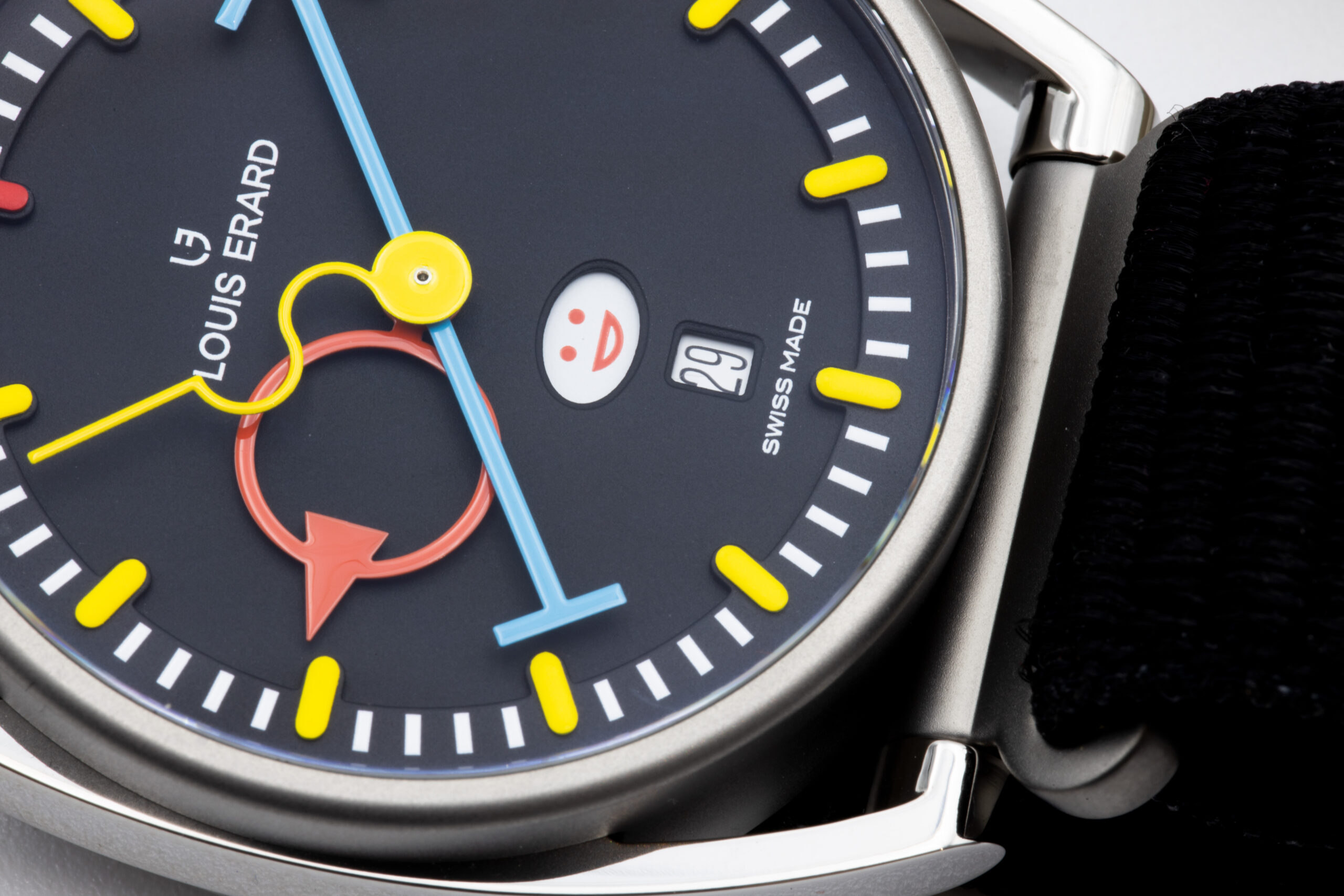 In terms of legibility, it's easy to read once you get past the fact that none of the indicators are normal. The hands are all over the place. The wobbly yellow one indicates the seconds, the long arrow-shaped one that spans the entire dial is the minutes, and the red circular one is the hours. The hands are still sized correctly as well to aid in reading. You can instantly see which is the minutes hand just by the fact the blue arrow is much longer. There's no lume on this watch, the hands are lacquered instead, which gives off an excellent sheen, but it sacrifices nighttime legibility to do that. It's not a big deal at the end of the day.
The dial is a flat black colour. It doesn't have any guiiloché applied to it as we've seen on the Louis Erard watches my colleagues have reviewed. That's a good thing here. It would be folly to add yet more detailing to the dial and have the bright colours and shapes of the hands. The simple background is best as it lets the important parts stand out. One of which is displayed just below the centre of the dial, it's Alain Silberstein's signature Smiledays display, a day of the week indicator which uses emoji expressions instead of names to indicate which day of the week you're on.
Officially, there's no correct way to set this. You choose which expression you want for a day and then let it do the rest. Still, I think we can all agree that anything sad or angry should be saved for the start of the week and the happy ones for the end, I don't know about you, but I'm convinced that Garfield is my spirit animal. Below the Smiledays display is a conventional date indicator.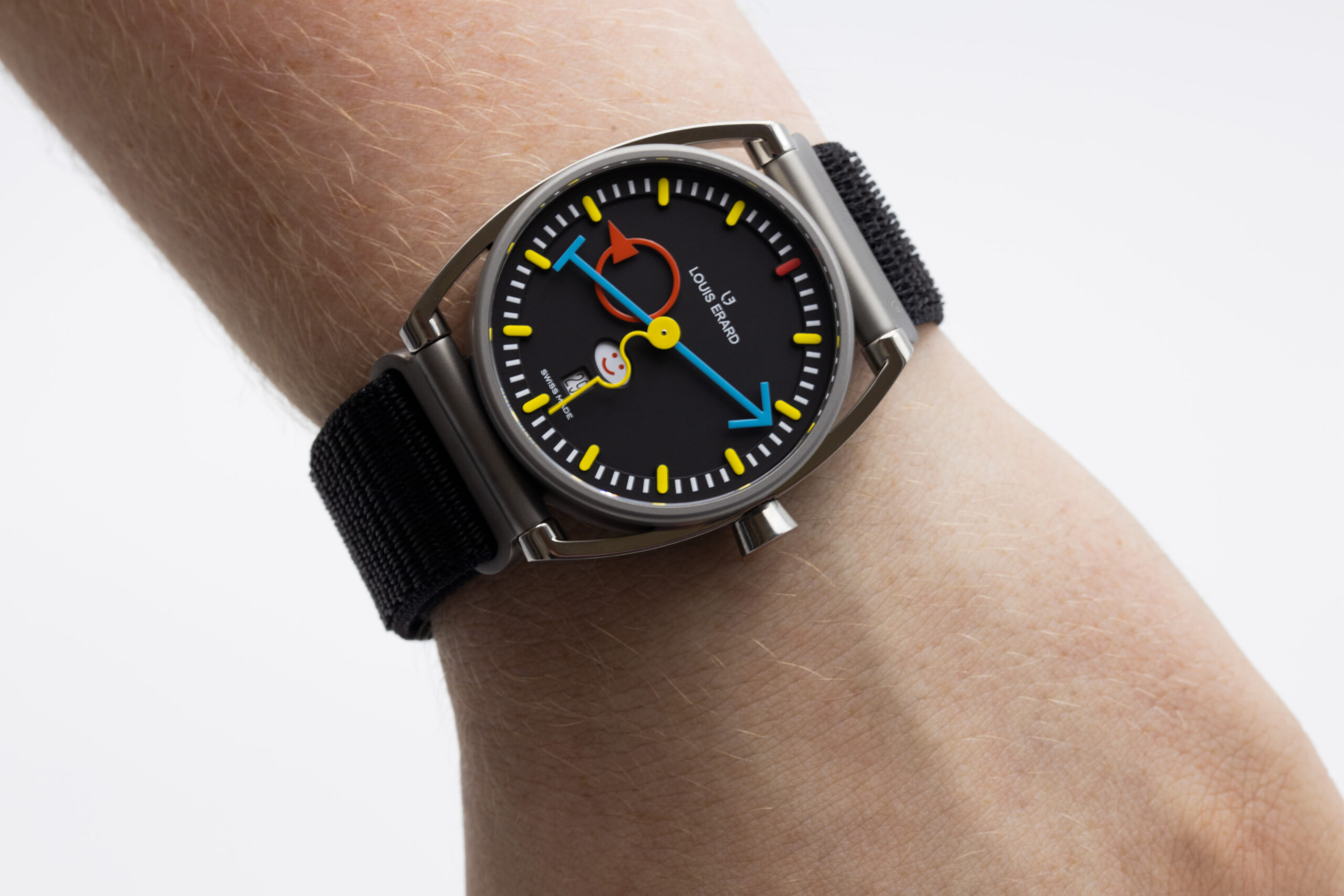 The diameter of this watch is 40mm, but the unusual case design means it wears a lot bigger on the wrist. It could easily pass for a 42mm/43mm piece. The lugs flair outwards towards the edge of the case quite dramatically, giving a somewhat similar appearance to a DeBethune. Unlike a DeBethune, though, the lugs are not articulated. However, the fasteners for the strap (which also include a quick-change system) move and can provide comfortable wear for smaller wrists. The fact that the black nylon strap is secured with Velcro also offers unparalleled levels of adjustment, although if you have big hands, it's pretty hard to fit the strap over your hand as it's secured at one end by a titanium strap end.
That brings me onto the other saving grace for those with smaller wrists. The watch is made of titanium, featuring a titanium case, titanium lugs, titanium crown and titanium strap components. That means that it's a featherweight on the VSS (Very Scientific (Kitchen) Scales) at just 68 grams, making it the lightest watch I've ever reviewed. Wearing it on the wrist is about as easy as you'd expect. Choose a tightness to your liking with the Velcro strap, and away you go. It's keeping the time reliably without being obtrusive or unwieldy. I'm used to wearing a sporty Omega or Rolex, and while this is a different experience than those, it's not unnatural. High marks for the watch there. However, those with huge wrists and those that wear watches on their left may find the crown and corners of the lugs dig in just a little too much).
Let's talk about the movement. Louis Erard installed in this piece an ETA calibre 2836-2, which is a simple self-winding calibre with a power reserve of roughly 38-hours and a beat rate of 4Hz. It's used in plenty of other day-date watches from brands like Fortis, Tissot and Certina, and it's the base movement for calibres like Longines' L636. One point of contention with it is that it's relatively small and seems to be dwarfed by the rest of the caseback. Still, there is ample finishing, and it doesn't make any grating noises when self-winding, and the ticking is virtually silent. I know some folks complain about noisy ETA movements, this one isn't one of them, and it should be a breeze for Louis Erard to service it.
As I mentioned at the start of this hands-on review, the watch has sold out. Despite this, we thought it was important to post this review. Louis Erard has been quietly working on some cracking watches, and we've seen the highlights so far. Judging by your comments on the article we published when this was announced, you as an audience were divided. In the end, whether you liked it or not that achieved what Louis Erard was aiming for, you were talking about their watches. It's fair to say the design of this piece isn't for everyone, but this isn't your everyman kind of watch. It's too "out there" to be a watch for everyone. Yet, with a comfy strap and 100m of water resistance, it's more than enough to be a daily wear with a difference. If you're one of the 178 people who got one of these, I congratulate you.
This watch retailed for CHF3,500 when it was on sale, who knows what pre-owned prices will be like.
BUY YOUR LOUIS ERARD WATCH HERE