Jack Black and Submariner by Rolex
The lead vocalist of the Grammy Award-winning and self-described best band in the world – better known as Tenacious D – isn't only fond of hard rock and heavy metal; he's also into watches done in precious metals, as seen in this interview on Hot One's. The Submariner by Rolex hardly needs any introduction as most watch enthusiasts – both seasoned and less seasoned – are familiar with its history and evolution in design throughout the decades – with subtle changes and improvements done to the core elements of this iconic timepiece.
The very first watch by Rolex to say Submariner on the dial was Reference 6204 with the earliest specimens dating back to late 1953 by serial number and the stamp on the inside of the case – despite literature and articles telling you that the Submariner first saw the light of day in 1954. It was done in steel and started its existence as a genuine tool watch unlike today where it has become more of a status symbol (broadly construed) for the majority of consumers around the globe. Many watch enthusiasts instinctively consider the Submariner to be the most iconic dive watch on the market, even though Blancpain's Fifty Fathoms debuted a little earlier with a number of technical innovations; all in order to meet the specifications set by two commanders of the French Combat Diving School, Captain Robert Maloubier and Lieutenant Claude Riffaud. The CEO of Blancpain at that time, Jean-Jacques Fiechter, however, also had some ideas of his own based on his experience as an avid diver. But I digress.
This particular version of the Submariner that Black wears is done in 18 ct. white gold (more on that later) and was introduced in 2008 (Reference 116619 LB). It was the first Submariner to be serially produced in white gold, but it was also – according to some sources – the first Submariner to utilise a blue Cerachrom bezel. The blue lacquered dial is a perfect match for the bezel, and the combination of a white/grey precious metal along with the blue colours is also why it's affectionately known by the majority of watch enthusiasts as The Smurf. It's also known as Sonic by some watch enthusiasts. Both names fit this particular timepiece, but considering the high demand for sports watches from Rolex, I'd go for the anthropomorphic blue hedgehog. Sonic probably moves a little bit faster over the counter than Rolex' sports models, but only slightly faster at the time of writing.
The watch measures 48 mm from lug to lug, with a diameter of 40 mm and an overall thickness of 13 mm, so it is by no means a huge watch. One might get surprised by the heft of this timepiece since it doesn't appear heavy; but looks can be deceiving – especially in this instance. Despite it being a rather hefty timepiece, there's something pleasant about wearing a gold watch – without anyone but other owners and watch enthusiasts knowing the true nature of this beast. It doesn't scream money in the same way as a yellow gold Submariner (e.g. Reference 116618LB) does and therefore fits the bill of stealth wealth – even though it's made by the world's most well-known watch manufacturer.
It's made of Rolex' propriety white gold. ''Why is that interesting?'' you may ask. Well, it's partly due to the fact that not every manufacturer uses true white gold for their timepieces. Rolex, like Patek Philippe and Jaeger-LeCoultre, uses what in the industry is known as grey gold. This is interesting because it's homogeneous, so if you by accident (or in a simple act of stupidity) scratch or scuff this timepiece, you'll only see more white gold. So, unlike typical white gold (i.e. most often an alloy consisting of yellow gold and nickel) that is typically plated with rhodium, you won't need to have it replated which is quite convenient.
Reference 116619 LB is equipped with Rolex' tried and true calibre 3135; a self-winding mechanical calibre that has been developed and manufactured by Rolex. It was introduced in 1988 and soon became the bread and butter of Rolex movements for the next three decades. It's known for its great reliability under rough circumstances which is due to its architecture. Along with its blue Parachrom hairspring (i.e. an alloy made of niobium and zirconium) – that offers greater resistance to shocks and temperature changes – it should be able to endure the impacts from a talented guitarist such as Black during a concert. I mean, there's a handful of stories about Submariners and even Sea-Dwellers getting lost and still being fully functional after having spent some time in Davy Jones' locker – so a couple of riffs during Kickapoo shouldn't do any harm, right?
It's still in production and comes with a price of 38,350USD.
Stephen Sommers and the first generation Overseas Chronograph by Vacheron Constantin
Granted, 15 years have passed since Van Helsing debuted on the silver screen, and while it did receive a lukewarm welcome then, I would like to compliment the American film director and screenwriter Stephen Sommers for his excellent choice of watch which is anything else than lukewarm. During production, Sommers wore a 1st generation Overseas Chronograph made by the esteemed watch manufacturer Vacheron Constantin. Even though it shares the same design traits that made Audemars Piguet's Royal Oak Reference 5204 and Patek Philippe's Nautilus Reference 3700 icons back in 1972 and 1976, respectively, it wasn't designed by Gérald Genta. Furthermore, the Overseas collection – as we know it today – saw the light of day in 1996, with the chronograph version debuting three years later. The Overseas collection was designed by the independent designer Dino Modolo and Vincent Kaufmann from Vacheron Constantin.
The genetic heritage of the Overseas collection can be traced back to 1977 when Vacheron Constantin launched the 222; a watch commemorating the manufacturer's 222nd anniversary. It was based on the same design principle as the Royal Oak and Nautilus with its integrated bracelet and monocoque case construction. It even used the same ébauche calibre from Jaeger-LeCoultre. However, this is where the similarities end as the designer behind the 222 was Jorg Hysek. Hysek was also leading the pen when Breguet launched their Marine-collection in the early 90s. He also designed Seiko's Arctura and TAG Heuer's Kirium, his résumé as a watch designer isn't too shabby.
Now, I'd be careful to accuse Hysek and Vacheron Constantin of solely benefitting from the slipstream created by Audemars Piguet and Patek Philippe as I'd rather say that the design of these watches represents the zeitgeist of the 70s. Other honorable mentions from that era include the Laureato by Girard-Perregaux and Ingenieur SL 1832 by IWC that launched their take on the casual and yet elegant timepiece in steel in 1975 and 1976, respectively. Chopard launched their St. Moritz in the early 80s. Zenith didn't only have their sights on winning the race against Seiko and the Chronomatic-group for the title of premiering the first-ever self-winding chronograph calibre. Indeed, they also launched their Defy collection (starting with Reference A7681) in 1969 and ended production in 1972 with Reference A7683. This model from Zenith can be construed as an early take on the steel watch for casual wear with an integrated bracelet.
The model that Sommers wears measures 37 mm in diameter, thus making it rather discreet compared to the first generation of Royal Oak Offshore (42 mm in diameter) by Audemars Piguet that was launched in 1993 – a watch that Genta wasn't too fond of – and Rolex' Daytona (40 mm in diameter). The level of attention to details on the bracelet and case clearly surpassed that of the more mainstream Daytona while it's on par with the Beast from Audemars Piguet. The Overseas, however, has the advantage of being powered by one of the thinnest self-winding integrated chronograph calibres ever made. Yes, I'm talking about the revered Frederic Piguet calibre 1185 with a column wheel and vertical clutch that is currently being used by Blancpain and Audemars Piguet and has been used by a handful of companies throughout time, including Chopard, Harry Winston, Bulgari and Alain Silberstein (Bolido Krono BK73).
You can see that the integrated bracelet beautifully flows out of the lugs and slightly tapers towards the double-deployant clasp – featuring a rather nifty locking mechanism – at the end; an effect that can be seen, but not felt really distinctively because the gradual step from one link to another is subtle on these watches. The edges of the bracelet's outer and inner links are polished – and this adds, along with the satin-brushed surfaces, depth to the polished middle link. All of this is achieved by hand and separates the wheat from the chaff when determining whether or not a timepiece can be considered high horology.
Unlike the 3rd generation of Vacheron Constantin's Overseas, the 1st and 2nd generation don't feature a sapphire crystal display back but instead an engraved full-rigged ship that subtly references Francois Constantine's journeys to North America and Canada in the early 19th century. Unlike the porthole style used by Audemars Piguet and Patek Philippe, Vacheron went with a bolder and sportier Maltese cross style raised bezel that blends nicely with the Maltese cross clamshell clasp of the bracelet.
Considering the offering of both casually elegant and sports watches back in 2003/2004, I must admit that Sommers made an excellent choice that flies under the radar in a good way.
Nicklas Bendtner and Royal Oak Double-balance Wheel Open-worked by Audemars Piguet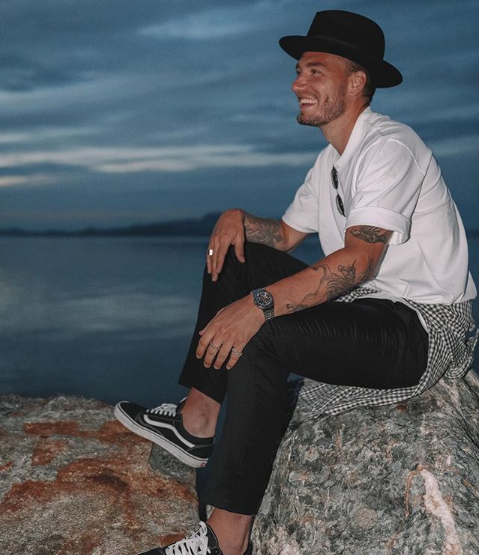 Lord Bendtner not only has exquisite taste when it comes to women and cars; the infamous professional footballer also wears some serious horology on his wrist. He has attended Klarlund's Expo in both 2018 and 2019 along with a couple of other celebrities. Even though I had a hard time trying not to focus on the plethora of interesting timepieces from all sorts of manufacturers and the lovely looks of my special woman, I couldn't avoid noticing his presence for the second year in a row. A quick scroll on his Instagram revealed afterwards that he has an open-worked Royal Oak from Audemars Piguet and not just any open-worked Royal Oak either.
Audemars Piguet is no stranger when it comes to doing open-worked dials as they, for instance, launched reference 15305 – a 39 mm version of reference 15300 with an open-worked dial – in 2010. Reference 15407 (reference 15407ST.OO.1220ST.01), on the other hand, offers something rarely seen in the industry – thus making it a different kind of fish.
Unlike reference 15305, reference 15407 comes with a double-balance wheel escapement. The idea behind this concept is to ensure greater stability by fixing two balance wheels on the same axis; together they create an oscillator with more mass. It also improves the accuracy of the timepiece as the two balance springs counteract the effects of gravity on the balance. In theory, this basically means that whenever one of the balance wheels goes out of sync, the other one will pull it back to the proper rate, thus effectively cancelling out each other's rate errors and self-regulating So, you really have no excuse for being late for practice – unless you got caught in traffic – Bendtner!
One thing is the technical aspect of this timepiece. Another is the superb finish of the calibre 3132. As the name of this timepiece implies, its calibre is open-worked – also known as skeletonised – and this involves cutting away excess material from the calibre in order to reveal the beauty of the components within. This finish and decoration of the calibre is achieved entirely by hand as is commonplace with Haute Horlogerie, and the reasons are both aesthetic and technical. You need a highly skilled watchmaker to achieve this intricate finish as a milling machine simply can't replicate the perfect interior angles that reflect light; a key component when determining whether or not we're talking about high horology.
Unlike Patek Philippe's calibre 240 SQU (see reference photo above) – and other calibres with a more ornate design – the Audemars Piguet calibre 3132 comes with a slate grey treatment, which adds a much more contemporary look to this casually elegant timepiece done in steel. The use of a pink gold balance bridge, along with matching hour indices and hands, doesn't only contrast nicely with the rest of the calibre, but also draws the wearer's attention to the most important aspects of this specific timepiece: the time and the double-balance. The self-winding calibre is svelte with a total thickness of 5.57 mm and a diameter of 26.59 mm (11 ¾ lignes) and offers 45 hours of autonomy when fully wound.
The watch measures 41 mm in diameter and has a case thickness of just 9.9 mm which doesn't sound like a lot on paper. In practice, however, you're definitely going to need a larger wrist as, due to its protruding lugs and flat profile, this timepiece wears larger than its dimensions suggest. Lord Bendtner manages to pull it off quite nicely with his overall hulking physique. The case and bracelet of the 15407 come with vertical satin-finished surfaces and polished edges that catch and reflect the light in a way that enables most watch enthusiasts with decent eyesight to spot it from a distance out in the wild.
Considering its hefty price tag of 43,500 € and being a boutique exclusive, it's certain for me that it won't be sold out – like his new player shirt did after his transfer to FC Copenhagen was announced in September. It will, however, be hard to get as it's in high demand by both watch enthusiasts and people with a penchant for recognisable design – so be prepared to spend some time on the waiting list of your local authorised dealer or pay a premium on the secondary market.
Prices – low to high
I'll be looking forward to see whether Lord Bendtner has more to offer than the otherwise befitting Royal Oak and Daytona from the Crown. An Excalibur from Roger Dubuis or a timepiece by Manufacture Royale would fit along nicely with the royal theme that Lord Bendtner has going on.
This wraps up our third instalment of Watch Spotting with WristReview. If you've spotted a timepiece worn by a celebrity, politician or some other public figure, you're more than welcome to send us an e-mail and our team will gladly investigate it further. We might even feature the person in our next instalment, if you found someone more interesting than we did.