It's nearly over. We've almost passed through what was undoubtedly the most painful and confusing year in recent history (next year may be even worse, though!). Just before the majority of us chill our drinks in time to celebrate the planet completing another orbit of the sun, we're here with our big list of favourite watches from 2020.
First thing's first. This is not the be-all-and-end-all of watch lists. If something is missing from here, we're not saying it's a terrible watch that no one should buy or even like. We've based this list on a few different criteria such as how relevant we think the watch is today (within reason), how thoughtful the watch's design is, and how well we think it has been decorated.
The price of the watch will not be used as a determining factor for this list. This list isn't price capped. We're not looking to make a "Here's the best watch to buy for under $500" type of list. This is our big end of year roundup, so it's gotta have some cool stuff too!
10. Hanhart 417 ES Chronograph
First up on our list is Hanhart's remake of a classic pilot watch from its history. Historical remakes have become a real trend this year. We're not sure if that's because people have been demanding brands remake old watches, or whether some of them have run low in the idea department. Nevertheless, the 417 ES is a good-looking watch that pays homage to the original 417. Hanhart changed a few things around, but it did it as sparingly as possible, and it pays off nicely here.
9. TAG Heuer Carrera Sport Chronograph 44mm Calibre Heuer 02 Automatic
Back in July, TAG Heuer revealed its revamped Carrera chronograph watch. This model's point is to be their basis on which to build, so naturally, it has to good-looking. Luckily, we think TAG Heuer excelled themselves. We like the sharp and modern angles of the watch, we like the layout of the dials that don't have too much information on them, and we like the choice of dial colours you have. Better still, it's got an in-house movement with a column-wheel chronograph inside the case too.
8. Bulgari Octo Finissimo Tourbillon Chronograph Skeleton Automatic
The first heavy hitter on our list comes from Bulgari in the form of the thinnest tourbillon chronograph watch ever made. It's hardly surprising that Bulgari has appeared on this list, as I've said in the past, anyone who is taking on Piaget at the game of thin watches deserves a round of applause. This watch features both a tourbillon and a column-wheel chronograph packed into a movement that's only 3.5mm thick. Heck, the entire watch is only 7.4mm thick! It features Bulgari's standard design for the Octo range with straight lines, angles and matte finishing, and it's limited to just 50 examples worldwide.
7. Grand Seiko Sport Spring Drive Chronograph GMT SBGC238 60th Anniversary
I might be about to get slaughtered in the comments for this one, but I think this is the best-looking watch Grand Seiko has made all year. I love the angular gold case and how the gold seems to work so well with the blue bezel, dial and strap. Sure, it's a big (44.5mm) and chunky sports chronograph watch, but with Audemars Piguet doing relatively little of particular note with the Royal Oak Offshore line this year, someone has got to step up to the mark. I'm not saying this is an Offshore competitor in any area except pricing, but the Grand Seiko movement will be more accurate. So there.
6. Oris Aquis Date Calibre 400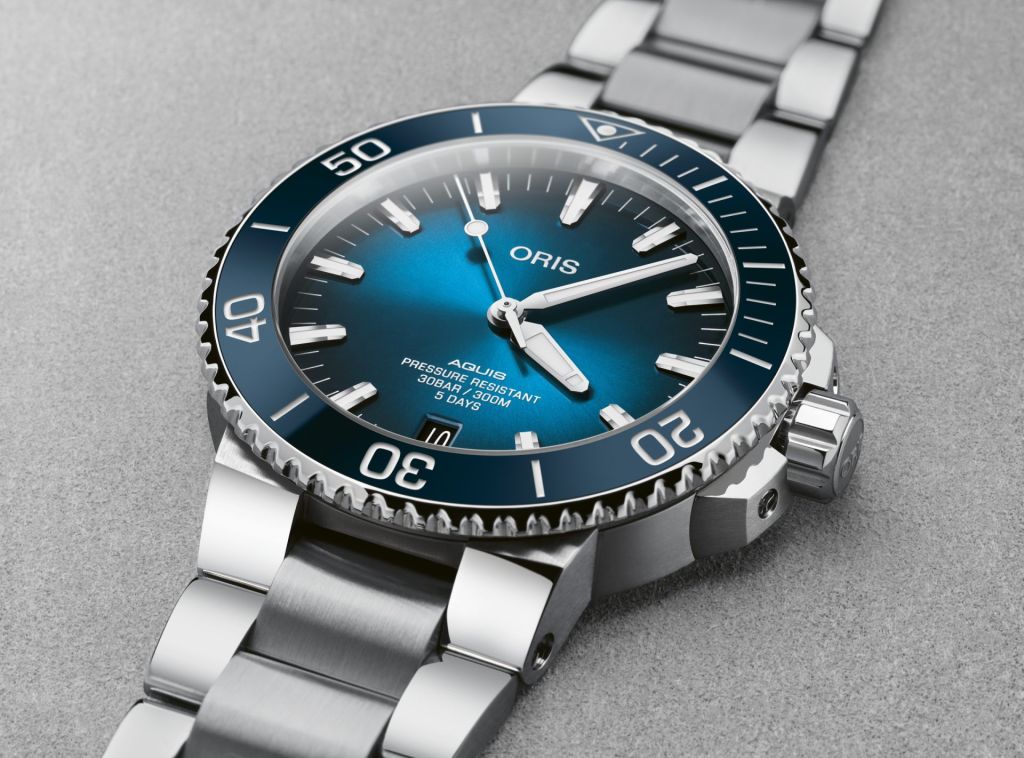 Oris debuted the Calibre 400 a little ahead of this new Aquis model. It was to be the next in the series of in-house movements made by the brand. The movement has a new low-friction bearing system, so the winding mechanism is less prone to wear and tear. There's also a slew of non-ferromagnetic components that allow this movement to withstand magnetic fields produced in some form by nearly all of today's gadgets. It's also got an impressive 10-year warranty and service interval. Also, it looks a little like a bear, which is Oris' spirit animal. All of that is wrapped up in the trusty Aquis case for a versatile sports watch.
5. Jaeger-LeCoultre Master Ultra-Thin Tourbillon Moon Q1692410
Let it never be said that Jaeger-LeCoultre has lost its way when it comes to complicated dress watches because it hasn't. While their sports watch game isn't what it once was in my eyes, the Master range of dress watches is still the range to beat, and this ultra-thin tourbillon moonphase watch sits somewhere at the top of that tree. It has a peripheral date that jumps over the tourbillon aperture and dual moonphase display with the classic moonphase indicating for the northern hemisphere and the double-ended hand above it indicating for the southern hemisphere. And also the tourbillon, and the fabulous movement, and the sexy gold case. It's a winner for sure.
4. A. Lange & Söhne Lange 1 Timezone
For the first time in about 15 years, A. Lange & Söhne properly updated one of my favourite watches in its collection, no wait, my favourite. The Lange 1 Timezone makes telling the time in another timezone a breeze. Simply set the home time, then use the lower of the two pushers to move the city ring forwards, this adjusts the time in the smaller of the two-time dials. No need to know how many hours ahead or behind your destination is, and no squinting at a world time dial that's too busy for its own good. The Lange 1 Timezone does the work for you, and it gives you a fantastic hand-decorated calibre to appreciate around the back as well.
3. Vacheron Constantin Les Cabinotiers Astronomical Striking Grand Complication – Ode to Music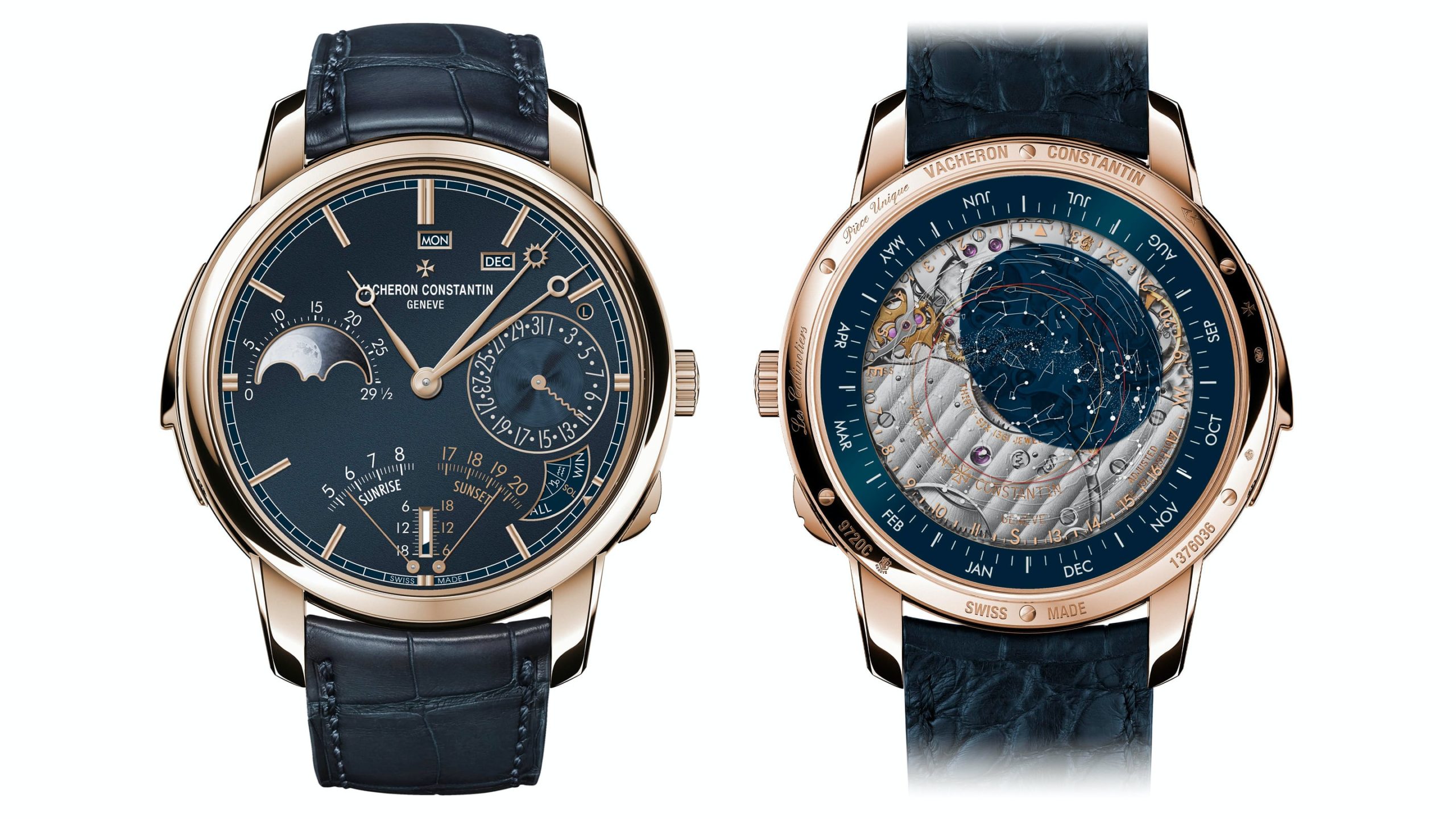 This one's a big one, both physically and otherwise. Many people automatically go to Patek Philippe when they think of complicated watches, but by skipping over Vacheron Constantin, they miss a trick. After all, the most complicated watch ever made, the Reference 57260, was made by Vacheron Constantin. This Les Cabinotiers is no slouch either. It'll tell you when the sun is due to rise and set, the phase of the moon, what month it is, the zodiac sign and all you need to know about the constellations can be found on the back. It's a one-off, though.
2. Breguet Classique Double Tourbillon 5345 Quai de L'Horloge
Ah yes, my personal favourite watch comes in at number 2 on our list. I was going to put it at 1, but I figured that the actual number 1 piece deserved it given the amount of work needed. But, this Classique Double Tourbillon represents a couple of things. The first thing it represents is Breguet's skill at making super high-end watches. Breguet isn't usually the name most people go to first, although it is high up on the list. The second thing is that this demonstrates that Breguet hasn't become a corporate zombie bound by the Swatch Group's accountants. They still have that technical and artistic verve that a high-end watchmaker like this should have. I love it.
1. Piaget Altiplano Ultimate Concept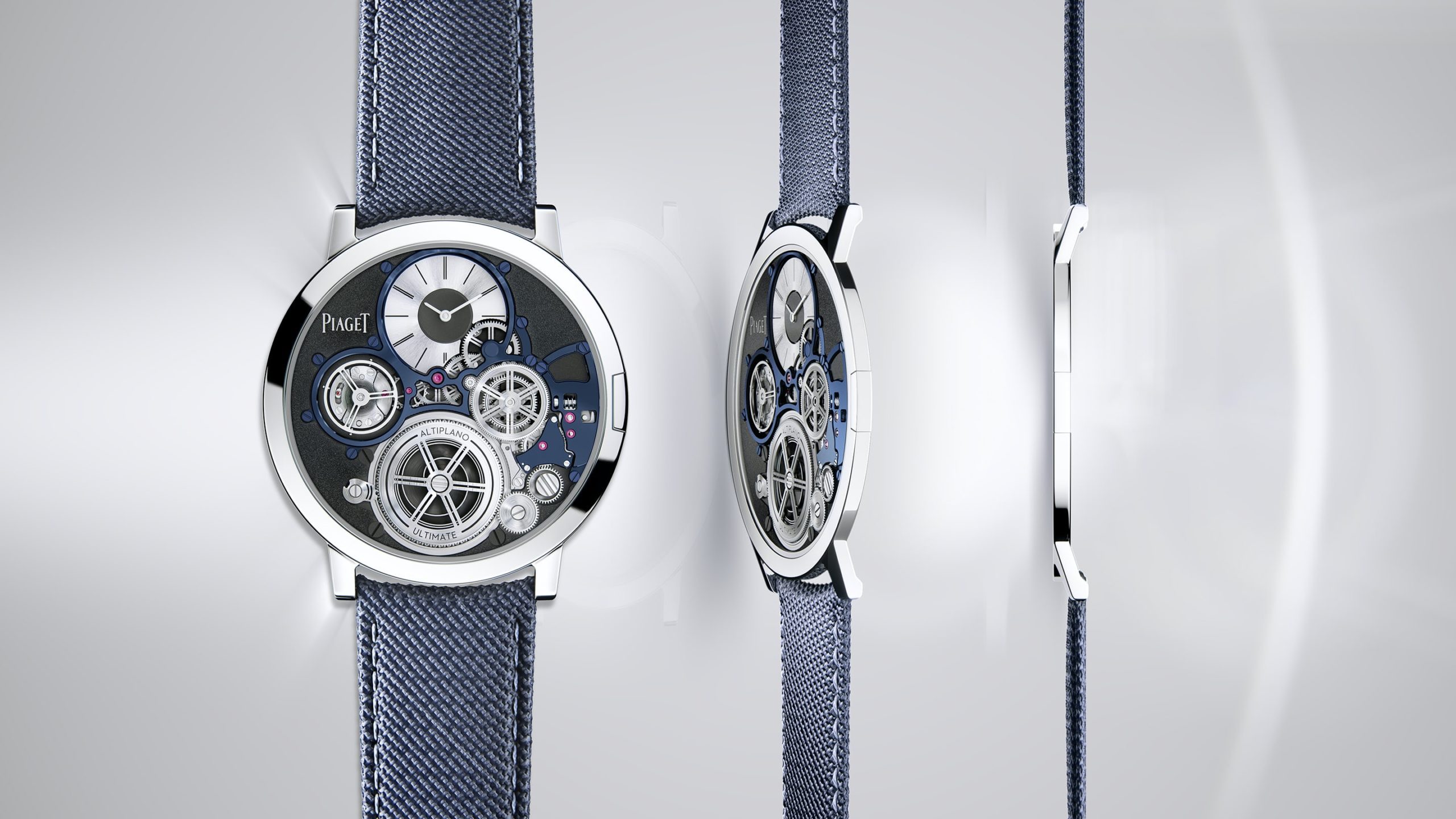 2020 was the year a lot of stuff happened that we'd rather forget. It wasn't all bad, though. Ordering takeaway four nights of the week and drinking in the day to make time go faster is basically socially responsible behaviour now. Also, Piaget made their Ultimate Concept watch from a couple of years ago a reality. They introduced the Ultimate Concept back at SIHH in 2018 as the thinnest mechanical watch ever made, but it wasn't entirely ready then. Apparently, you couldn't even strap that one to your wrist as there was a chance it would bend. Piaget worked on that, and in April of 2020 presented the Ultimate Concept as a watch available to buy. They've decided to allow customers to change their watch's appearance to suit their needs with different material and colour choices available. But every version of this watch is mind-alteringly thin. The watch crams a 4Hz movement and 40-hour power reserve into a case that's only 2mm thick. Yup, 2mm. This one deserved the top spot for sure.
The honourable mentions:
If this were a Top 12 list, these watches would be on it.
Rolex Submariner
The release of the new Submariner line both excited and triggered the watch community simultaneously. The case expanded ever so slightly, and the watch got a new movement and some new colours to choose from. The waiting list situation hasn't gone anywhere, and that plus the slight differences and increased price compelled everyone to point out the obvious on the internet. I like it, though, so it's in my honourable mentions part.
Patek Philippe Grande et Petite Sonnerie 6301P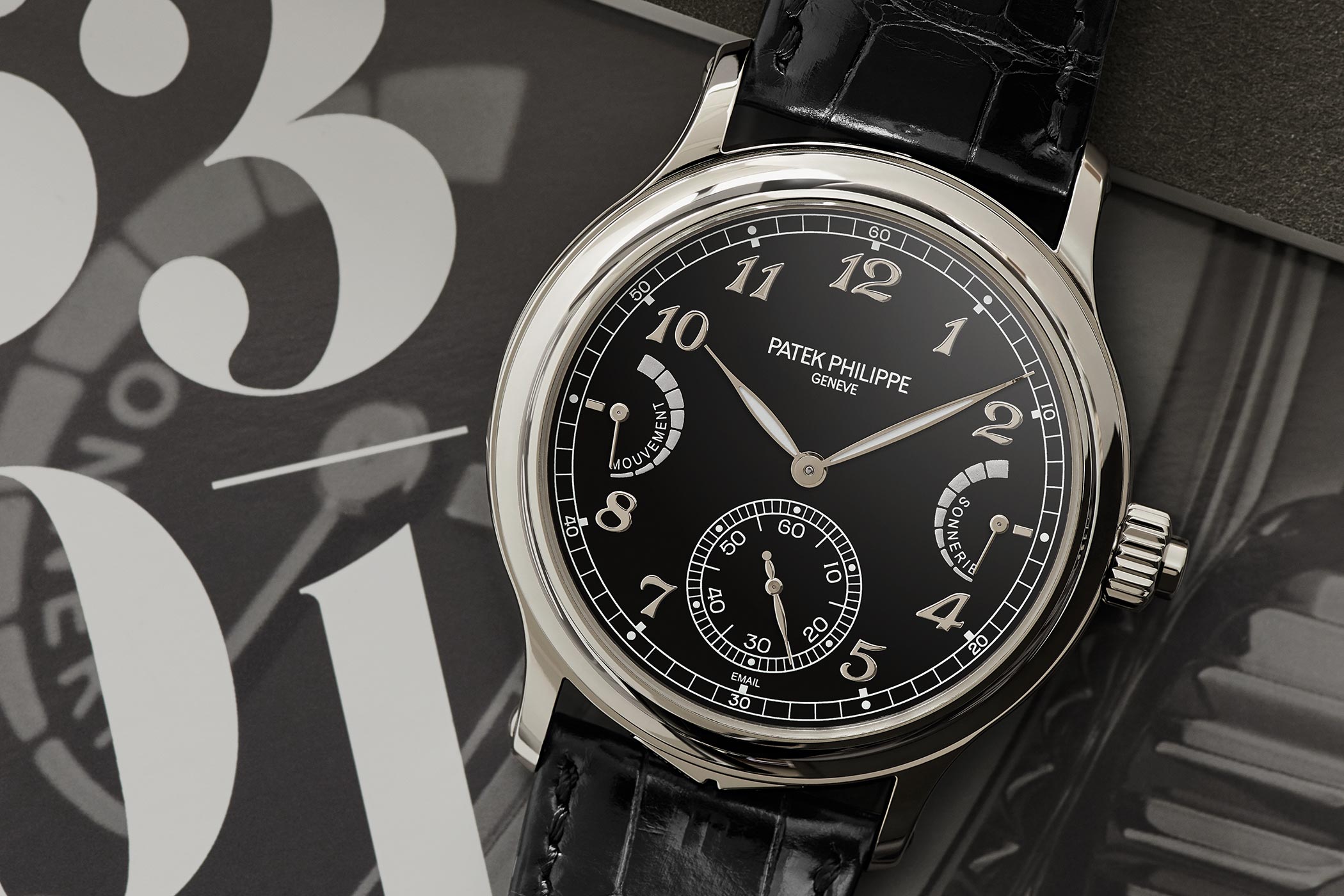 This is the first watch to feature only sonneries from Patek Philippe. Usually, a sonnerie is kept for high-end watches with a myriad of other complications. Patek Philippe removed those other complications and left us with the chiming functions. The watch can chime the time automatically every fifteen minutes, every hour or on-demand. You can also silence the watch if you don't want to hear the sonneries sound, but then I'd wonder what kind of heartless monster you are.
That wraps up our list for the Top 10 watches of 2020, stay tuned as there will soon be a list of the most popular articles from WristReview in 2020.